WooCommerce Vs. Shopify is the most debated topic for eCommerce stores to start with. Also, these are two of the most preferred options for starting any eCommerce business. But users often get confused between the two. While one platform remains at a costlier end, the other provides access to all features for free. Now, is the free option worth it? Or the investment in the paid one followed by skyrocketing sales? 
Your choice entirely depends on your specific requirements. This article will walk you through all these queries to save you from switching your eCommerce platforms repeatedly. Before selecting an eCommerce platform, let's start with the factors you must analyze.
How to choose an eCommerce platform?
Here are the factors you must consider while choosing an e-commerce platform: 
Research your options 
An eCommerce platform must have the features and services you need to grow your business. 
Should you go with Shopify because it's a renowned platform? 
Maybe it works great but doesn't align with your specific requirements or budget. Never select a platform because everyone else is doing it. That's where researching your options helps in browsing through different available features. Identify all your queries and contact their support team to understand the platforms better. 
Furthermore, availing of the benefits of free trials works well in this stage. Try to gather real-time information to make an informed choice.
The costs associated with the basic plans 
As you are just starting, you need a platform that provides many features yet falls under your budget. Balancing your costs and needs to identify the cheapest yet most efficient plan is the key. 
With every plan comes restrictions to features and access. Go through the restrictions and see if that's something that will hinder your work. The basic plans often lack the core customization features needed to create a functioning website. Anyhow, list down the options that provide the maximum value for money.
An easy to use interface 
Beginners often need a simple interface to get started. Make sure the affordability of a platform doesn't follow complexity. Many eCommerce platforms require coding knowledge to make the most of it. 
As you are starting, you must avoid the need to hire technical experts to back up your functional aspects. But if you already have a knack for coding, then it must not be a problem.  
Look for an eCommerce platform that facilitates easy setup, straightforward integrations with third-party apps, and ease in omnichannel marketing. One-click integrations with third-party apps ease the whole process. It also ensures you can make the most of the platforms you've already invested in without doing manual labor.
Compelling website designs 
Your eCommerce website is the first impression you have on your prospects. Limited website design options are a red flag you must look out for. Having many design options that align with your unique brand style becomes crucial. 
Most eCommerce platforms provide a wide variety of free and paid templates with niche-specific categories. It also takes away the burden of designing a website from scratch. Furthermore, a compelling theme optimized for online selling helps in skyrocketed sales. 
Here is a glance at Shopify's theme library, equipped with multiple paid and free themes.

Customization remains another core area of focus. No static theme speaks specifically for your brand. Modifying it with your brand's mission, vision, and values remains essential. Look for a platform that provides a bunch of customization options. 
Preview your website with multiple themes after initiating your free trial. Try to customize them based on your unique identity and observe the limitations. Choose an option with plenty of customization options.
Supports scalability
Focusing on scalability remains crucial even in the initial stages. Switching platforms as and when you grow remains troublesome. Analyze the features and access that come with premium plans. 
Will the premium features cater to your eCommerce store's growing needs? 
Or are there other platforms providing enhanced value at the same price? 
Look for automation features, tools, and other integrations for your future needs.
WooCommerce vs Shopify: Major differences
Let's have a quick glance at the basic difference between the two platforms before an in-depth analysis.
| | | |
| --- | --- | --- |
| Bases | Shopify | WooCommerce |
| Pricing Structure | Follows a subscription-based model.  | A free WordPress plugin.  |
| Suitability  | Shopify is specifically designed for starting and managing an eCommerce store.  | WooCommerce is great for running both eCommerce stores and blogs. As it's powered by WordPress, users can access many content-oriented plugins and features.  |
| Hosting  | Hosting remains a part of the plan or packages selected.  | Doesn't provide any hosting service. You need to find a reliable web host and install WordPress.  |
| No. of admins | Even with the most expensive plan ($299/month), Shopify does not permit more than 15 admins.  | No limit on adding administrators or other moderators.  |
| Reports | Provide reports to users with $79 per month and above plans.  | Get access to free built-in reports.  |
| Support system  | Shopify's well-laid customer support system assists users during technical errors or difficulties.  | No defined support system to assist users. They need to tackle all the maintenance and updates manually.  |
| Interface | Shopify has an easy-to-use interface that doesn't take long to get acquainted with. However, theme customization requires a certain level of tech knowledge.  | WooCommerce is difficult for non-WordPress users due to its highly similar interface.  |
Shopify is an eCommerce platform helping millions of businesses worldwide sell products online. The platform offers different plans for startups, small businesses, and enterprises. It has features like live chat, helping you establish meaningful relationships with your prospects. Furthermore, it's one of the most secure platforms for starting and managing your online store.
Let's get into the details to understand if this eCommerce platform is the right choice for you.
Shopify remains a top choice amongst e-commerce store owners especially with Print on demand and dropshipping systems, due to a seamless website creation process. It integrates with all the necessary tools required for improved functionality. The vast collection of themes and templates gives your brand a desirable look. It also smoothens the transaction process by offering many different payment processors to users. 
Many eCommerce website owners switch to Shopify due to its seamless integrations, payment processors, responsive themes, and analytics tracker. The platform keeps up with customer data to help you make modifications based on acquired results. 
Let's understand the platform's functionalities better by analyzing its top advantages.
Suitable for people with minimum coding knowledge 
Shopify has a simple and easy-to-use interface assisting beginners. The platform handles most of the technical aspects associated with an eCommerce store. The in-built features help build a store faster than other alternatives. 
Navigating the backend process is easy with the platform. Multiple solutions are provided in the resource center if you encounter any difficulty. Shopify's resource center is equipped with all beginner and advanced-level questions about running an eCommerce store. Furthermore, the tech team actively tackles all your queries on time.
A plethora of payment options 
Shopify payments save users from lengthy third-party payment activations. With a one-click setup process, you can start receiving payments instantly. It assists in boosting sales with in-built payment services, including Apple Pay and PayPal. 
With 100+ payment processors, you can receive payments in multiple currencies without hassle. Furthermore, Shopify Payments is PCI compliant and supports 3D secure checkouts, assuring total safety during transactions.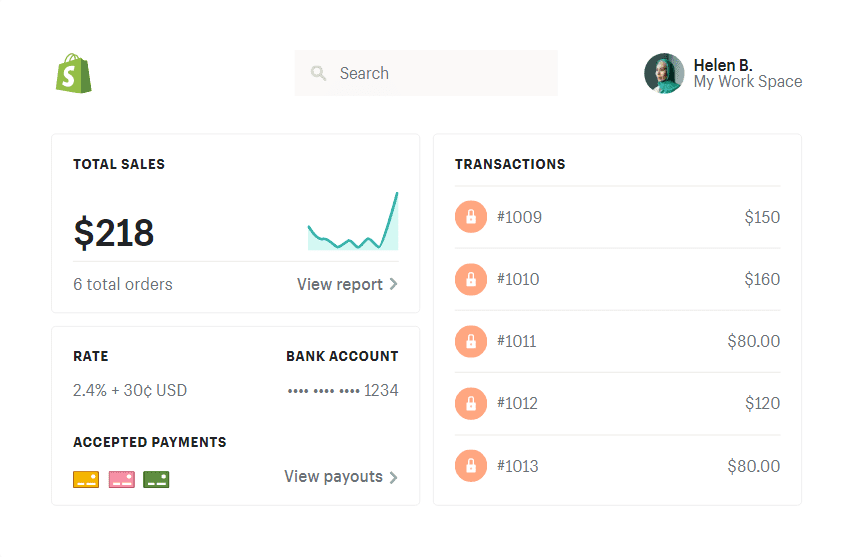 Wide variety of compatible themes
Shopify's premium-looking and highly functional themes smoothen the website-building process. You can explore 170 free themes offered by the platform. The themes are categorized to provide a feel based on a specific niche.
For example, a beauty brand targets a soft look, while an electronic brand demands an energetic or sleek design. Remember that your website's theme can make or break an exceptional customer experience.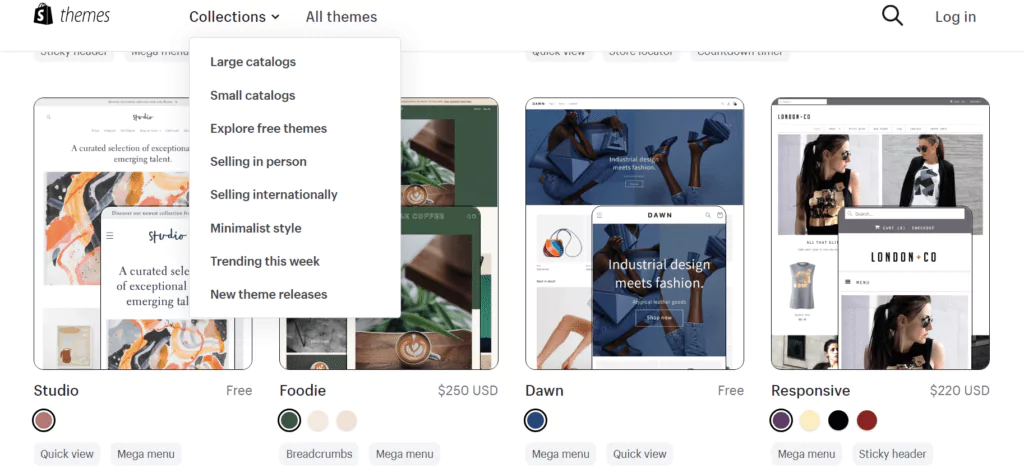 Some additional features that make Shopify themes stand out are as follows:
Create unique page layouts with different customization options—no limitations in adding, removing, or rearranging different page sections.

It supports app installations without any coding knowledge. The app blocks and app embed ensure you can add any app functionality throughout your website.

Many different filters help your customers browse your collection as per their requirements.

It allows additional dynamic sources to present specialized information to the customers.

The mobile-responsive layouts ensure your customers don't have difficulty operating it from their mobile devices.

It provides the option to add multi-level menus in your navigation.

It helps customers discover new items through automatically generated product recommendations.
Lastly, Shopify remains a top choice when building a premium-looking and responsive website design.
Note: startups must use the free customizable themes to initiate their website-building process.
Multiple built-in tools capabilities
Building and operating an eCommerce store requires access to many different features. One platform cannot cover everything a user needs. Shopify allows its users to integrate with all the top apps or tools to meet their requirements.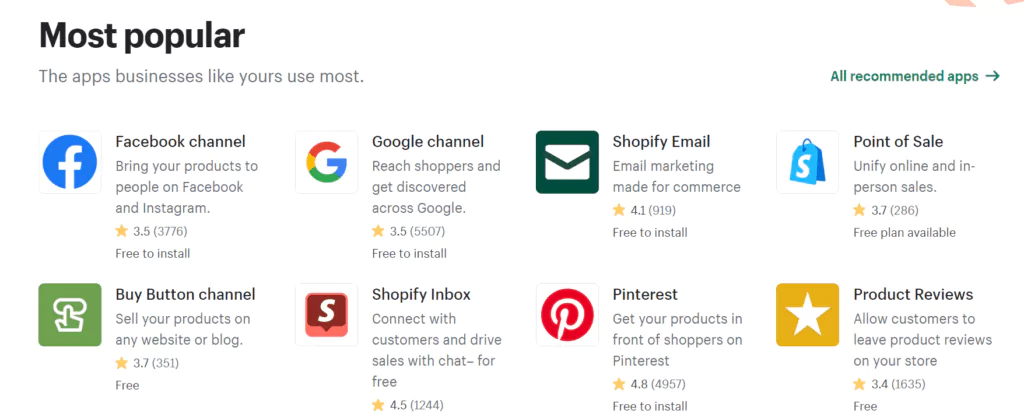 Shopify app store consists of various app integrations categorized into marketing (Klaviyo, Mailchimp, etc.), finding products (Printify, Sprocket, etc.), and more. It facilitates easy integrations with all the popular third-party apps.
Ensures a faster website loading speed
Website loading speed becomes a crucial factor in retaining visitors to your page. Even a second-long delay will provoke your visitors to switch to your competitors. Most eCommerce stores deal with a heavy abandonment rate due to slow speed.
Shopify saves you from this trouble as it's equipped with Accelerated Mobile Pages (AMP), facilitating quicker content delivery to users. The platform ensures you never lose your potential customers to slow website loading speed.
Now that we have listed the pros let's move to the cons of using Shopify to build an eCommerce store.
Costly option for a startup
Shopify's basic plan might entice you, but every plan comes with additional costs you might not see coming. The platform worked at reducing prices by eliminating platform transaction fees. However, the elimination works only in a few countries as of now.  Others have to bear a transaction fee between 0.5%-2%.
Most of the advanced features required by eCommerce stores come only with premium plans. Furthermore, installing plugins, themes, and other tools for improving functionality can also cost extra.
The combined costs of Shopify might drastically affect your profitability. Due to this, startups must reconsider their options before making a selection.
Difficulty in theme customization
Shopify comes with a wide variety of customization options. But users can customize themes or templates using Shopify Liquid Setup. Its functioning often remains complicated for users from a non-technical background. Therefore, it takes time to get accompanied by Shopify's customization tools.
Less suitable for content-oriented websites
Shopify continues to be one of the best platforms for building an eCommerce store. However, content-oriented websites might not benefit entirely from it.
Shopify's blogging software doesn't have the features required to run an SEO-optimized blog. The platform consists of inflexible blog layouts, an outdated editor, and no defined categories or the option of embedding products in the content.
Therefore, users prefer a platform like WordPress when starting a blog or content-focused site.
Basic plans have limited features
Shopify is widely known for the unique features it offers to eCommerce stores. However, most of the advanced features are limited to premium plans only.
The basic plan has many associated restrictions. For instance, you cannot get access to some core reports like sales reports, profit reports, etc., needed for analysis. As we know the importance of analytics in decision-making, most users switch to advanced plans ($79/month or $299/month).
What if you decide to switch after using Shopify for a while?
It's not easy to migrate your store to another eCommerce platform. Shopify has a complex exit route; you can only leave with a CSV report (product information). Most eCommerce platforms have a problematic exit route. Due to this, analyzing various areas before making a decision is essential.
AOP T-Shirts - Dare to be Different
Get noticed with All-Over Print T-Shirts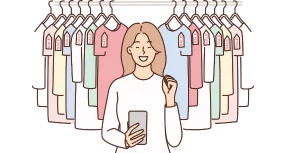 When it comes to comparison, both have their advantages. Now we can see why WooCommerce has a huge market share of eCommerce websites.
WooCommerce is an open-source eCommerce platform built on WordPress, helping businesses of all sizes create or extend their stores. Users with strict budgets prefer it as the platform is entirely free. You can access a long list of integrations or extensions on the WooCommerce marketplace. Let's step ahead to understand the reasons behind choosing this eCommerce platform.
Is Woocommerce good for eCommerce?
If you already have a WordPress website, installing WooCommerce to tackle the eCommerce area is more convenient. WooCommerce is an excellent platform for selling different types of products (physical, digital, or downloadable). Whether you wish to create a subscription-based model or simple bookings, the platform covers you. Users choose this platform for its unparalleled customization options combined with access to free features powered by WordPress.
Here are some more advantages of using WooCommerce for building your website.
Pros of using WooCommerce
WooCommerce is an easy-to-use platform with an extensive community of experts. WordPress users find no difficulty in accessing the plugin. The platform keeps the work simple and gives users the autonomy to add features and set up the store per their needs. Furthermore, there are many forums and blogs assisting users with their queries.
Cost-effective
It takes zero investment to install and use WooCommerce as it's a free, open-source plugin. People with a strict budget can build a functional website using this platform. Your initial investment only involves the amount required for a hosting service.
It's equipped with all the necessary features, including multiple payment getaways, a content management system, product management, etc. Furthermore, you can access many free plugins to improve your website functionality.
Unlimited plugins and extensions
The WooCommerce marketplace has many different plugins and extensions broken down into categories. The platform covers you, whether in marketing, payment gateways, bookings, or product management.

Fully customizable
WooCommerce provides no restrictions with customizing the selected themes. You can easily change the header, and footer, add additional widgets, etc. Adding new plugins and customizing them is also easy with the platform. Furthermore, many website owners also hire professionals for add-on customizations.
WoooCommerce Plugins extends the possibilities to customizable products. To leverage the Print on Demand system, you can take custom design orders from customers. No big brand can offer the level of customization possible with Qikink's Print on Demand system.
Enjoy the benefits of WordPress
WordPress is one of the most preferred CMS with many different features, tools, plugins, etc. As WordPress builds WooCommerce, the platform enjoys many benefits. Firstly, the integration with YoastSEO ensures you create an SEO-friendly website. Secondly, you also get access to features, themes, support, etc., provided by WordPress.
Cons of using WooCommerce
Let's now look at the downside of preferring WooCommerce over Shopify.
Maintenance issues
Open-source platforms like WooCommerce don't come with a well-equipped support team. All the maintenance and updates are handled manually by the users. You need to scroll through forums or hire tech experts at times of technical errors. But with managed hosting, WooCommerce users get a team of experts to tackle the tech aspect.
Difficult for non-WordPress users
WordPress users quickly get the hang of WooCommerce due to the similar interface. Setting up the entire store and incorporating features becomes easier. People who aren't acquainted with WordPress require some level of training to operate the platform.
A less secure option
As discussed earlier, WooCoomerce requires a managed hosting provider to tackle security concerns. You can also get SSL certified when you are self-hosting. Many users add plugins for enhanced security but reduce the loading speed instead. Remember, no one browses through a slow-loading website. Therefore, you will end up increasing your website abandonment rate.
This saves most points for the Shopify Vs WooCommerce debate. With Shopify, you do not need to set up hosting separately at all and the cloud hosting comes with best-in-class security.
Etsy vs Shopify vs Woocommerce
If you're considering an e-commerce platform, you have a few options to choose from, including Etsy, Shopify, and WooCommerce. 
Etsy is geared towards independent sellers, while Shopify and WooCommerce are self-hosted platforms. 
Shopify is known for its user-friendly interface and offers a variety of features, themes, and integrations. 
On the other hand, WooCommerce is a good choice for WordPress users who want complete control over their website's design and customization but require more maintenance and security measures than Shopify. 
Ultimately, your specific needs and budget will determine which platform is the best fit for you.
How does Qikink's integration work with Shopify
Vs
Woocommerce?
After the initial signup process, you can easily integrate Shopify or WooCommerce with Qikink. Integration with the eCommerce platforms ensures you don't have to place orders manually. It eliminates the time required to place orders as they come by.
Start by installing Shopify and WooCommerce after clicking on integrations on your Qikink dashboard. Log in to your merchant dashboard to add your designs. After successfully adding and editing designs, click on the live button. Qikink then fulfills all the live orders.
The integration saves time and eases the entire order fulfillment process. All your orders are successfully packed, dispatched, and shipped with Qikink.
Now you have a fair understanding of both Shopify Vs WooCommerce. Go through your specific needs before choosing any platform. Your needs, budgets, business size, etc., plays a crucial role in the final decision.
Shopify can help you create a visually compelling and functional website. You can provide an excellent customer experience using its extensive library of themes, templates, and integrations. Furthermore, the platform has excellent customer support to tackle all your queries, requests, and maintenance.
On the flip side, users with an existing WordPress website must go with WooCommerce. They can quickly set up their eCommerce store without the hassle of understanding the platform due to its widely similar interface. You also get complete control over your website's design and customization. However, you will find trouble during maintenance and upgrades as the platform doesn't have a support team.
Frequently Asked Questions
With over 10+ years of experience in the industry, Our founder has dedicated his career to helping brands achieve exponential growth through innovative print-on-demand solutions.