The idea of the print-on-demand eCommerce business is rapidly growing due to minimal investment, an inventory-free model, and heavy growth potential. But do you have a well-laid plan to start a POD eCommerce business that generates hefty profit over time?
Starting a POD business requires selecting a profitable niche, a reliable POD partner, a well-designed store, and efficient marketing strategies. Initially, the process might seem intimidating, but you can generate a consistent revenue stream with actionable steps and knowledge. Print-on-demand e-commerce businesses have huge growth potential, and here's a statistic backing up our claim.
Understanding how to start a print-on-demand eCommerce store becomes important in such a scenario. This article tackles every query you might have to run a POD Business in 2022 successfully. Before moving to suitability, let's start by understanding how this business model works.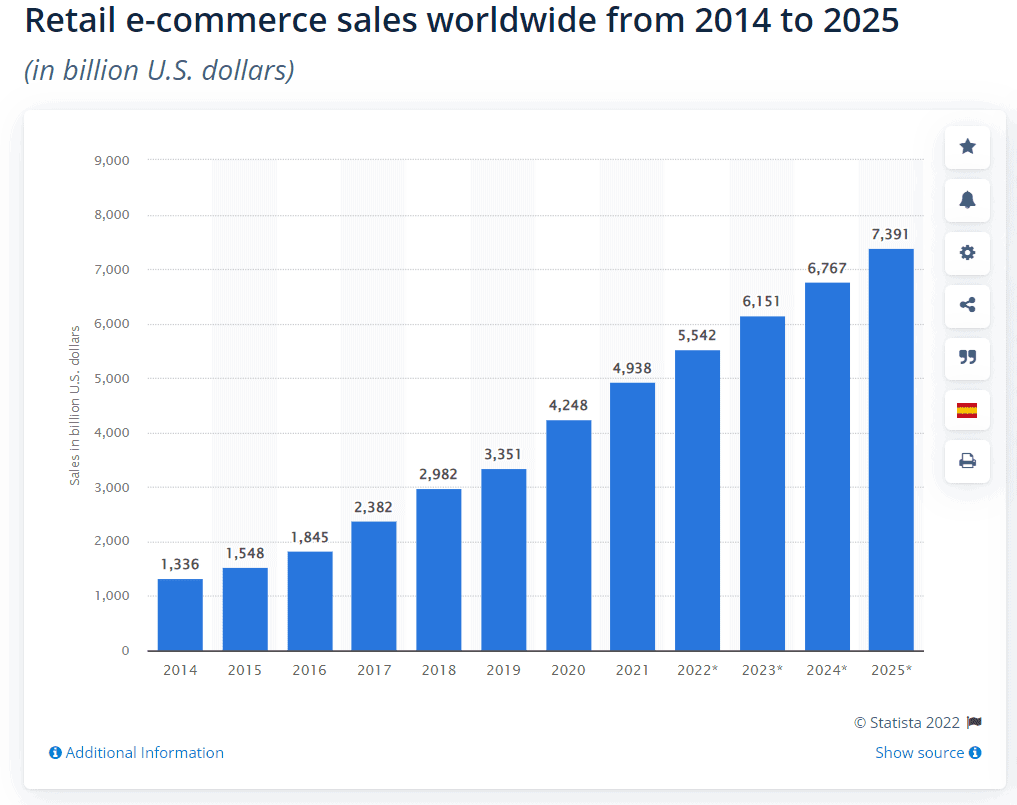 What is a print-on-demand Business?
If you're running a print-on-demand business, you collaborate with a supplier that offers white-label merchandise such as tote bags or baseball hats. You can personalize these products with unique designs and branding and sell them per order. This way, you can offer custom products under your brand name without maintaining inventory or stock.
How Does A Print-on-Demand Business Work?
A print-on-demand eCommerce model initiates the production process after the customer orders. It eliminates the need to maintain inventory and produces products per specific requirements. Businesses save a lot of money because they don't have to purchase bulk. Here is how the business model functions:
The customer visits your store, reviews the available products, and clicks on the buy button.

Your selected print supplier gets notified and debits a certain amount from your account to accommodate production and other associated costs.

The production process initiates, and the product is shipped to the assigned location upon completion.
Note: The supplier only handles post-sale activity (packaging to shipping). It's a great option for first-time entrepreneurs experimenting with their business idea.
Is A print-on-demand Business Model Suitable For You?
A print-on-demand (POD business) allows you to establish your brand while remaining free from the burden of maintaining inventory. But it requires handling various tasks, including targeting your ideal audience, creating enticing designs, efficiently marketing your product, etc. 
In such a scenario, understanding whether or not this model suits you plays a crucial role. Here are some pros and cons of a POD business model to help you make an appropriate choice:
Print-on-demand business is a revenue-generating model in the online selling business. The revenue in a print-on-demand business can vary based on several factors, such as the product niche, pricing strategy, marketing efforts, and customer demand.
For example, if you sell custom t-shirts through a print-on-demand business, with a base cost of ₹750 and a printing cost of ₹375, and price them at ₹1,875 each, your gross profit per t-shirt sold would be ₹750 (i.e., ₹1,875 – ₹1,125 = ₹750).
If you sell 100 t-shirts in a month, your total revenue would be ₹187,500 (i.e., 100 t-shirts sold x ₹1,875 per t-shirt), and your gross profit would be ₹75,000 (i.e., 100 t-shirts sold x ₹750 gross profit per t-shirt).
Tip: It's important to note that your revenue can vary based on different factors, such as what you sell and how much you charge.
Pros Of A POD Business Model:
Let's look at some positive aspects of selecting this business model. 
Enter Into eCommerce Business With A Minimal Budget
The POD business model doesn't require a physical location or inventory. You will save much money to set up a physical store, purchase equipment, etc. It also eliminates investing time in packaging, shipping, and other selling-related tasks. Lastly, you can invest this time in promoting or marketing your store to develop a loyal customer base.
No risk is involved as the process initiates when a customer orders. It eliminates the burden of clearing excess stock. Moreover, there is always room for experimentation if certain selected designs don't work out as planned.
A POD business doesn't require an experienced individual with technical knowledge who spent years in the eCommerce industry. Most tasks are automated once you pick a reliable platform to start your business, making it suitable for beginners.
Enter Any Niche Of Your Choice
POD products are available for any niche you prefer, whether clothing, shoes, accessories, or any other area of interest. Niche selection becomes easier once you focus on your interests and the possibility of growth in the preferred area.
Here are some drawbacks of selecting this business model. 
Due to heavy production and advertising costs attached to a small or limited profit margin in the initial stages.
The products are printed on demand, often preventing suppliers from delivering quickly. It can take a week to ship out an order, which might cost you some customers.
Poor Communication/Support
POD partners are not always active communicators. Sometimes, they take an entire day to provide a vague response to your queries. Furthermore, little control over the printing and shipping process makes it harder to handle customer complaints during busy days.
Customers often purchase products from businesses with a solid return policy. Returning products is not simple in a POD business. For instance, you cannot return products solely because a customer didn't like the print in real. Returns are generally acceptable only when they are defective. Therefore, the burden or cost is borne by you in case of returns.
6 Steps To Start And Run Your print-on-demand eCommerce Business:
Let's now look at the steps required to open and run a Print-on-Demand (POD) business successfully.
Step-1: Brainstorm And Select A Profitable Product Niche
A product niche helps businesses target a specific type of product(s) that appeal to a selected customer base. It's better than opening a generic store as it helps you prove your expertise in a certain area and build trust. A niche-specific business limits the competitors you need to face and improves your ranking in SERPs through targeted marketing. 
But how do you select a niche?
(A)The products that you are passionate or knowledgeable about.
OR
(B)The products that have the potential to make money. 
Combining the two will give you the answer you need. You must select a niche you are interested in with heavy growth potential, aka a profitable niche.

It's incredibly simple to initiate with the things you are passionate about. Start by writing down your areas of interest, the products you love to buy, the products you frequently purchase, or the type of products you believe aren't available in the retail space.
Identify The Profit Or Growth Potential
What are the current market trends associated with your interests? 
Awareness of current trends is one of the core aspects of selecting your niche. Google Trends is a (free) great tool for identifying the popularity of your selected niche. Just type keywords relevant to your selected niches and compare their popularity by location, interests, etc. You can also explore related searches to understand your options. 
Next, you can use paid options like Google Adwords and trend hunter to better understand your selected areas.
After successful brainstorming and researching, you can finally make the right choice for your POD business.
Top Print-On-Demand Niches In 2023
Exploring the most popular niches is always easier if you lack ideas. Here are some POD business niches depicting growth potential over the years:
Apart from apparel, footwear, bags, and accessories, here are some more niches you can explore: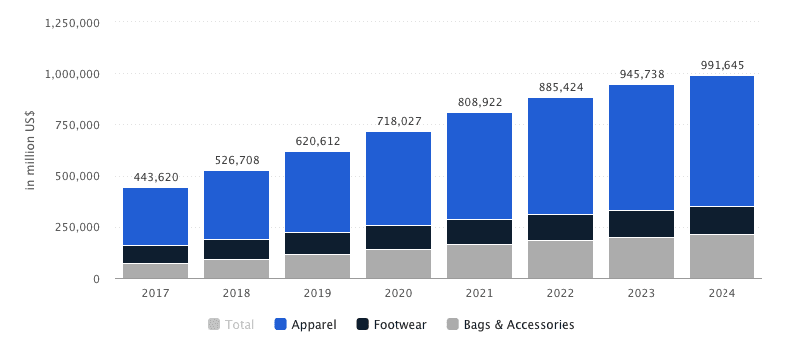 People love spending money on their fur babies. Starting a store that works on creative designs for animal products is the way to go. Invest in creating accessories, beds, funny clothing items, etc.
Funny jokes, slogans, and graphics on t-shirt, hoodies, or mugs is a great idea. People love keeping up with trends which makes selling them easier. All you need is some meme knowledge and the right marketing strategies on relevant platforms. 
Target events like Valentine's Day, Christmas, Halloween, etc., to show your creativity. This niche allows you to make a huge amount of money quickly. But as they are seasonal events, you can't continue them year-long. 
Some more niches to experiment with include health and fitness, travel, jobs & hobby-related niches, social causes, etc.
Step-2: Creating Or Outsourcing The Design Process
Are you considering starting a POD business solely because you lack design skills?
You don't have to be a professional designer to start your own POD business. Either you can outsource the design process or get your first design in action with these basic tips:
To create a design that sells, you need to completely understand the people you are selling to. Make different segments if you have a varied customer base to understand them separately. Jot down their interests, traits, needs, location, age, gender, etc.
Get Creative Design Ideas 
Use websites like Pinterest, Dribble, etc., to get design ideas. You can also go through marketplaces like Amazon to get inspiration from your competing brands. Remember that design ideas are everywhere to get your creative juices flowing.
Selecting A Graphic Design Tool 
Choose a graphic design tool to avoid creating designs from scratch. Canva is a beginner-friendly tool that assists you in creating any type of design you want. Create aesthetic designs with the free version before investing in the pro version to make the most of your design process.

Have A Visual Aesthetic In Mind
Decide on a visual aesthetic and learn to create consistent designs. It includes colors, graphics, objects, fonts, etc. Put effort into these areas to establish your unique identity. Remember that no one recognizes brands with inconsistent designs.
Create a mockup to study various areas, including spacing, layout, and the overall composition. Next comes taking feedback from your friends, family, and even random people who fit your ideal customer persona.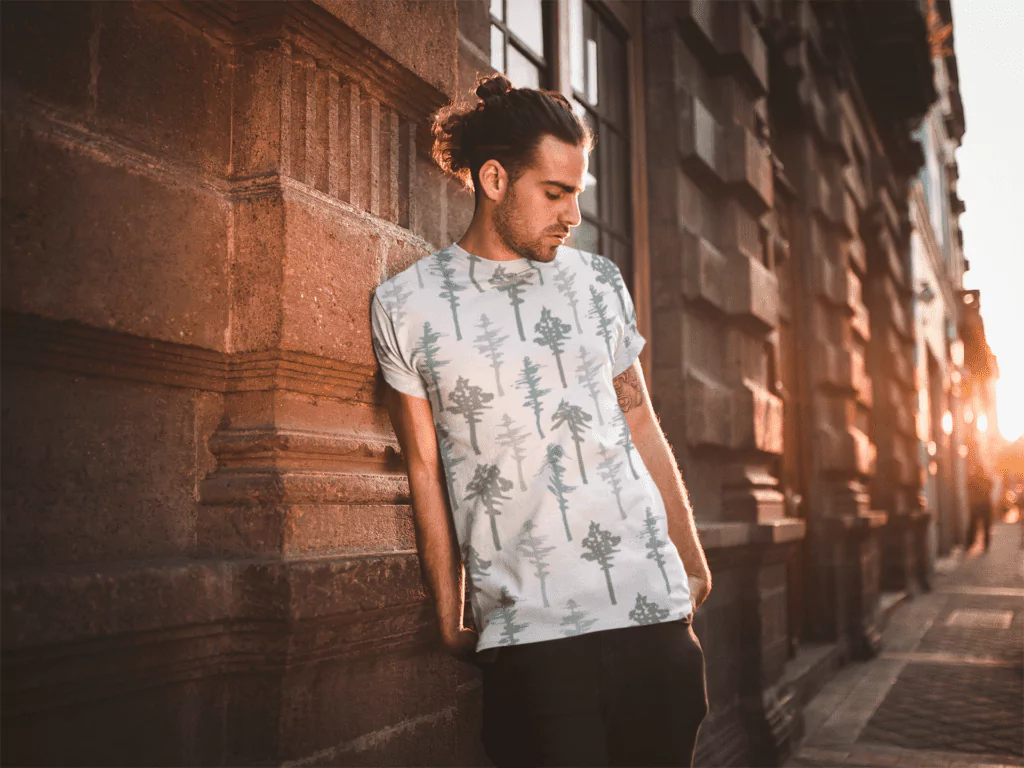 Outsourcing The Design Process:
Lastly, explore the free resources available on the internet to create your designs. You can also take paid courses to create exceptional designs for your brand. 
Sometimes, you have great ideas, but the designs don't align with your expectations. Bring those ideas into reality by outsourcing your design process to professional graphic designers. You can search on Fiverr or Upwork to connect with premium designers. Or you can do a LinkedIn search to come across the right individuals.
Step-3: Choosing An Effective POD Service
The right Print-On-Demand service ensures you sell quality products to customers with an exceptional experience. Carefully selecting a POD partner is crucial to ensure you don't come across the hassle of switching partners once you decide to scale up.
Here are the three most crucial areas you must analyze before choosing your POD partner:
Identifying and comparing the product, shipping, and other miscellaneous costs associated with the service providers is crucial.
But should you blindly choose the cheapest available option?
Sometimes higher prices lead to better quality products and additional benefits that align, intending to increase sales. Quality products will also help you develop a loyal customer base.
Some companies will go for a monthly fee, while others charge a specific percentage of your overall sales. The former isn't a great option if you are just starting. Select a provider with a flat shipping rate or a consistent rate throughout. It ensures your product price doesn't suddenly rise around certain periods.
The quality of material and print affect sales or repeated sales to a huge extent. A unique brand identity is built based on exceptional designs and print. Do not be quick at making a design and initiate by ordering samples. You'll also glance at your customer journey between ordering and order fulfillment. This entire experience plays a vital role in getting multiple sales. Analyze various aspects, including color, material, print, texture, etc., to see if partnering with that service is worth it.
On-demand fulfillment generally takes longer as the process initiates after order placement. You can have an edge by partnering with a service provider that delivers quickly without compromising product quality. A good print-on-demand partner delivers the product effectively, providing a great customer experience.
Lastly, make a quick internet search to check the online reputation of the print-on-demand services you target. Good social proof will help you make informed decisions to avoid the trouble of changing partners frequently.
Step-4: Create Your Online Store
Create your online store using a platform like Shopify or WooCommerce. They assist you in creating your store in a few simple steps. These platforms have many free and paid templates to help you create a premium-looking store and start selling.
Ensure you have all the right pages on your website providing information related to the products, shipping, payment details, brand story, etc. Remember that spending time on creating a professional eCommerce website or store will affect the success of your POD business.
Step-5: Identify And Research Your Specific Competitors
You cannot blindly design products and expect them to grow substantially over time. Researching and understanding the top competitors in your niche will help you present better products to your target audience. Understanding your competitor's strategy is key to creating one that outruns them. Here are some areas you need to focus on:
Invest your money in a competitor analysis tool to identify and analyze top competing brands in your niche. 
Go through their content strategies and target channels to attract traffic. 
Sign up for their newsletters to take a glance at their promotional strategies. 
Go through their offerings and present a better one to your audience. 
Understand how their products are better than yours. 
After a detailed analysis, brainstorm with your team members to come up with solid strategies. Target all crucial areas like content, SEO, promotional tactics, etc.
Step-6: Promoting Your Store With The Right Marketing Strategies
Let's take a look at some necessary marketing strategies to grow your store:
Segmentation And Personalization 
Segment your target audience (younger and older age groups) to create a tailored marketing strategy. Personalization plays a key role in gaining and retaining your audience's attention. For example, your t-shirt with quirky memes requires a strong presence on platforms like Instagram. You are likely to find and attract your audience on the platform. Creating a solid Instagram marketing strategy consisting of regular posting, user-generated content, quiz, giveaways, etc., is the way to go. 
Targeting The Right Social Channels 
A strong social media presence on the right platforms. What are the platforms where you find you find your audience frequently? Instead of targeting all social platforms available, start with a strong blend of two. Consistently posting and engaging your audience helps you develop brand loyalty. Keep your content engaging and fun. For example, give them a glance at the upcoming designs. Or take their design suggestions to keep them involved. Conducting frequent Q&A sessions is a great way to engage.
Developing A Strong Mailing List 
Email marketing keeps your audience updated about your products, upcoming sales, current discounts, etc. You can also drop-down reminders about the products waiting in their carts. Work on creating a solid email list but do not spam their inboxes with ten emails daily. 
Additional Tip: connect with influencers in your niche to get the word out there. Start by targeting influencers with a small yet engaging audience. People are more likely to listen to them. Many influencers are happy to promote products with free samples, while others charge a fee for the same. Do your research and find the right individuals for promotion. 
Start by jotting down your interests and researching their popularity to choose a profitable POD niche. 
Learn basic design skills to start creating your first design or outsource the process using a website like Fiverr, Upwork, or LinkedIn. 
Select an efficient POD partner by analyzing factors like pricing, shipping speed, eCommerce integrations, etc. 
Create your online store using platforms like Shopify or Wix. 
Identify your specific competitors and research their strategies. Next, brainstorm with your team to harness the areas they are lacking. 
Segment your target audience and use personalization to market your store right. 
Build a strong social presence on relevant platforms and post engaging content consistently. 
Keep your audience updated with a strong email marketing strategy.
Print on demand is a fantastic option for individuals seeking to establish an online business. By adhering to the steps presented in this guide, you can create a prosperous print on demand eCommerce store and begin selling your distinct designs promptly. Therefore, don't hesitate to give it a shot – you may be amazed at how successful you can be!
Frequently Asked Questions
With over 10+ years of experience in the industry, Our founder has dedicated his career to helping brands achieve exponential growth through innovative print-on-demand solutions.