T shirts are wardrobe essentials worldwide since they are inexpensive to create, easy to fit, and generally durable. As a result, T shirts are the most popular clothing item for both men and women. Everyone, from textile experts to customers, wants to acquire the correct T shirt size.
Styles come and go, but the T shirt is one mainstay that has been there for a long time and does not appear to be going away anytime soon. One of the reasons for its worldwide popularity is the broad spectrum of uses. Another factor is that it is pretty comfy.
2.14 billion people buy merchandise rather than in stores; therefore, now is the time to ensure your T shirts fit precisely.
How often have you purchased a shirt only to discover it is too small or far too large? We've all been there! It's time to say goodbye to that aggravating circumstance once and for all. Simply use the T shirt size chart and tables below!
Let's figure out what size shirt you need!
What Is a T shirt Size Chart?
A T shirt size chart is a table or guide used by clothing manufacturers and retailers to help customers choose the correct T shirt size. It is a measurement of how well a shirt fits your body. For size, most manufacturers use small, medium, large, XL, 2XL, or 3XL. Some also differentiate between men's and women's fits.
The t shirt size chart often includes measurements for various body parts (such as the chest, waist, hips, and so on) and compares those measurements to popular t shirt sizes such as small, medium, large, etc. The chart may alter depending on the brand, country, and intended application.
What is the purpose of having a size chart for T shirts?
The purpose of having a size chart for T shirts is to 
Helps to make a purchase decision 
Customers try to buy in local stores, which helps them pick a product that fits them well. But when one makes an online purchase, a size chart helps them to understand what size they should order. 
Since size charts are available for every product, customers can purchase their fit, which helps e-commerce brands to reduce returns. 
The faster and easier it is for customers to click "Add to cart," the more likely they will convert. If customers have to contact help to figure out your sizing, it indicates that they will leave the product page and may never return to complete their purchase.
How can I find my T shirt size?
What's not so fantastic about t shirts is how tough it may be to find one that fits properly. Choosing the correct t shirt is a challenge. It appears to be simple, but it is rather tricky. Many t shirts appear to cling in the wrong areas, hang awkwardly like a box, or appear uncomfortable and ill-fitting in some other way.
Finding a t shirt that fits you properly shouldn't be so complicated. We've put together some tips and methods to get the best t shirt fit for you and your body.
Tips For Finding The Correct T shirt Size Chart India
It would be nice if the T shirt size chart for male were the same; every time you buy a size medium in any store, it is the same size. Sadly, at some stores, a medium is the size of an extra large.
It's challenging to know what size T shirt you should be wearing because there's such a wide range of what the size label means.
Now that you're an expert in T shirt sizes and styles, it's time to select your ideal fit! 
When considering how a shirt should fit, here are some things to check for:
The clothing should be a manageable size. You want to move your arms freely without feeling like the collar region is suffocating your neck. Choose a shirt that is both breathable and comfortable to wear.
Prevent that strange hump at the bottom of your tee! Make sure it falls about the centre of your trousers' fly. You can always tuck it in if it's a bit long.
A sloppy T shirt is unappealing because it makes you appear heavier than you are. The ideal tee will hang slightly off your torso but not so much as you wear a junk bag!
If you're above 6 feet tall, big and tall T shirts are for you. If you are tiny, you may need to purchase a younger size.
The T shirt should cover your stomach unless you're wearing a crop top. To check the length, raise your arms and watch how far they ride.
Making Your Shape Look Better
Some T shirts are constructed like boxes, concealing your most significant characteristics. Pick a style that flatters your body shape. 
Only you know which T shirts make you happy. Never purchase or wear a garment that makes you feel anything less than your best!
How to Measure Yourself for a T shirt
A T shirt sizing chart, such as ours, is helpful since it breaks down a bunch of dimensions and informs you what size those numbers total up to. This makes it easy to glance at the chart for your size chest, for example, and see what size shirt someone with that measurement should wear.
When measuring yourself for a T shirt, here are the measurements you should take:
Wrap the tape measure beneath your armpits and around the broadest portion of your chest to measure it. Standing usually, without flexing or blowing up your chest, is essential. The tape measure should be snug but not so tight that it restricts breathing.
Your t-bottom t shirt hem should fall a few inches below your waistline. Stand upright and measure from the high point of your shoulder to below your waist to determine your required length.
The three most common T shirt sizes
The general rule of thumb for t shirts is the same guideline for most clothes. Don't try to hide your muscles. If you have muscle, make the most of what you have. And if you're overweight, many styles will help you hide it.
A short rundown of some of the most frequent t shirt styles is as follows:
This style is designed to be more fitted to your body. If you want to flaunt your figure, this t shirt is for you.
A classic-fit T shirt is a way to go if you want a looser, more comfortable fit!
A modern-fit t shirt is an ideal choice if you want a structured and fashionable fit that does not cling to your body.
What Are the Types of t shirts?
There are over 20 different varieties of T shirts to choose from. Some are informal, while others are more official. These designs are available for men, women, and children.
Discover the best shirt style for you! Here are the many sorts of T shirts available to you.
T shirts with high, rounded necklines and sleeves that fall below the shoulder are essential. They are long enough to cover your entire torso and are made to fit all day comfortably.
Cap sleeves fall directly in the centre of the shoulders. The design is intended to slim your arms and produce an attractive appearance. 
Dress these T shirts up for date night with jeans and a good blazer!
Let's assume it's a chilly day, but you want to show off your bracelet. Put on a three-quarter-sleeved shirt. The arms come to rest around 3 inches above your wrist.
In the winter, full-sleeved or long-sleeved T shirts are ideal for layering. The sleeves are long enough to cover your arms, and because they're often made of lightweight cloth, they won't feel cumbersome under your jacket.
Display your abs in a crop top or half shirt that does not cover the complete torso. This T shirt style is a belly, cut-off, or baby doll shirt.
Collared/Polo  They're more formal than plain tees, so they're appropriate for employee uniforms or sophisticated occasions like golf trips or banquet meals.
The letter "U" is formed like a crewneck collar. It's the most frequent neckline featured on T shirts since it's not too exposing and flatters all body shapes.
As the name implies, a V-neck shirt features a neckline fashioned like a letter "V." Its cut accentuates the breast region and is worn by both men and women.
 Wear a raglan T shirt for an athletic look. The half sleeves on this design are a different colour from the body, commonly white or grey. It's a relaxed appearance frequently seen in baseball or softball outfits.
The scoop neck is the bolder cousin of the crewneck! The neckline has a more profound "U," giving the impression that it has physically "scooped" out of the breast region.
Consider the bottom of a sailboat for the primary form of a bateau or boat neckline. This style is more common in women's shirts and is fancier than your average T shirt.
Wearing a turtleneck top makes you look intelligent. The sleeves are short, yet the neckline extends up to your chin. This is a bold pick for stylists.
A Henley T shirt is ideal for men who wish to dress casually yet still look decent. This shirt is either short or long sleeves and features buttons along the centre of the chest.
Do you go to the gym? Put on a muscular tee that hugs your body and accentuates your toned arms! Among the most popular brands of dry-fit T shirts are Under Armour, Nike, and Adidas.
Wear a hooded sweatshirt if you're having a horrible hair day. This T shirt is frequently worn when working out, especially among joggers who wish to keep their ears warm on chilly nighttime runs.
Do you require a location for your favourite pen? Wear a pocket tee! A little pocket can be seen on the front right or left chest. It's a casual look that is incredibly popular among men, women, and children.
Wearing a rugby T shirt does not need you to be an athlete. This polo shirt features a boxy form, a stiff collar, and huge stripes on the front. It is generally also available in a men's cut.
Nothing is worse than attending a holiday meal in a stiff gown. Wear a longline T shirt dress to feel more at ease. It features the same sleeves as basic shirts, but the body is entirely different.
1. Men's Round Neck Half Sleeve T shirt Size Chart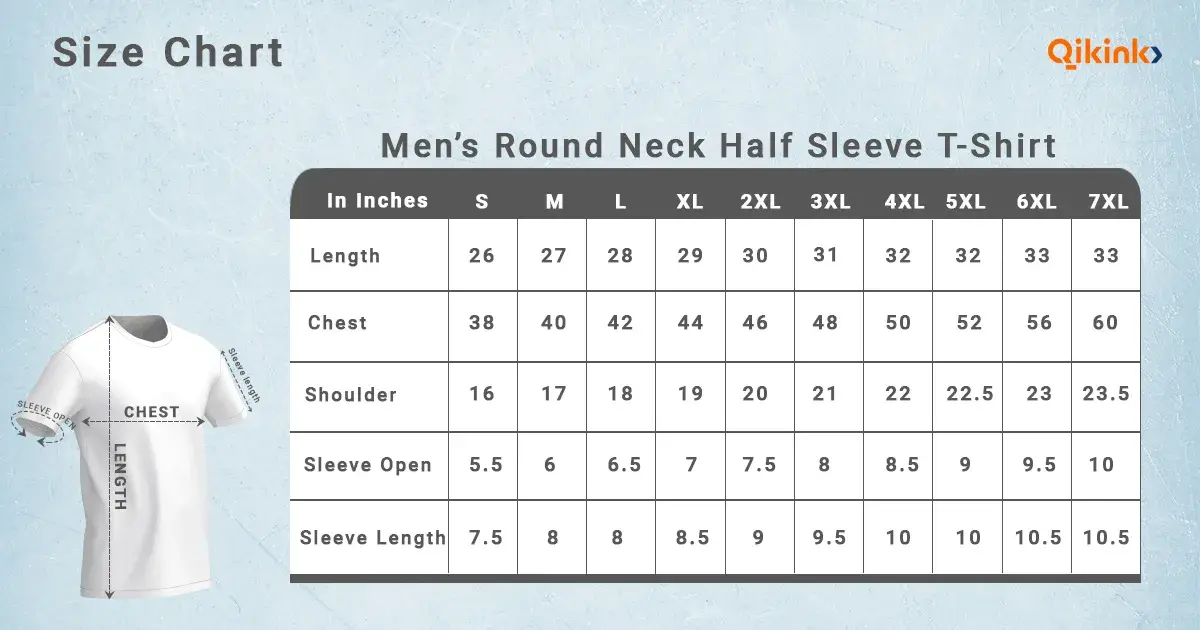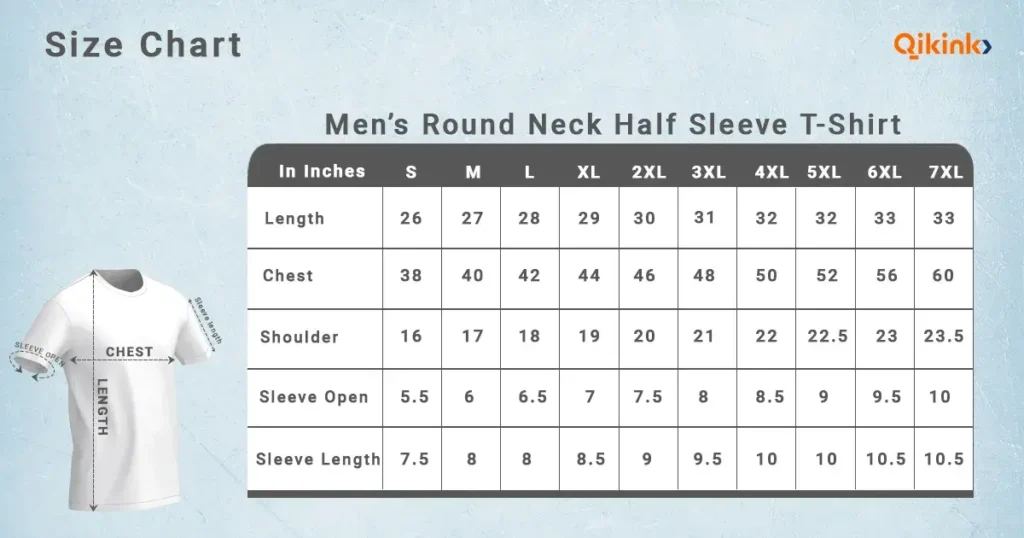 Ready to build your brand?
Explore Unisex Print-On-Demand T-Shirts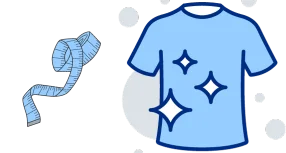 2. Men's V Neck Half-Sleeve T shirt Size Chart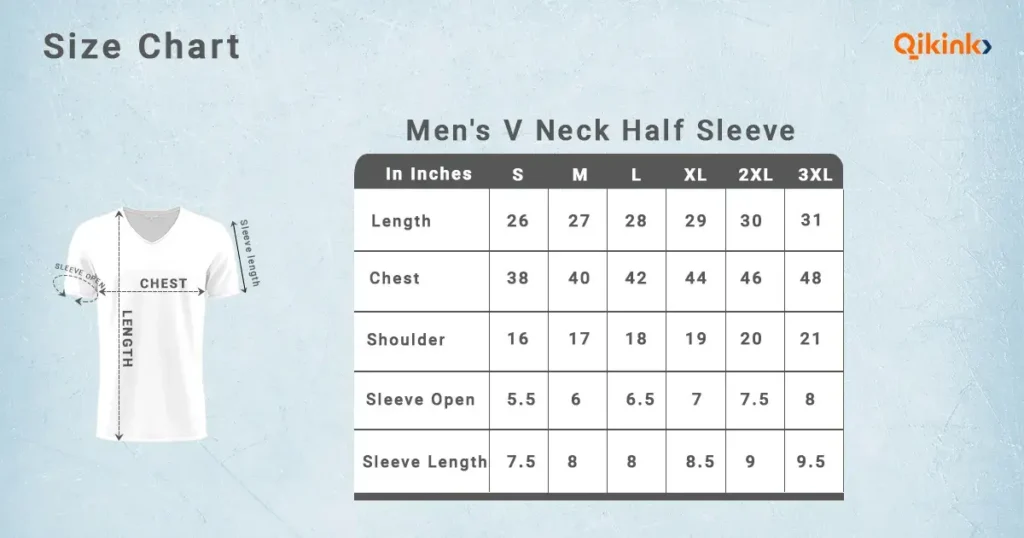 3. Men's Long Line Curved T shirt Size Chart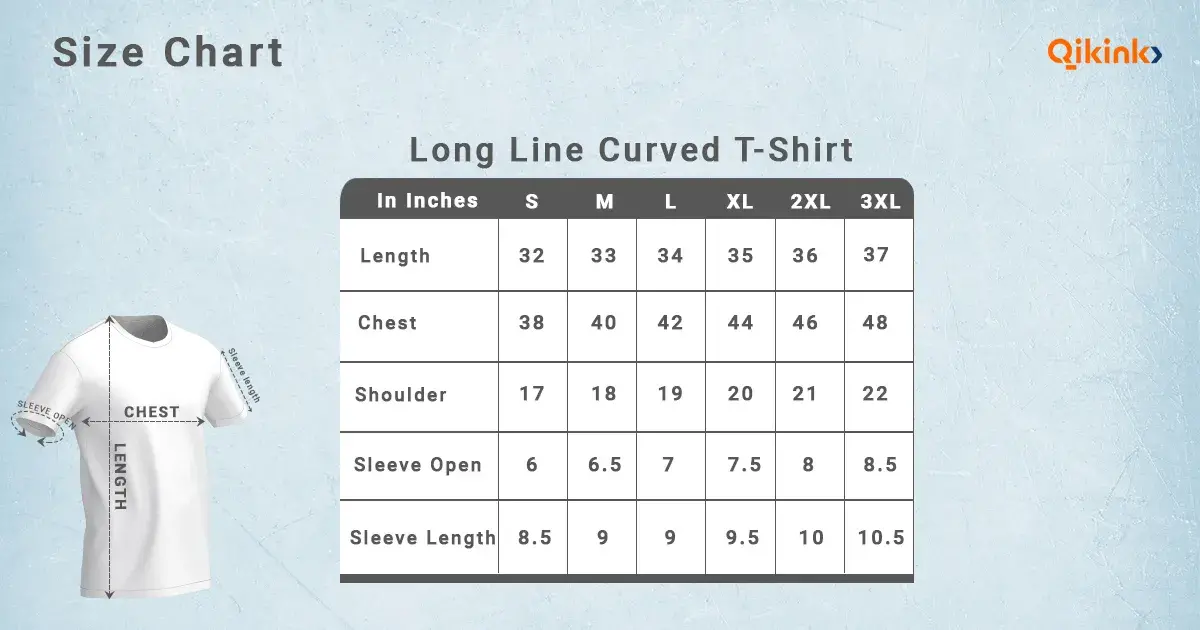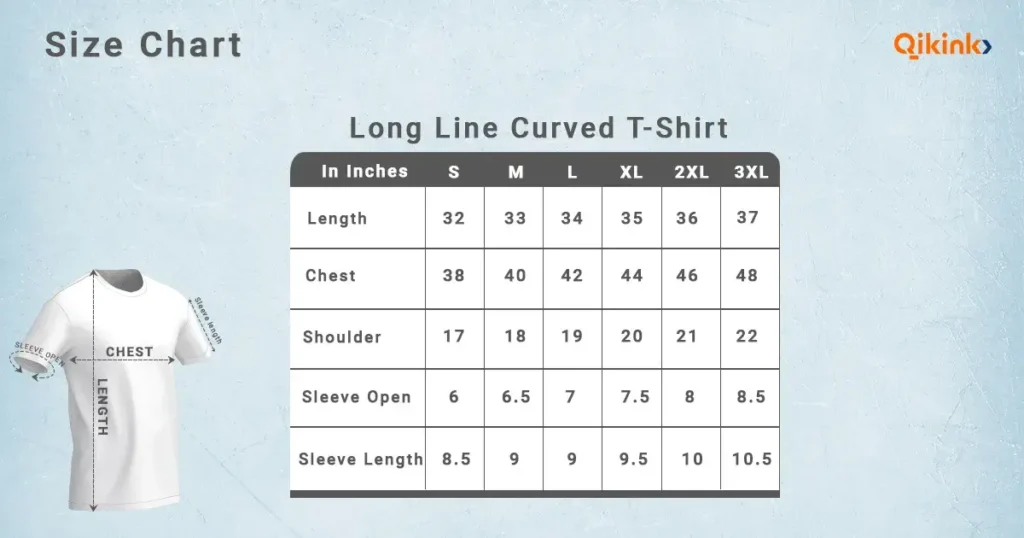 4. Men's Polo Half-Sleeve T shirt Size Chart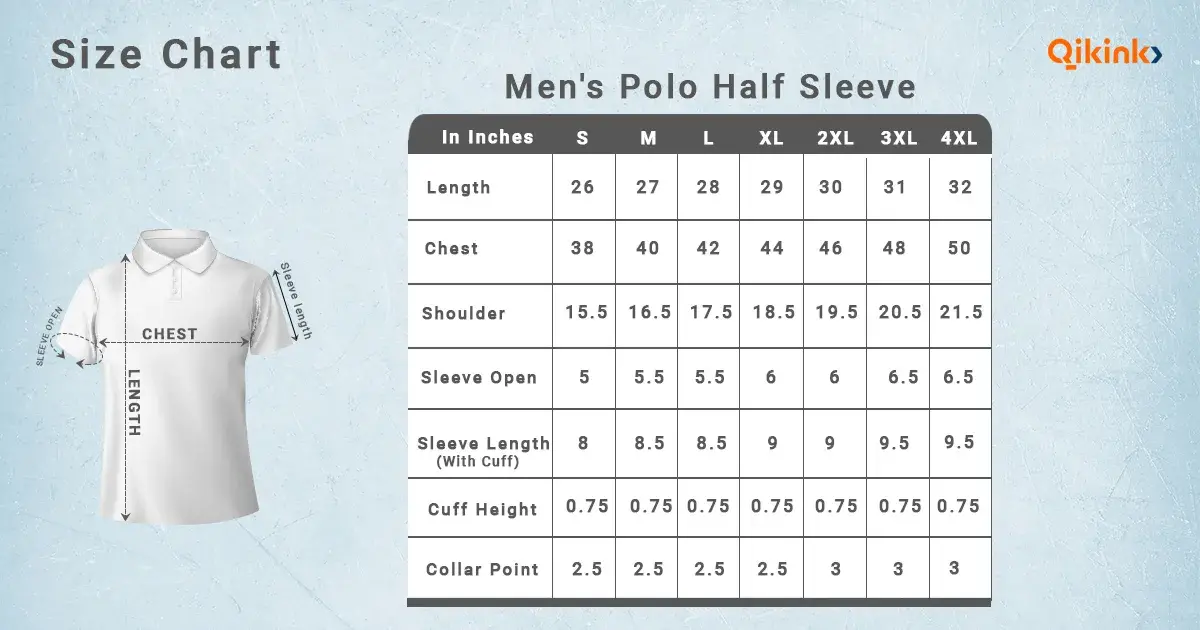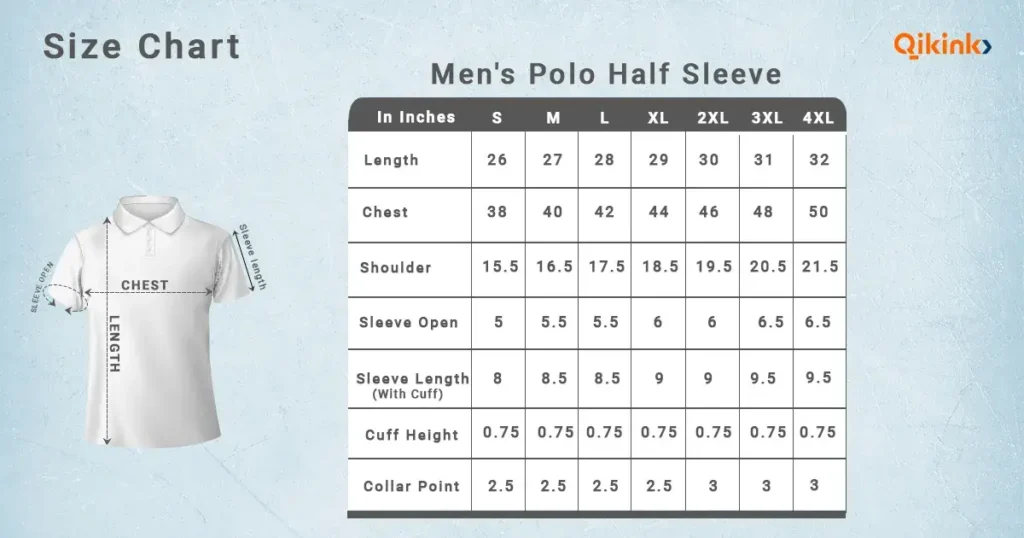 5. Men's Raglan Full Sleeve T shirt Size Chart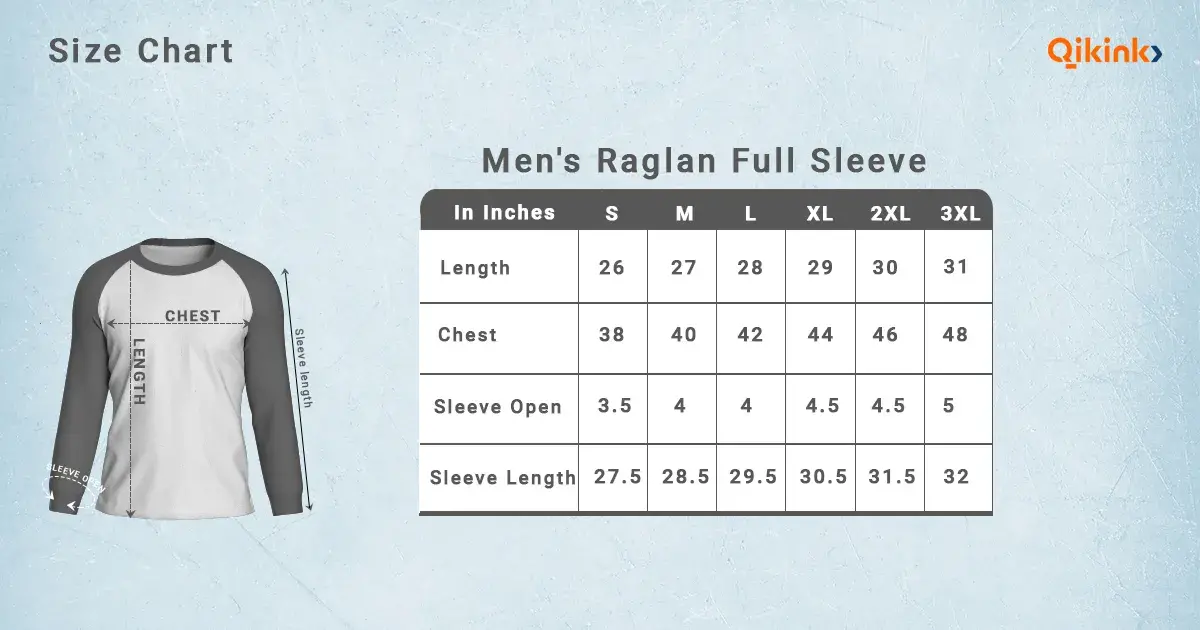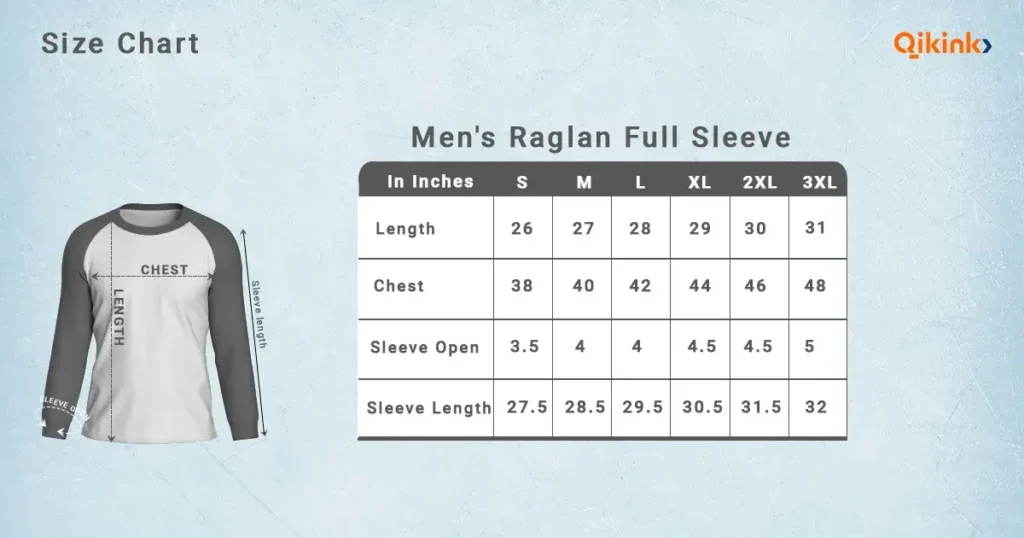 6. Men's Round Neck Full Sleeve T shirt Size Chart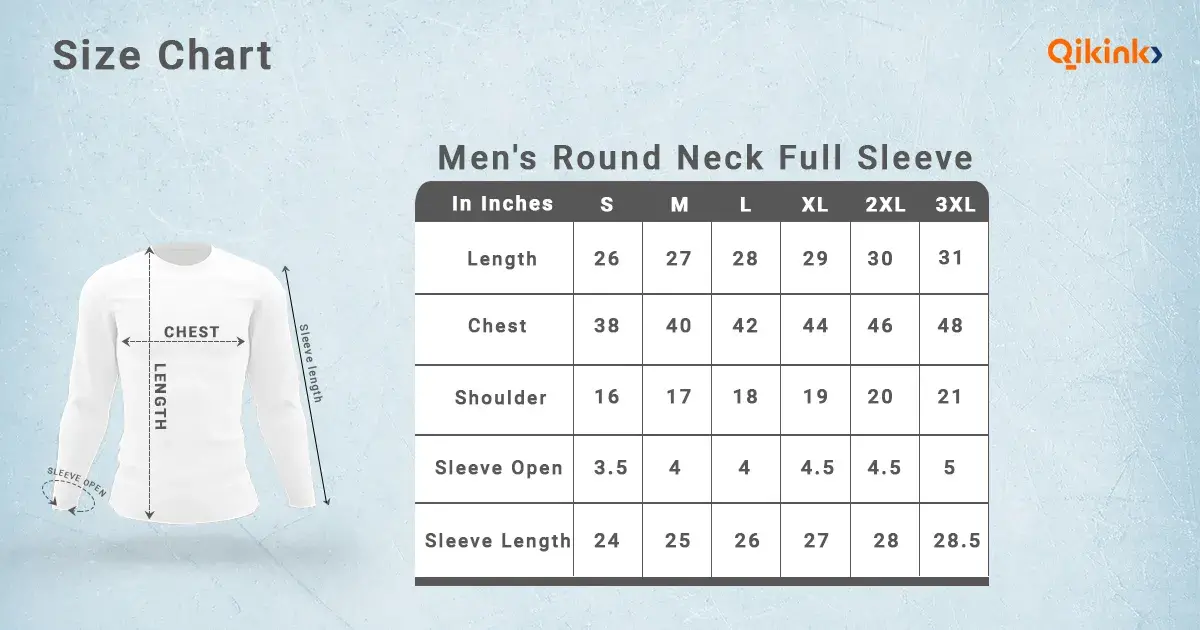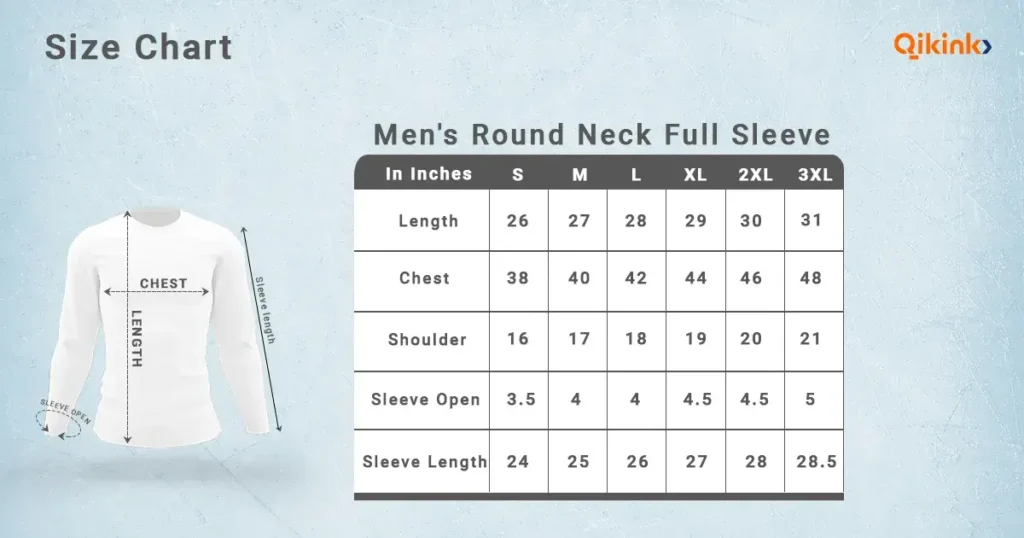 Women's T shirt size chart
7. Round Neck Half Sleeve T shirt Size Chart For Female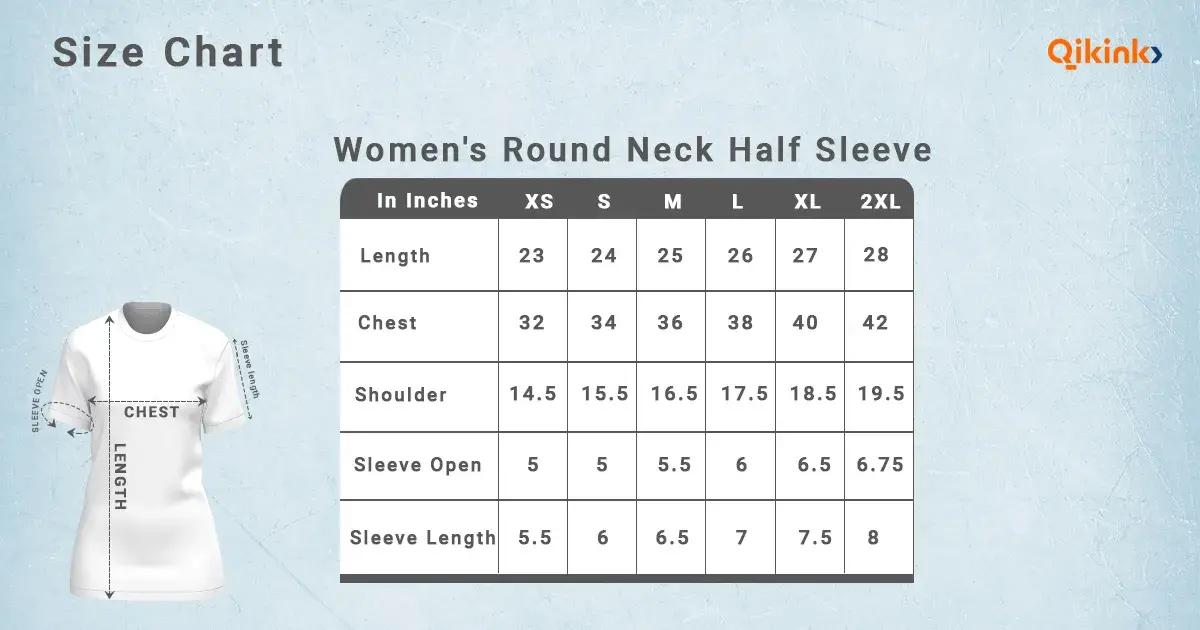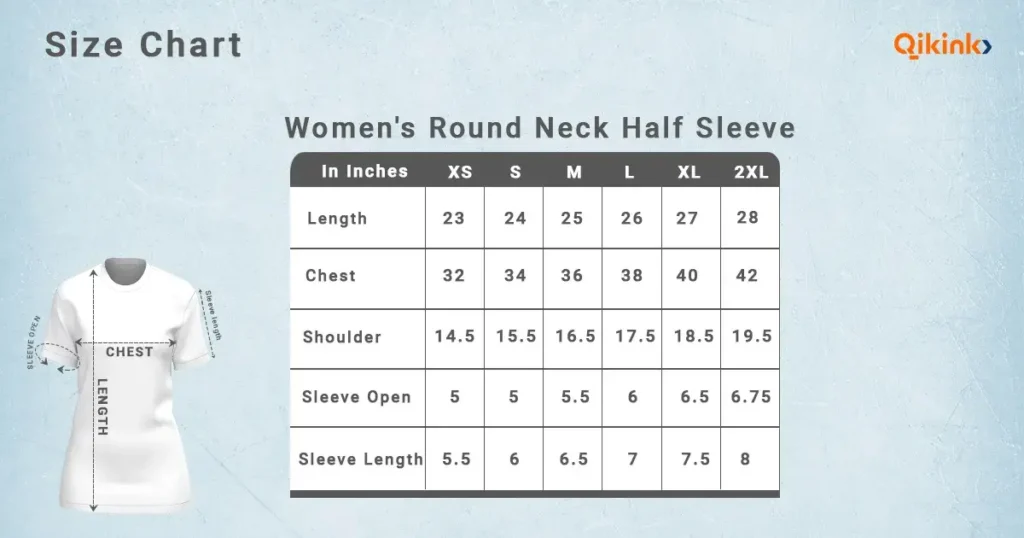 8. Women's Crop Hoodies Size chart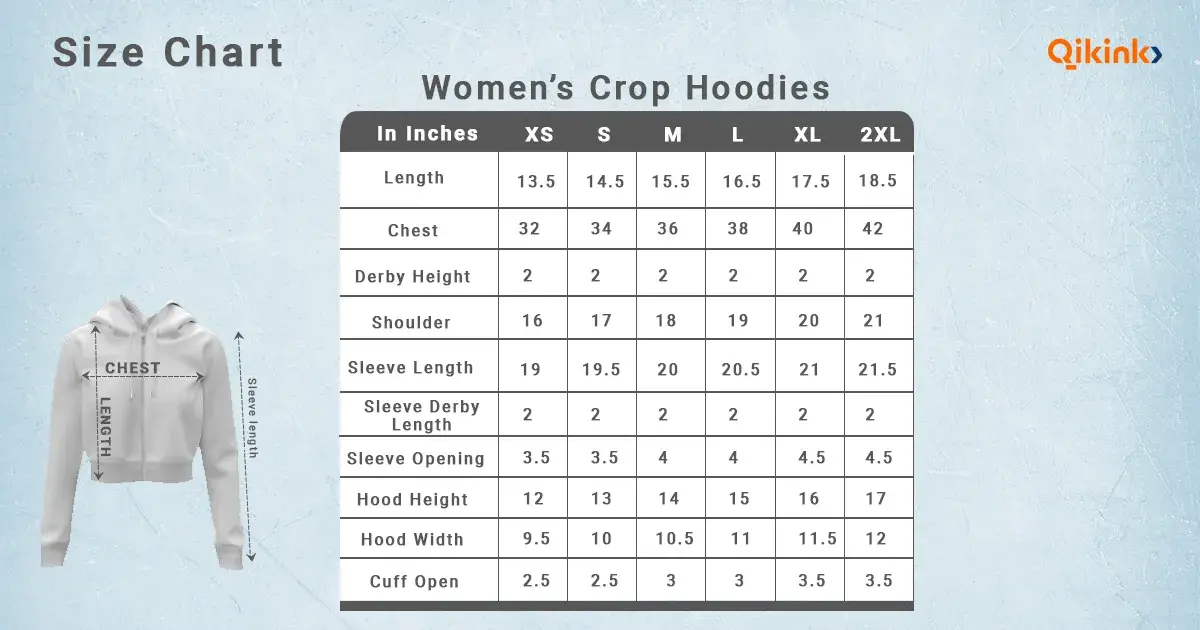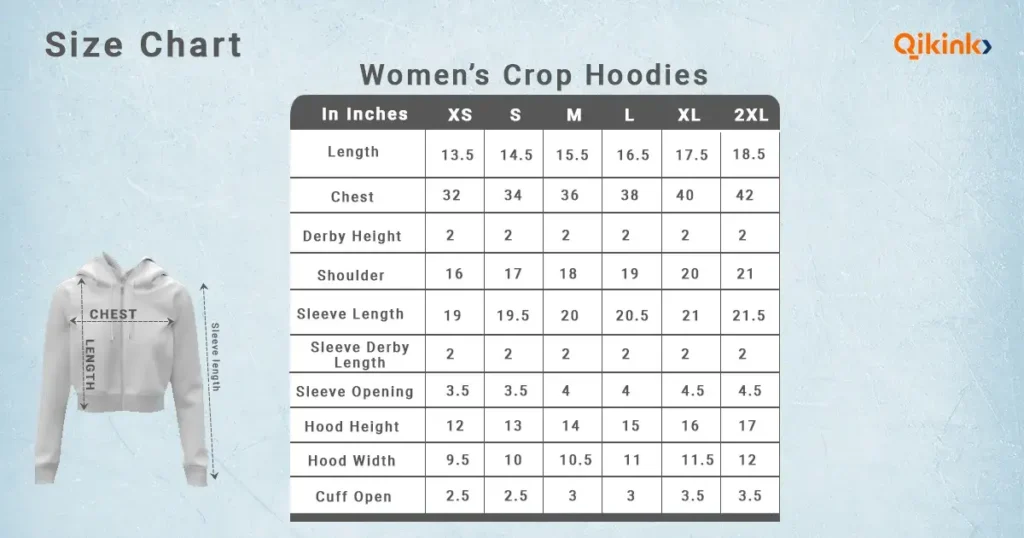 9. Women's Crop Tank T shirt Size Chart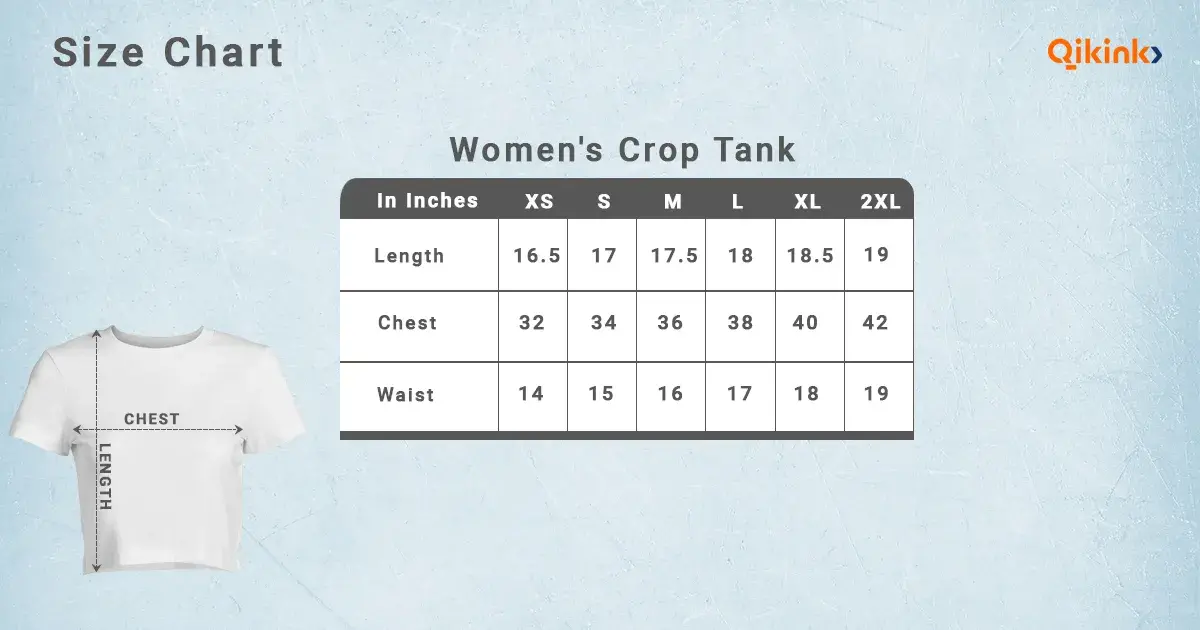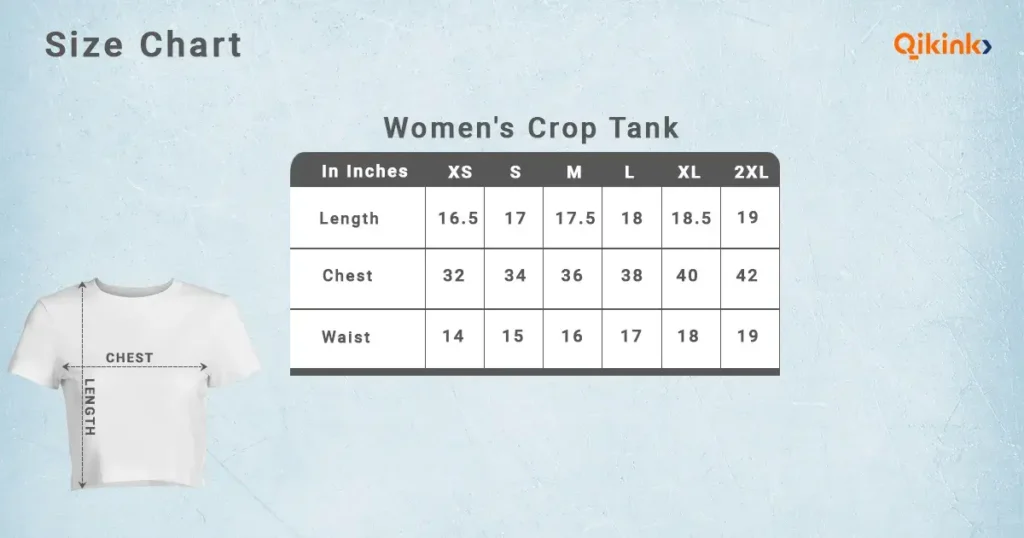 10. Women's Crop Top Half Sleeve Size Chart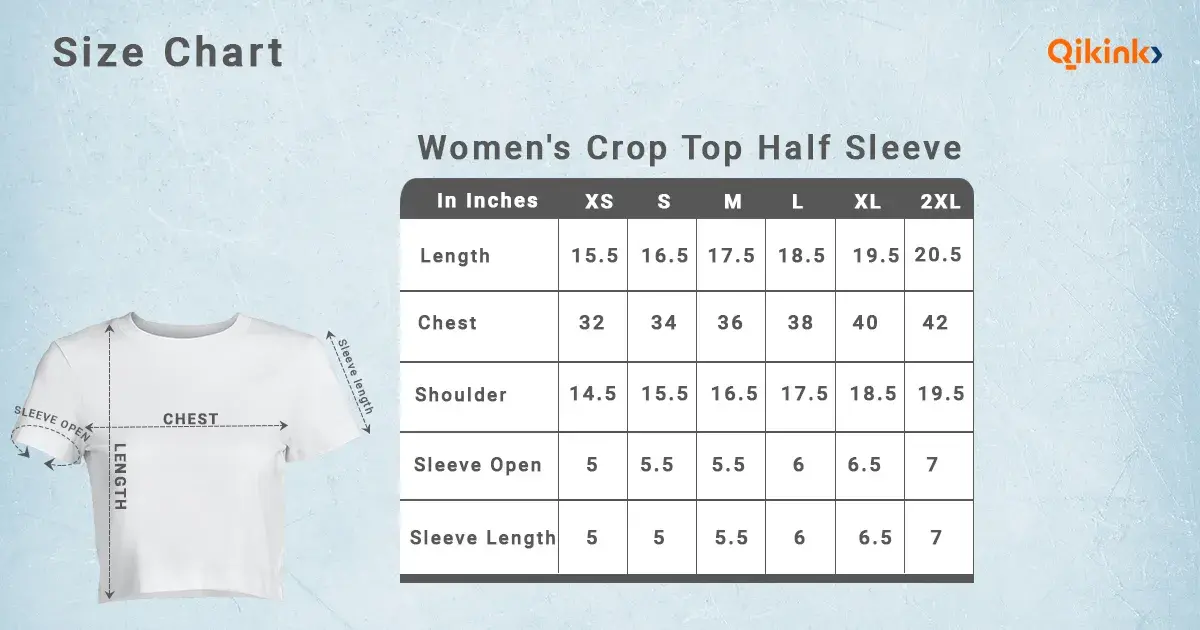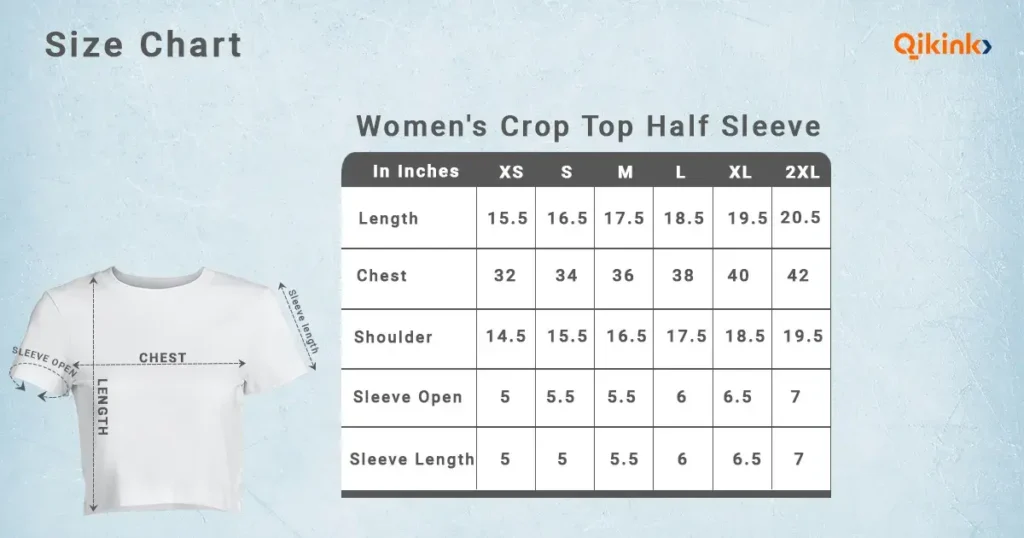 11. Women's Long Top 3/4th Sleeve Size Chart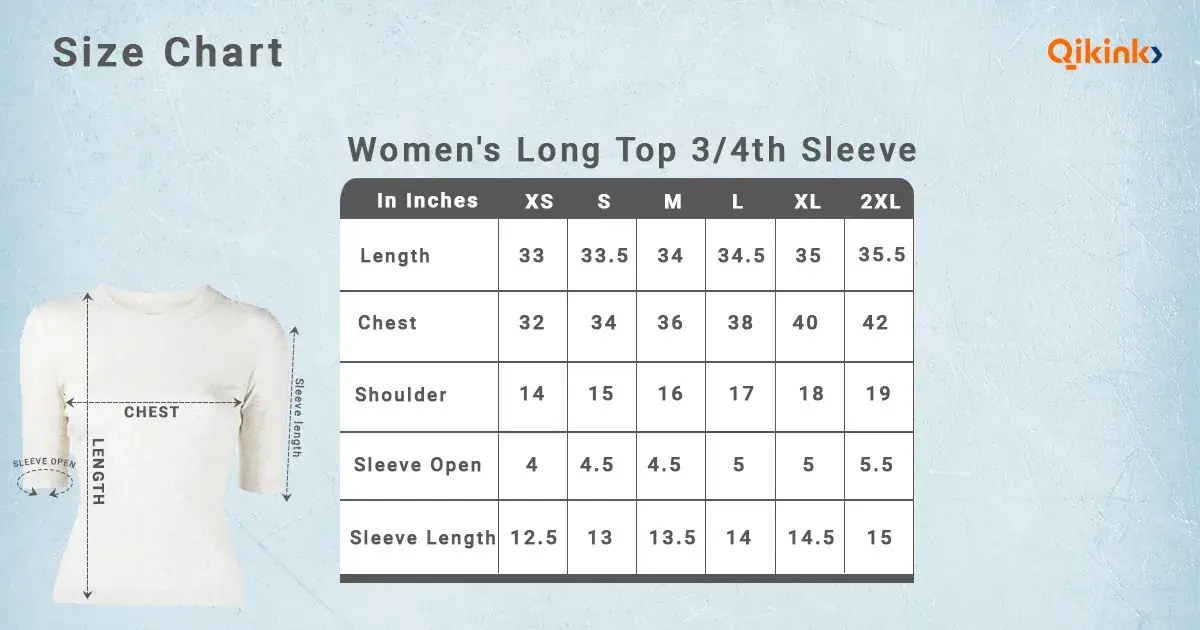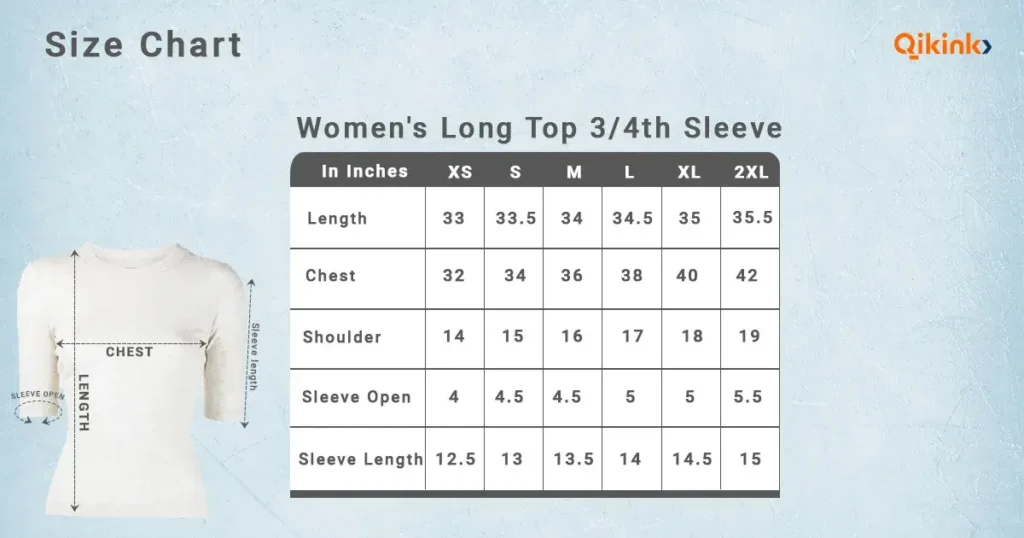 12. Women's Maternity 3/4th Sleeve Size Chart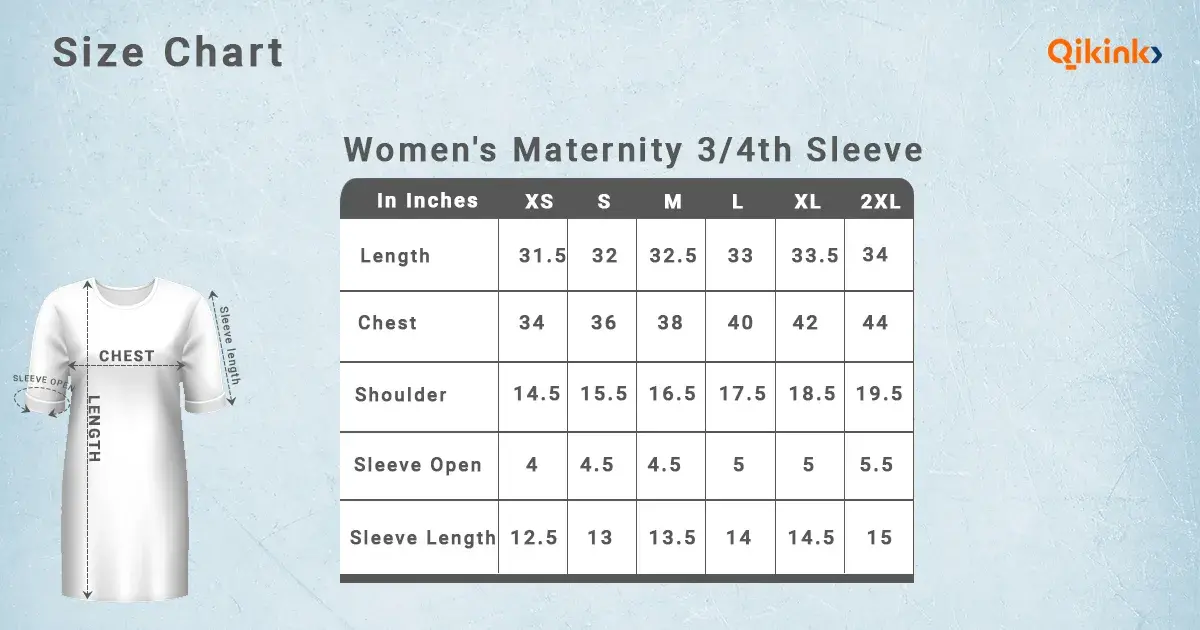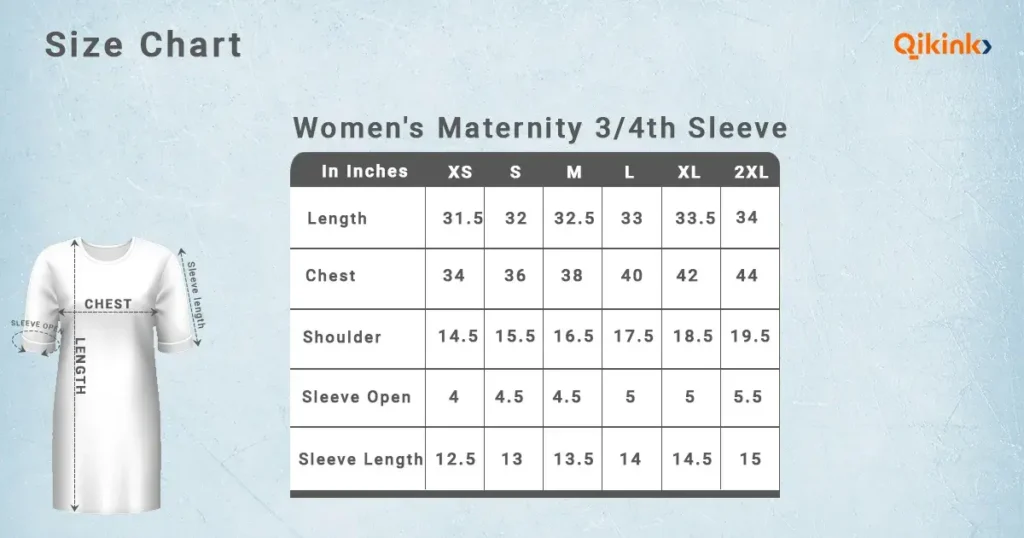 13. Women's Raglan 3/4th Sleeve Size Chart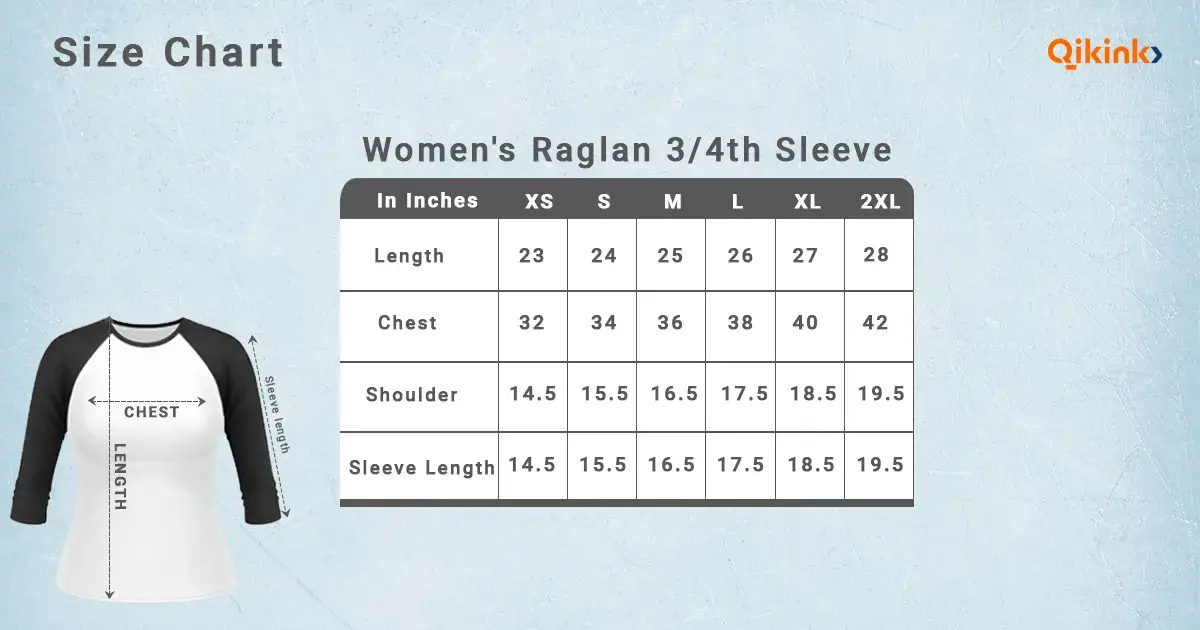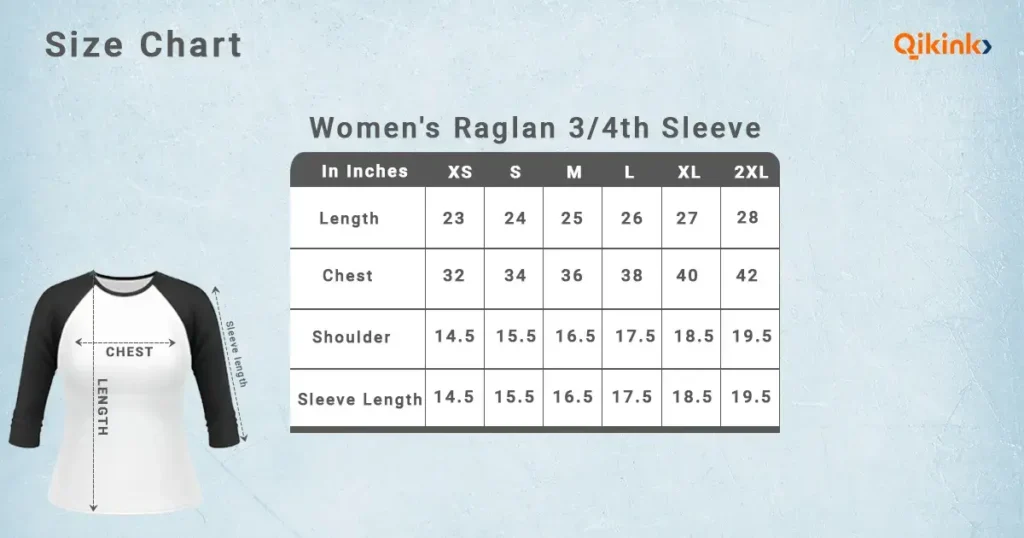 14. Women's Round Neck 3/4th Sleeve Size Chart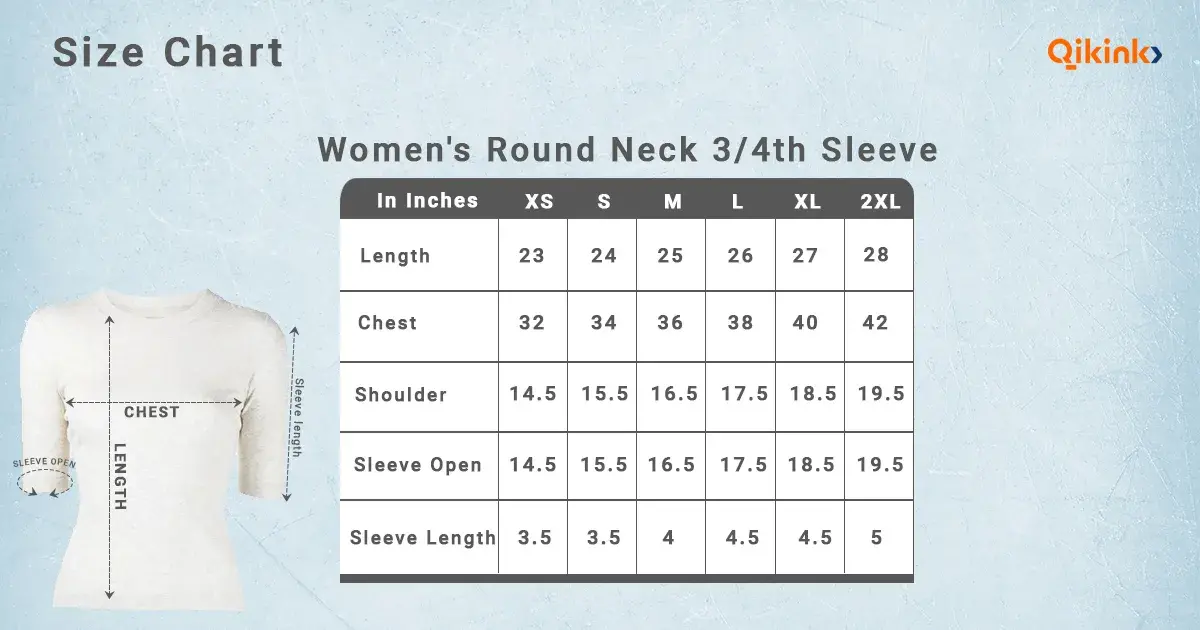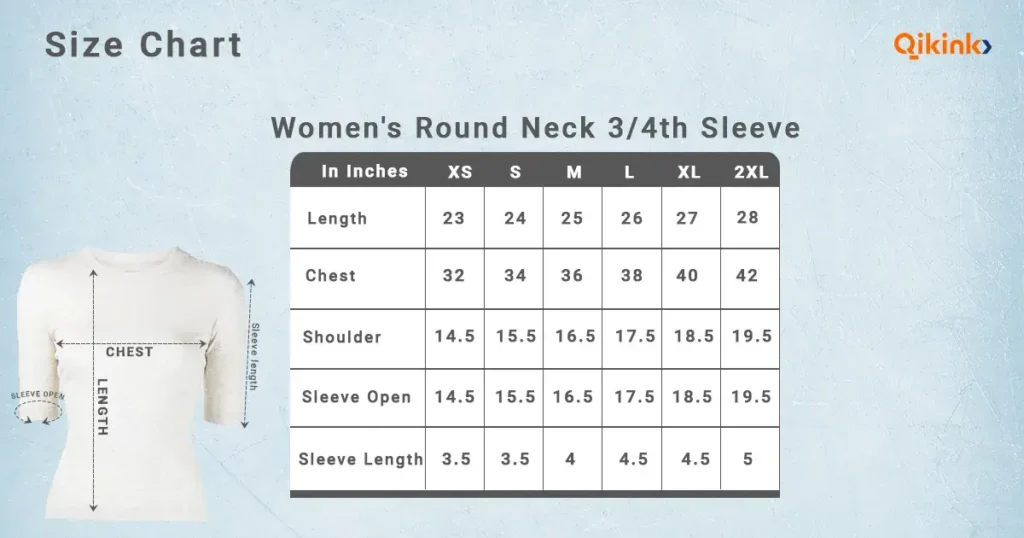 15. Women's Tank Top Size Chart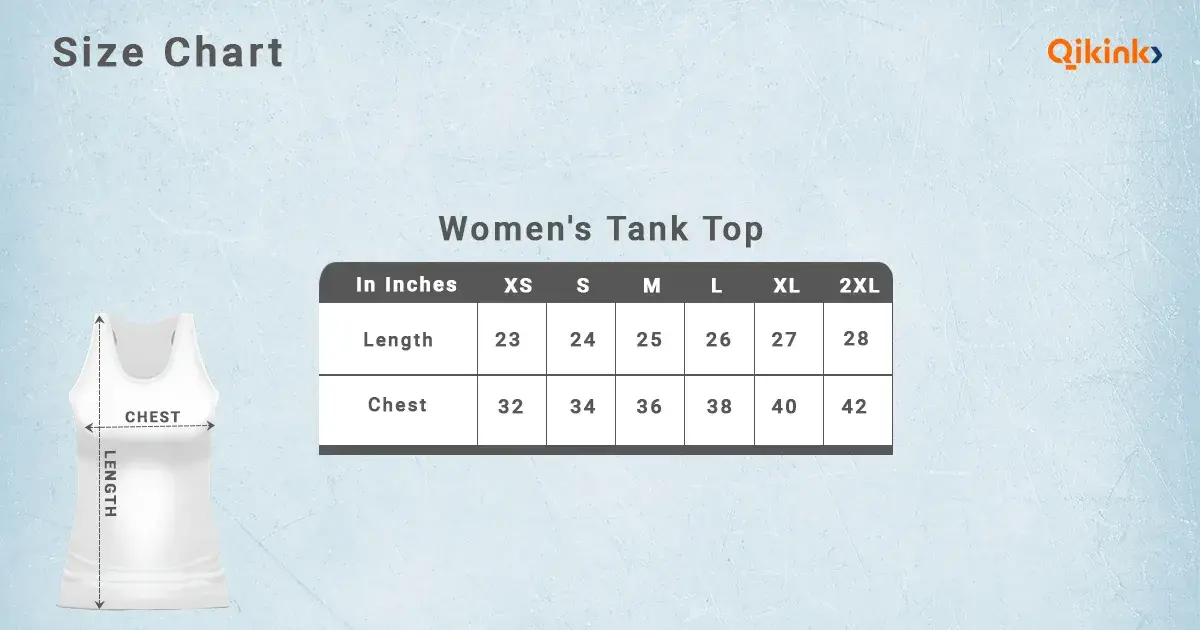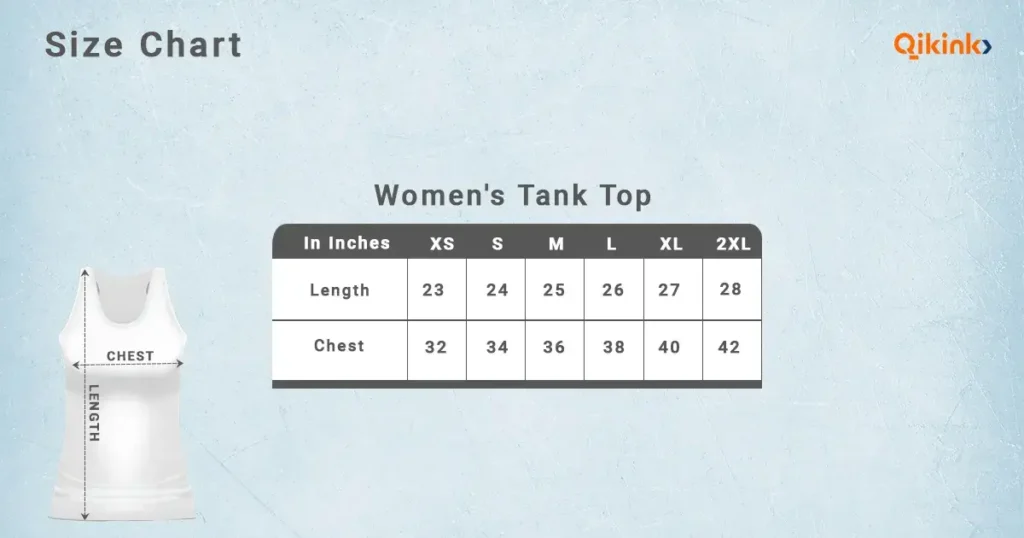 16. Women's Crop Hoodies Size Chart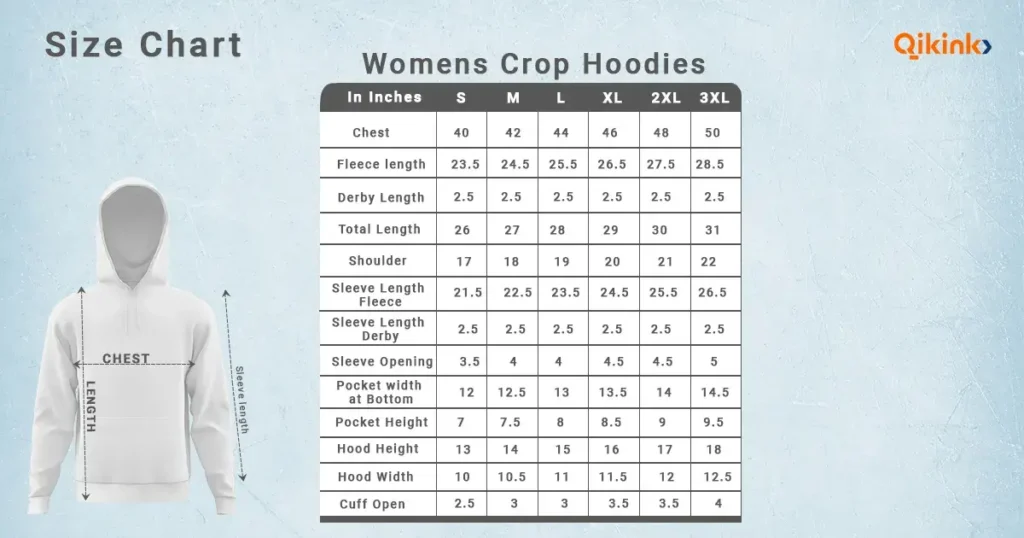 Unisex T shirt size chart
17. Unisex Joggers Size Chart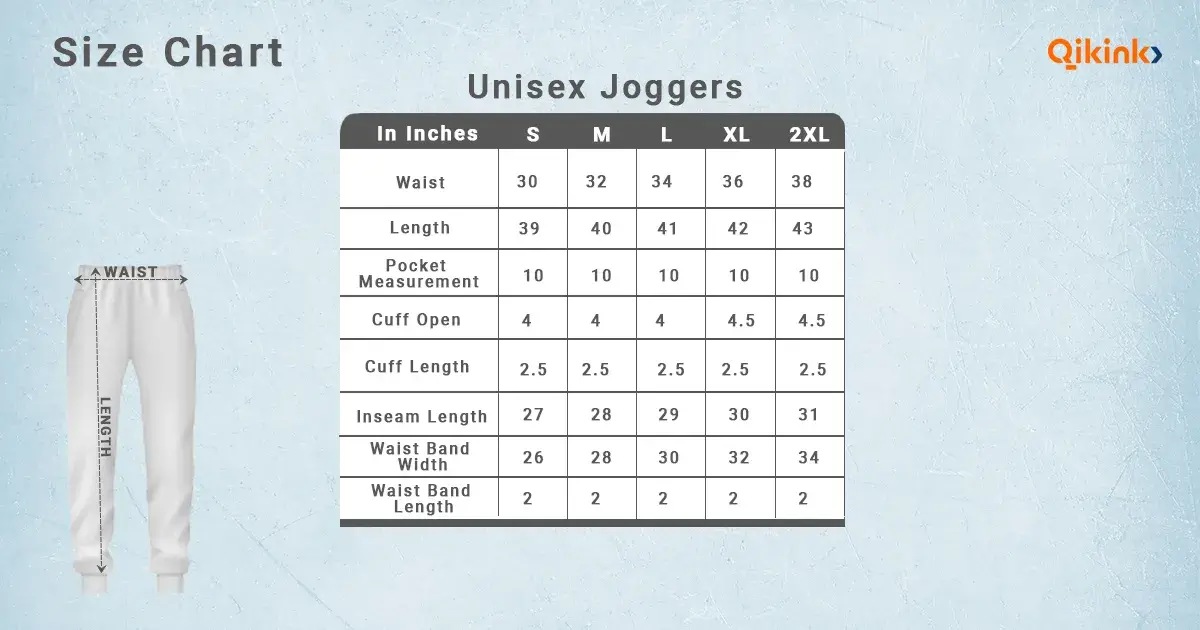 18. Unisex Oversize Half Sleeve Size Chart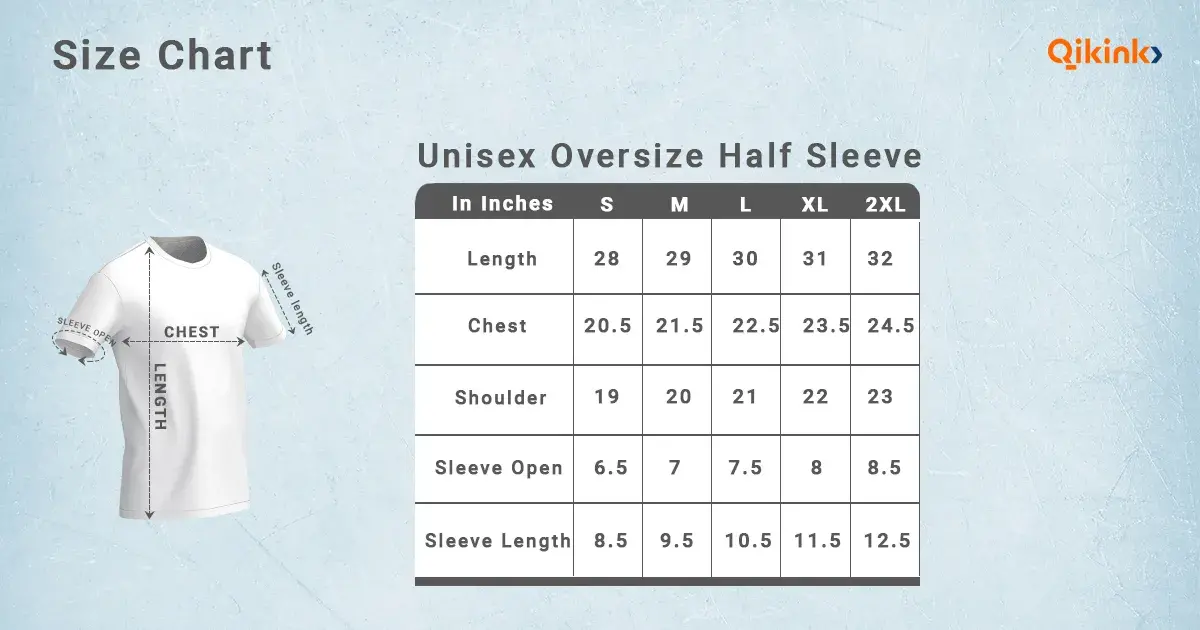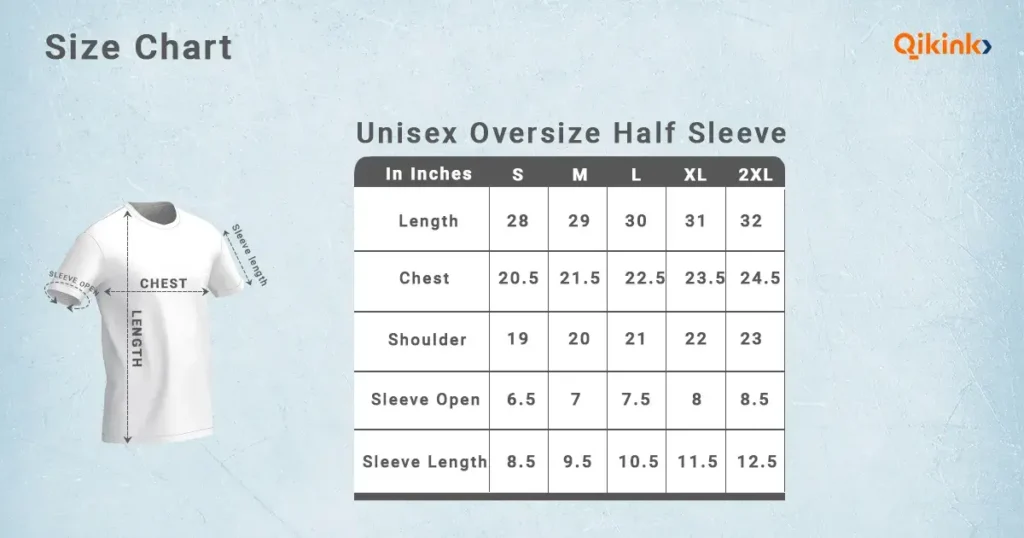 19. Unisex Sweatshirt Full Sleeve Size Chart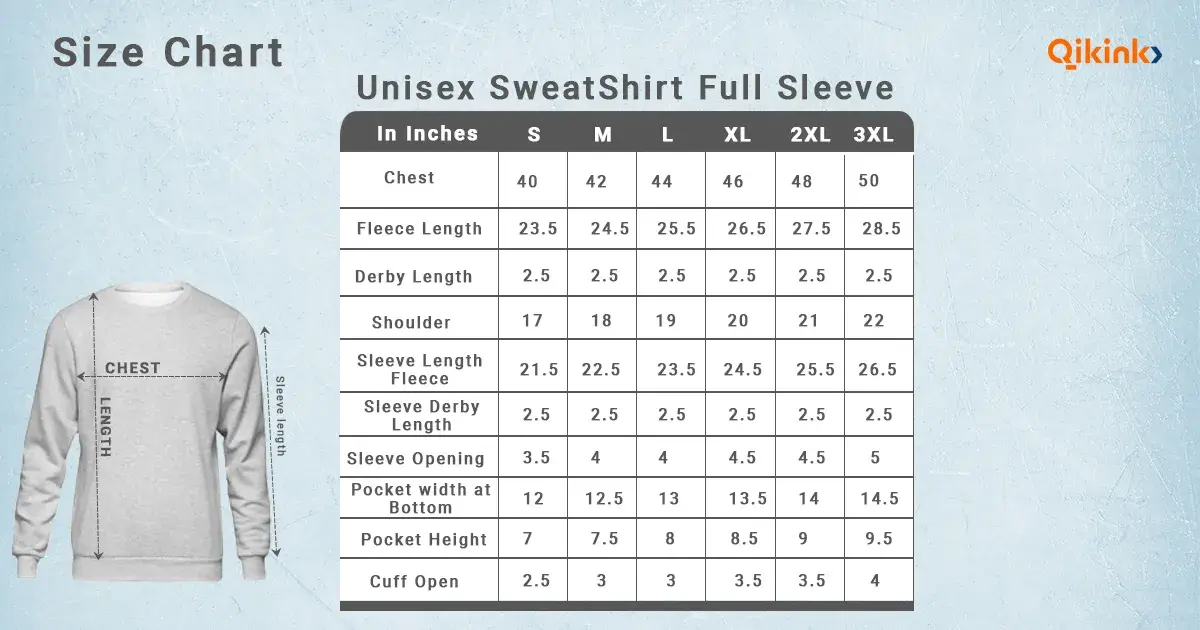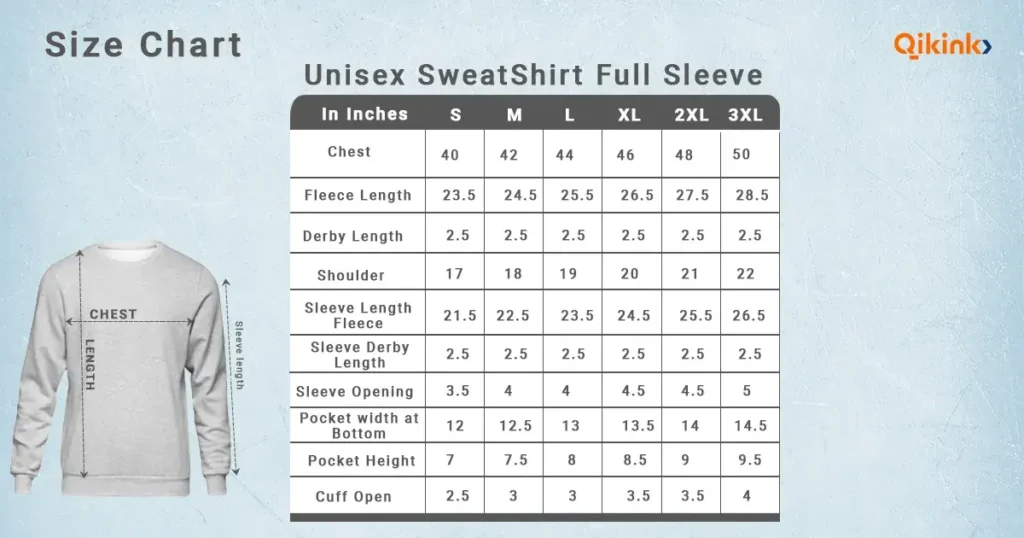 20. Unisex Hooded Sweatshirt Full Sleeve Size Chart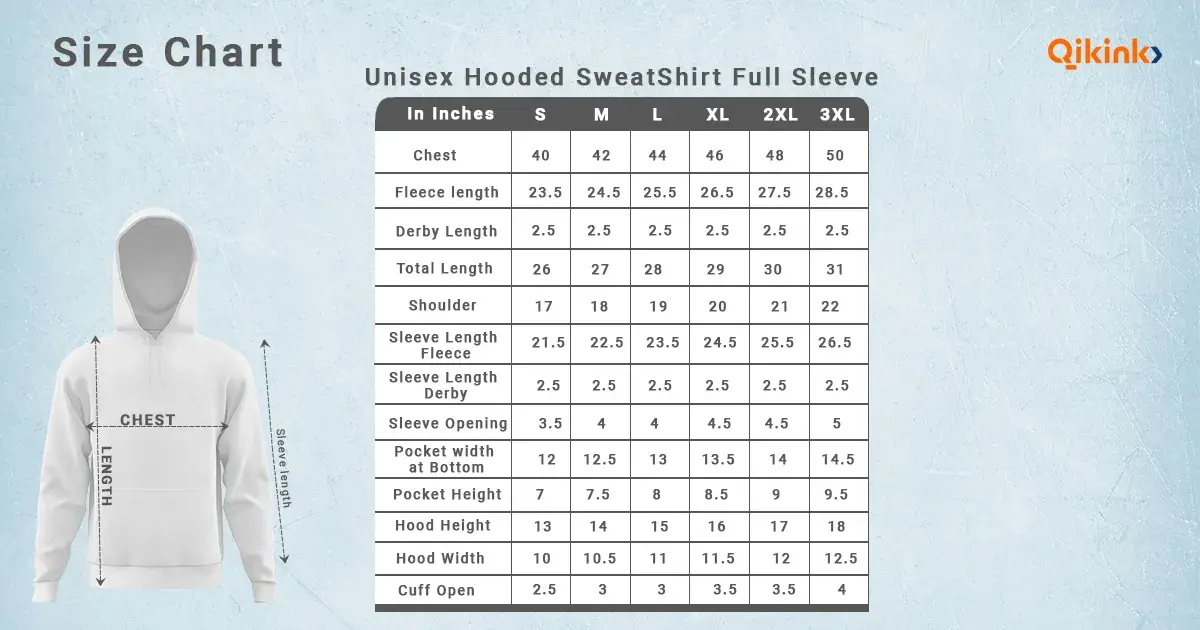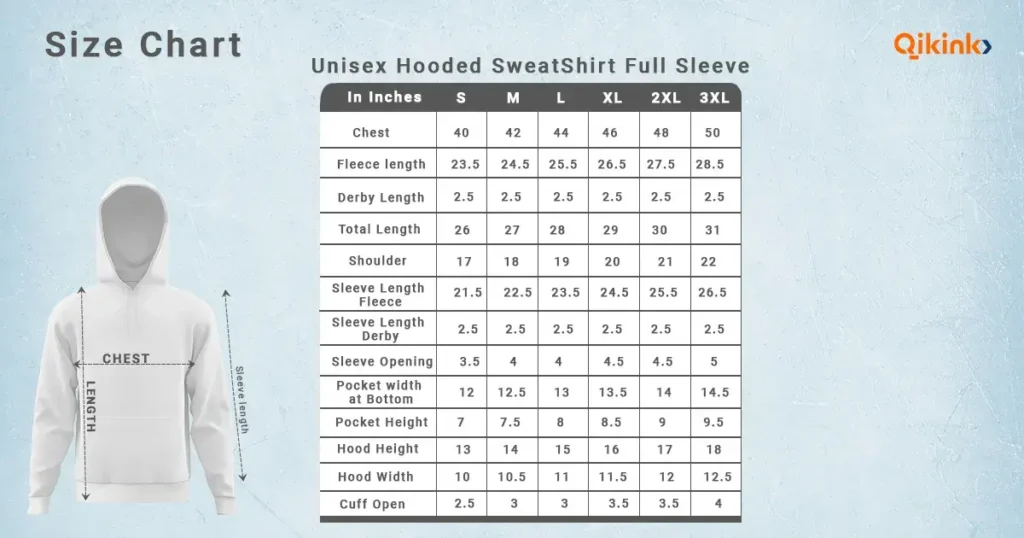 All Over Printed (AOP) T shirt size chart in
21. AOP Men's Round Neck T shirt Size Chart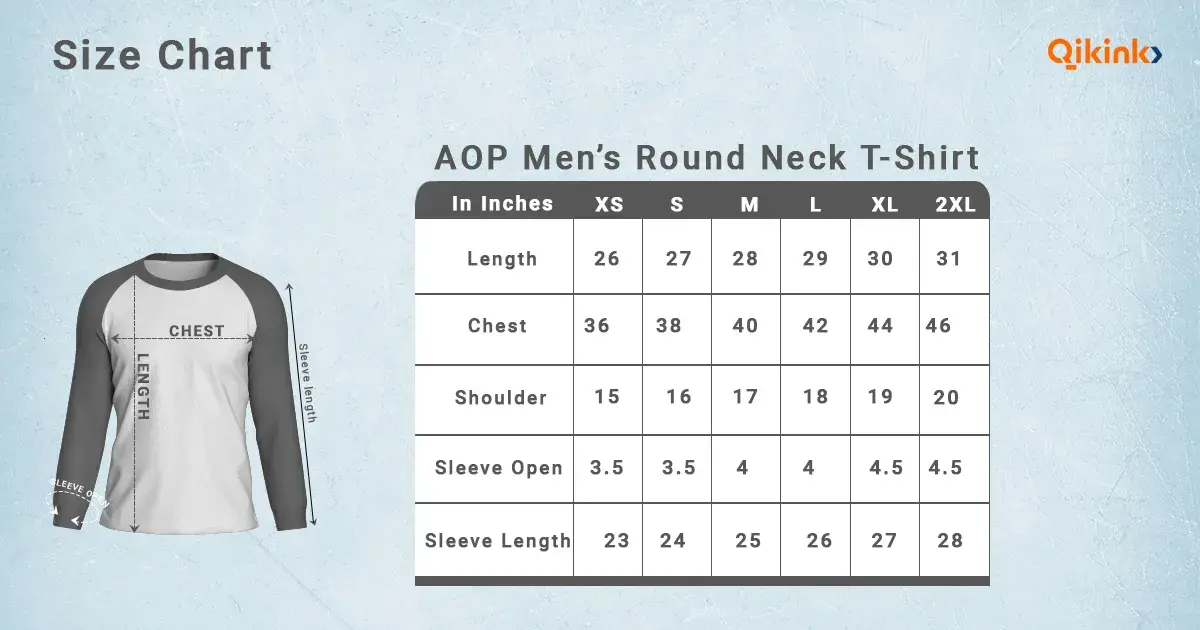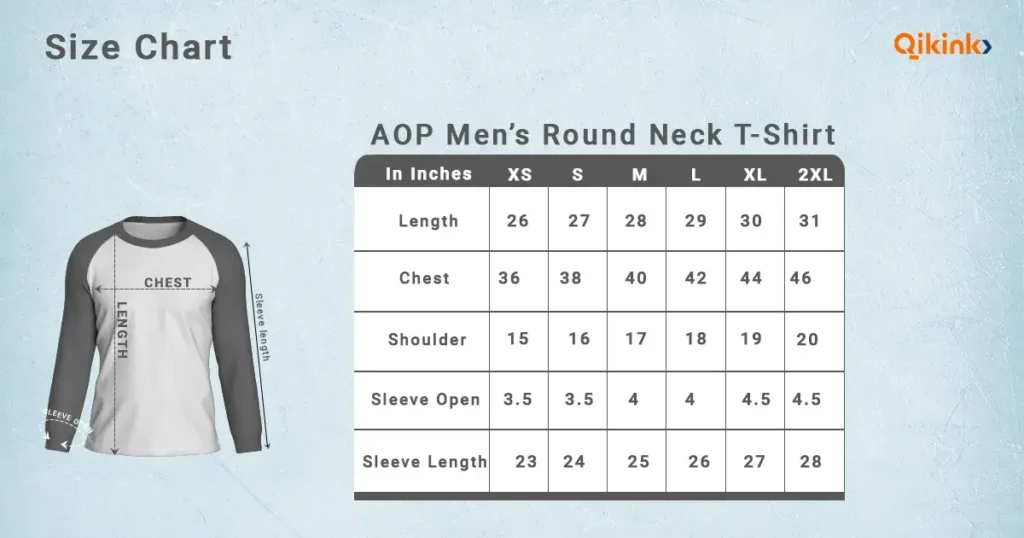 22. AOP Men's Round Neck Half Sleeve T shirt Size Chart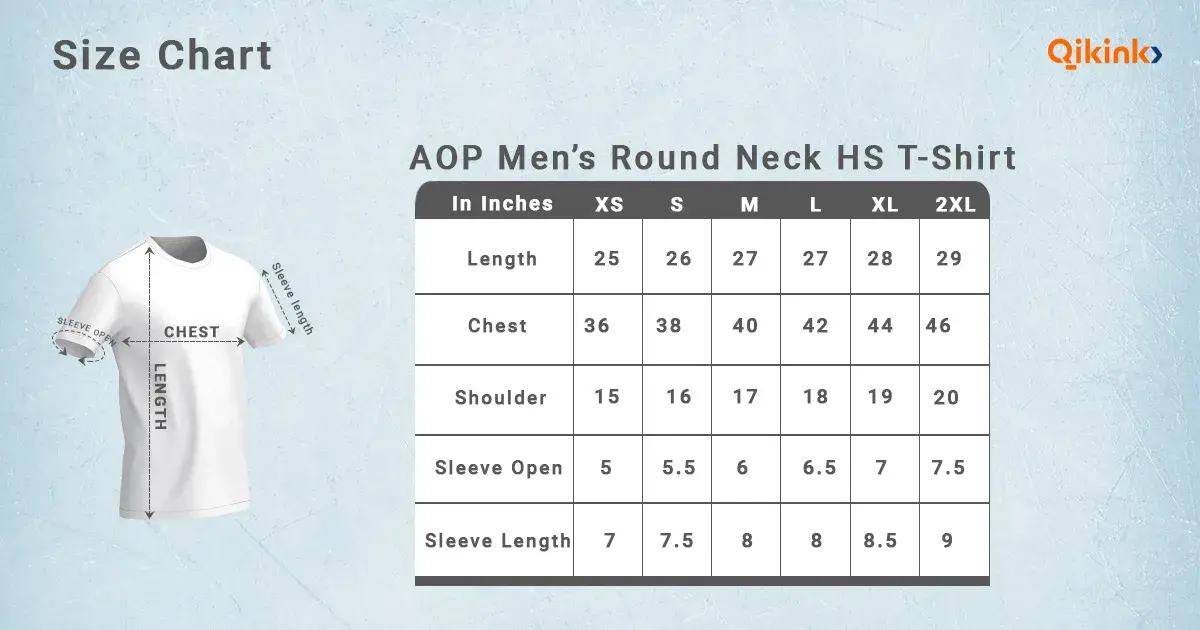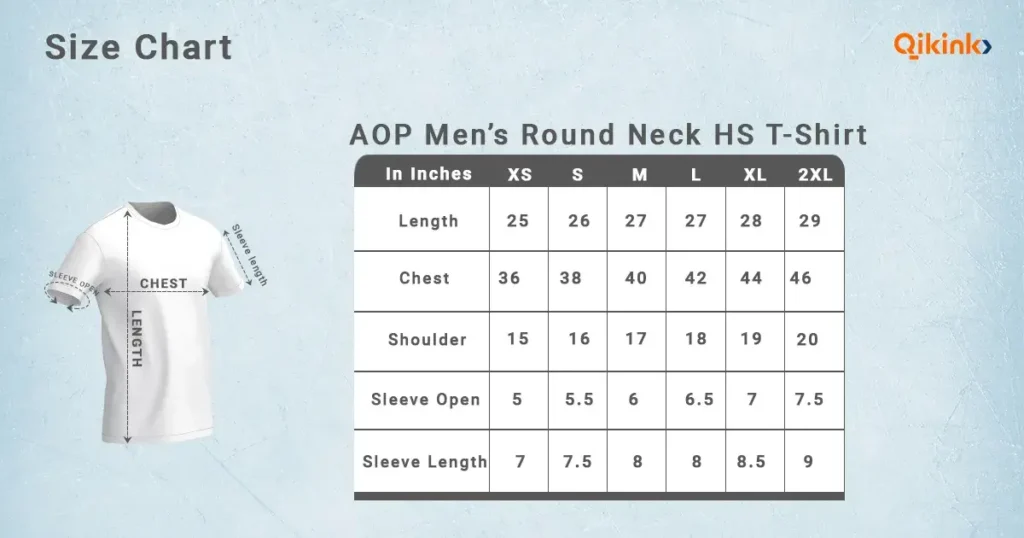 23. AOP Crop Top Half Sleeve T shirt Size Chart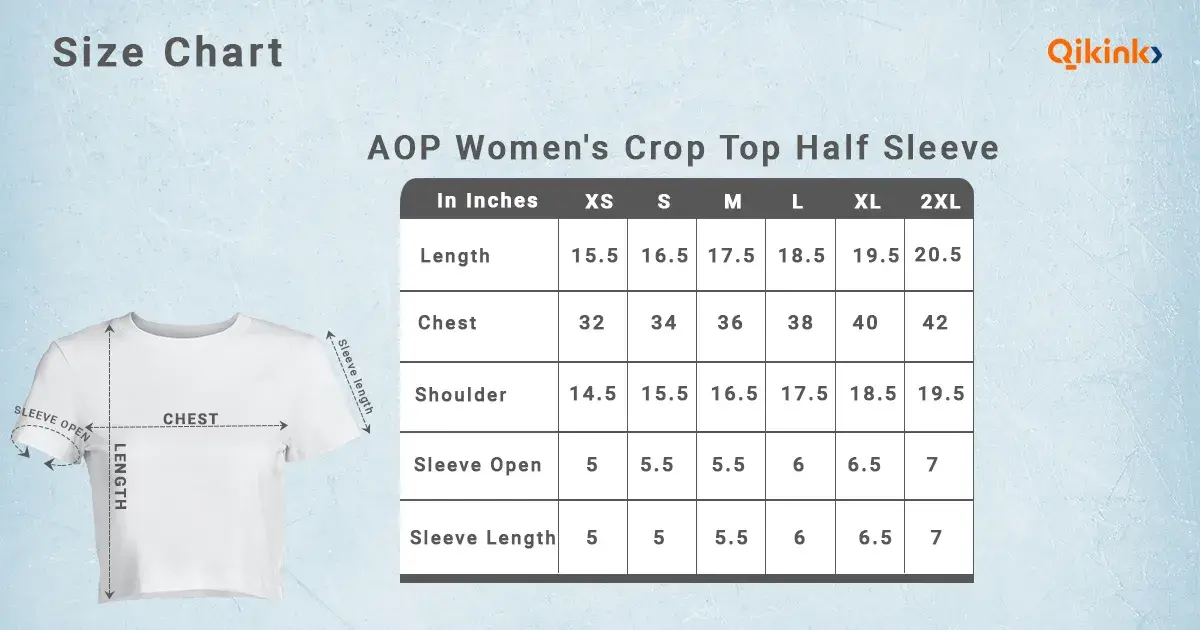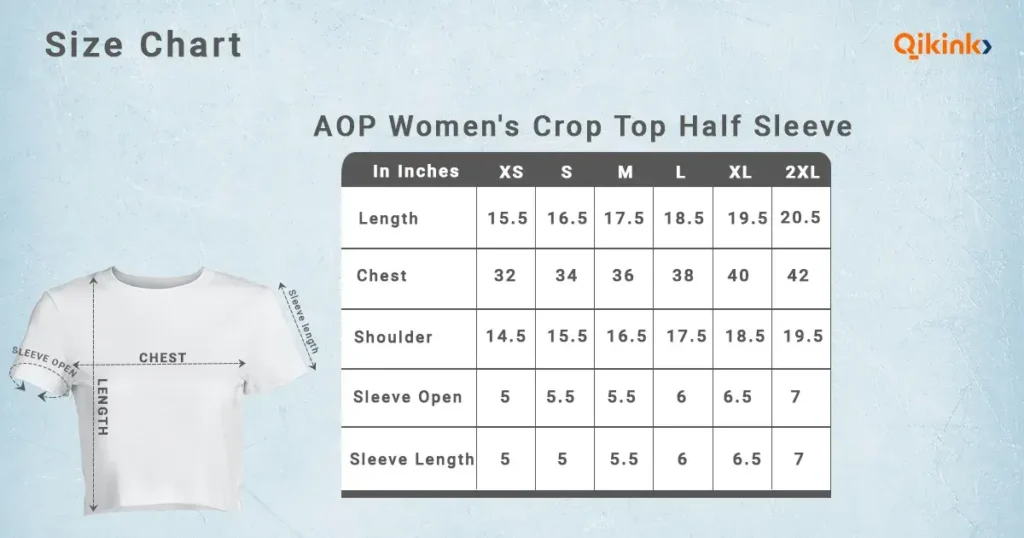 24. AOP Women's Round Neck Half Sleeve T shirt Size Chart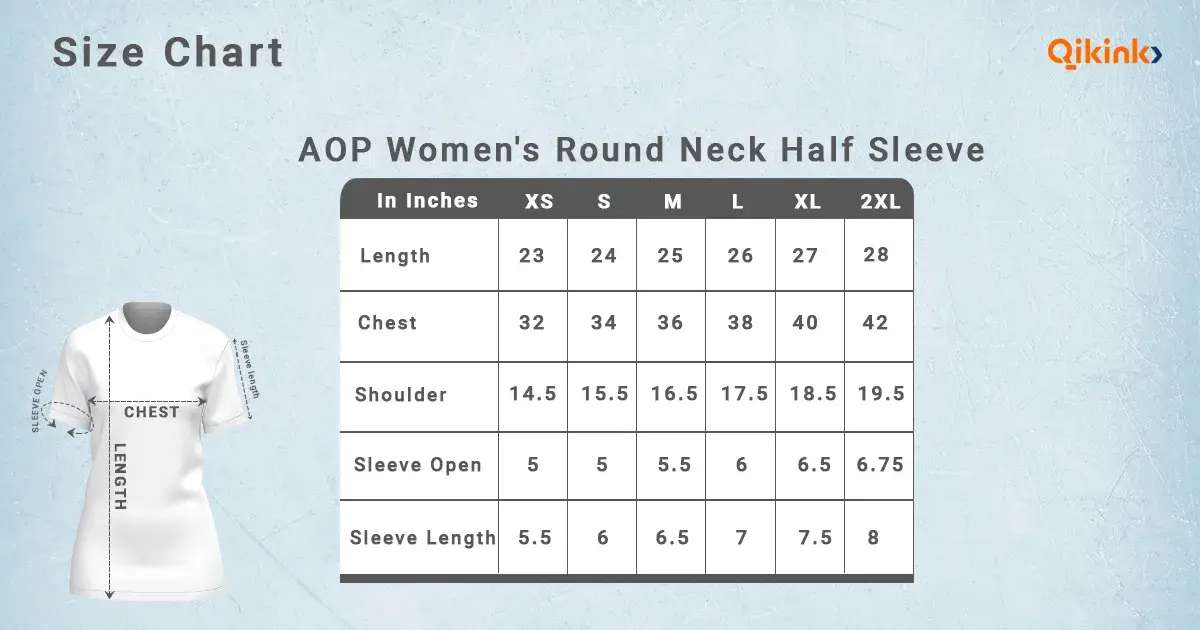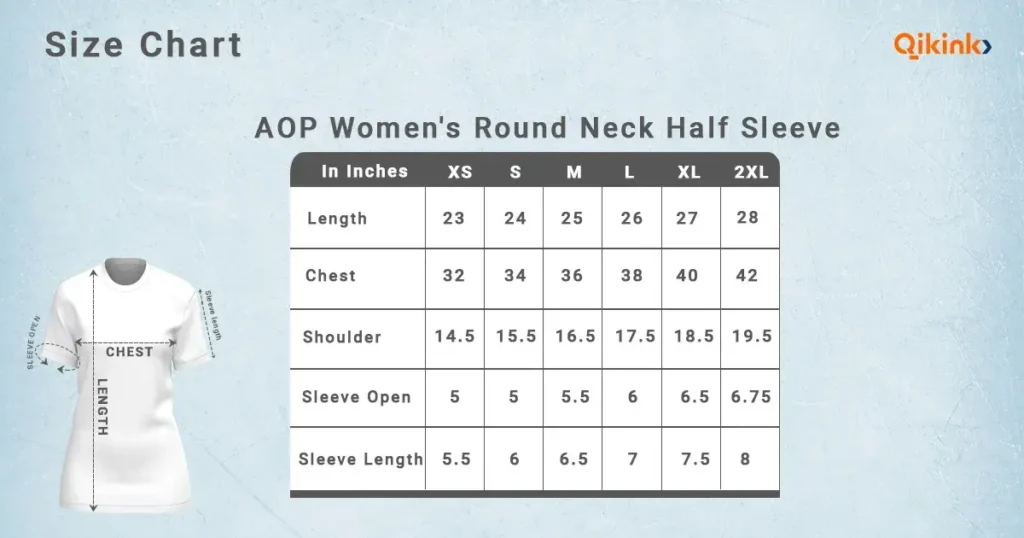 25. AOP Women's Sports Bra Size Chart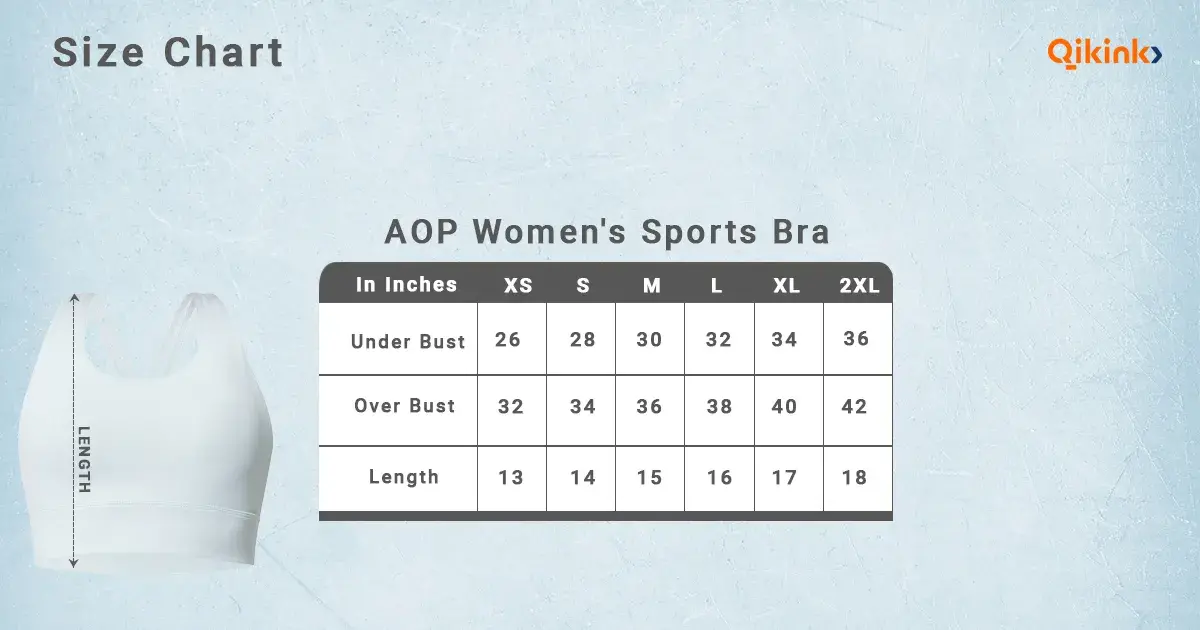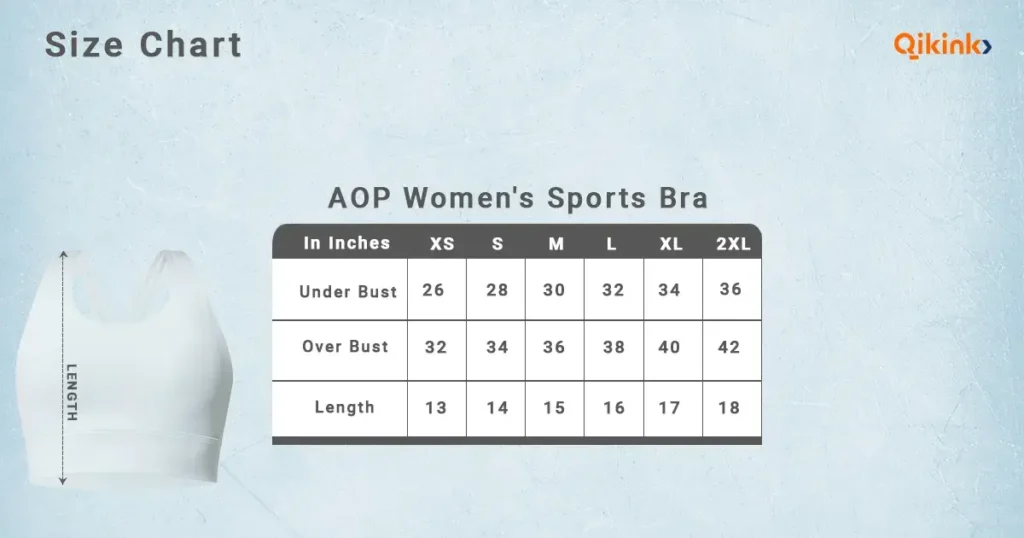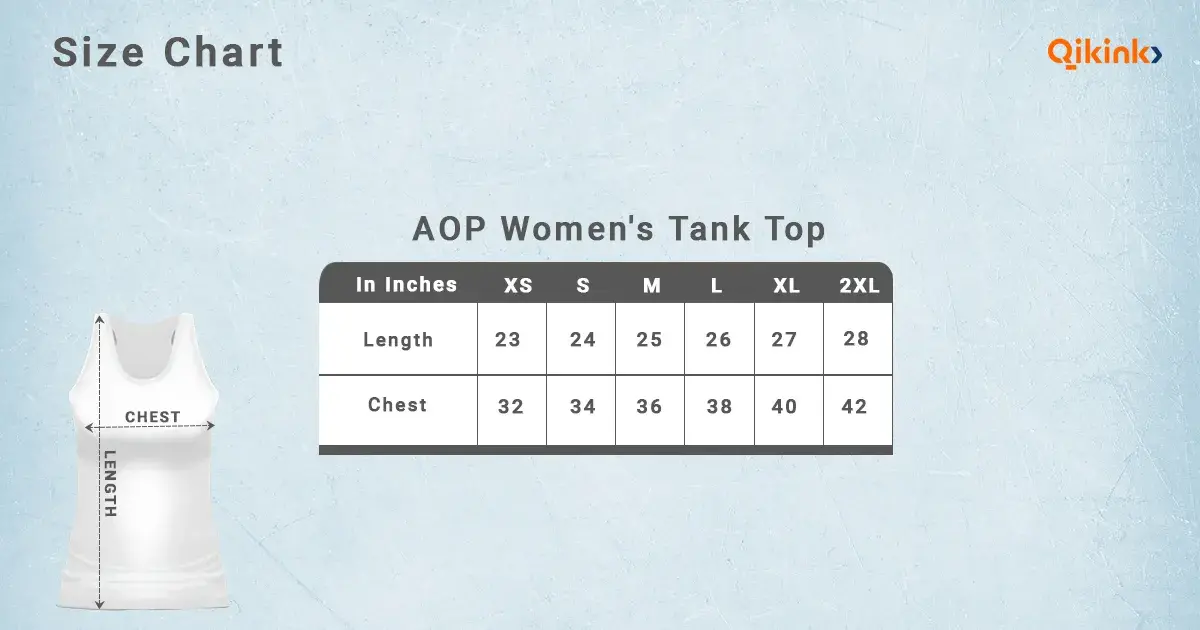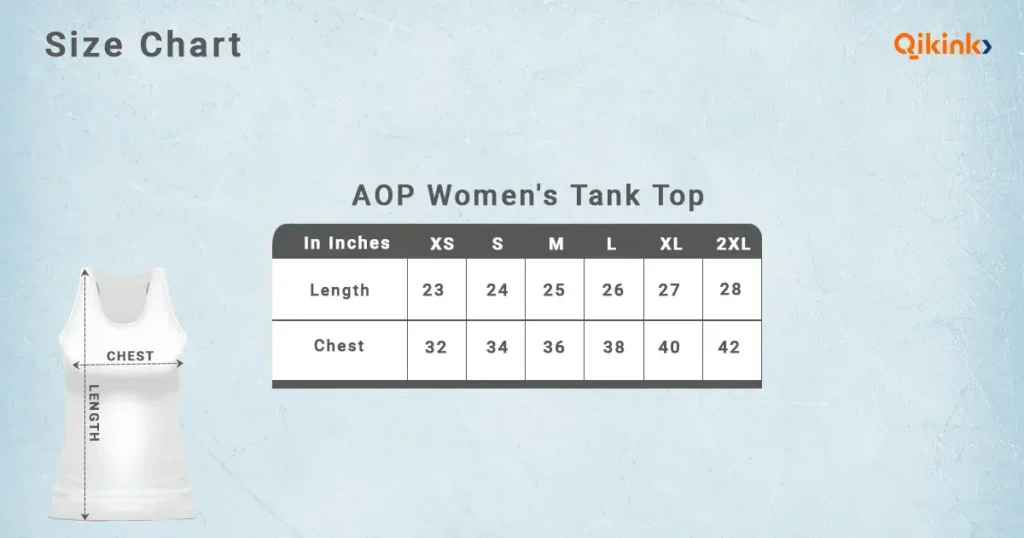 27. Boy's Round Half-Sleeve T shirt Size Chart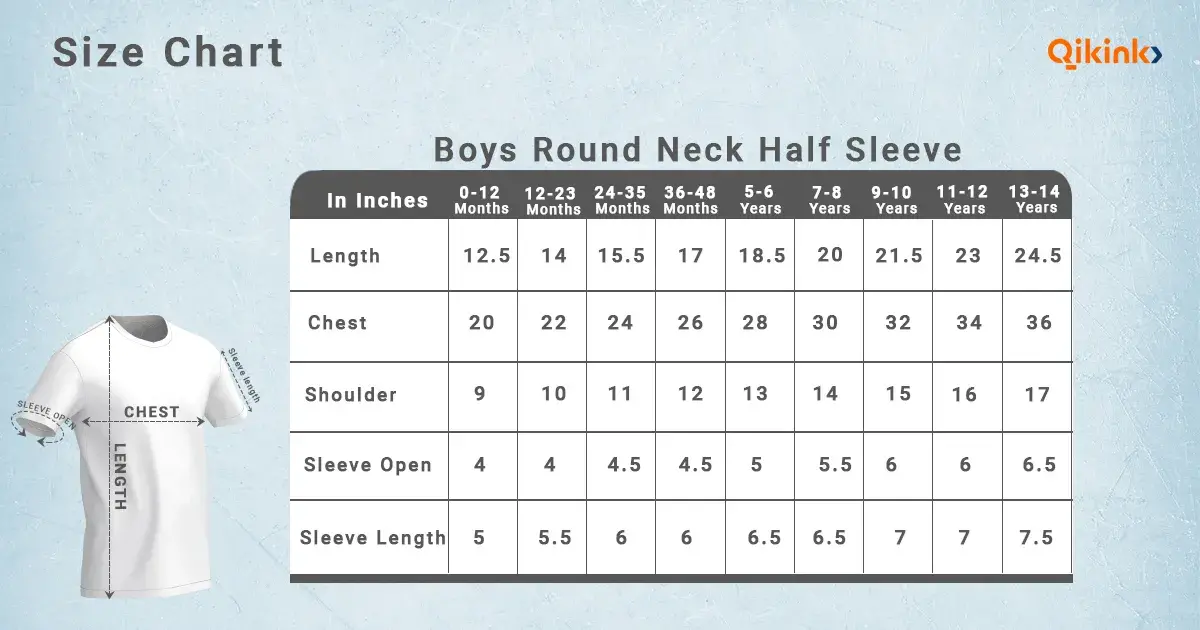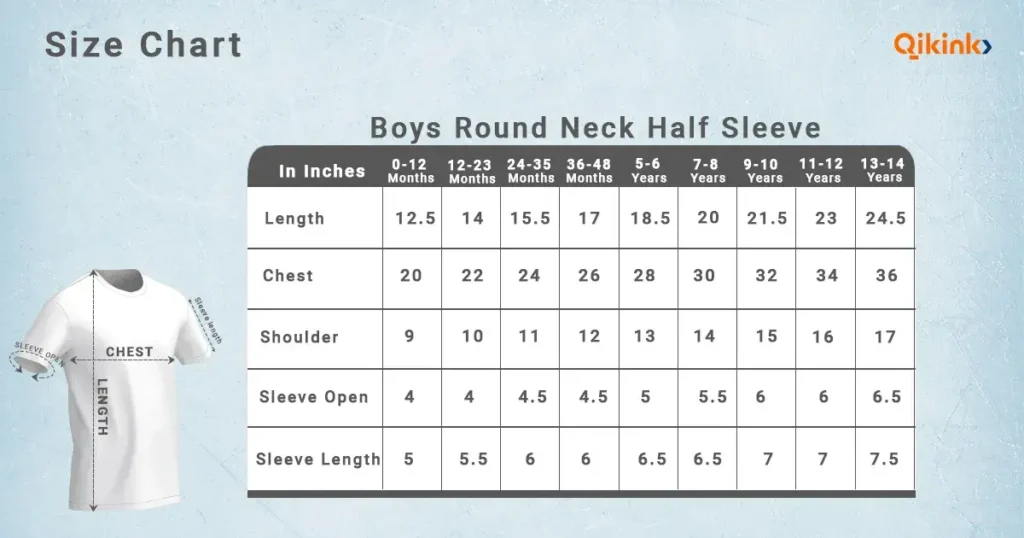 28. Girl's Round Half-Sleeve T shirt Size Chart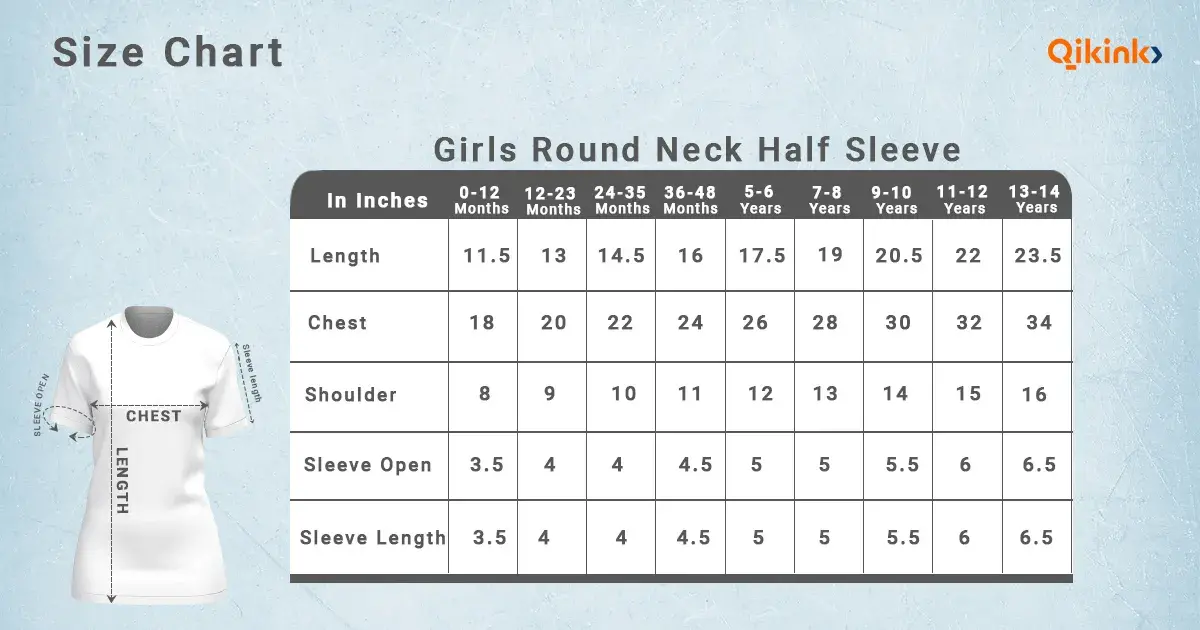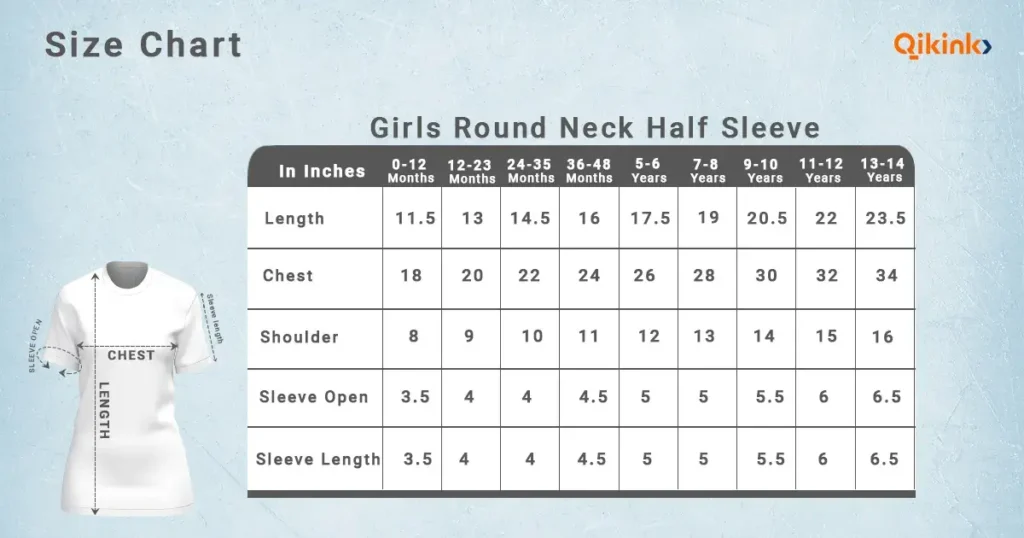 29. Kid's Hoodie Size Chart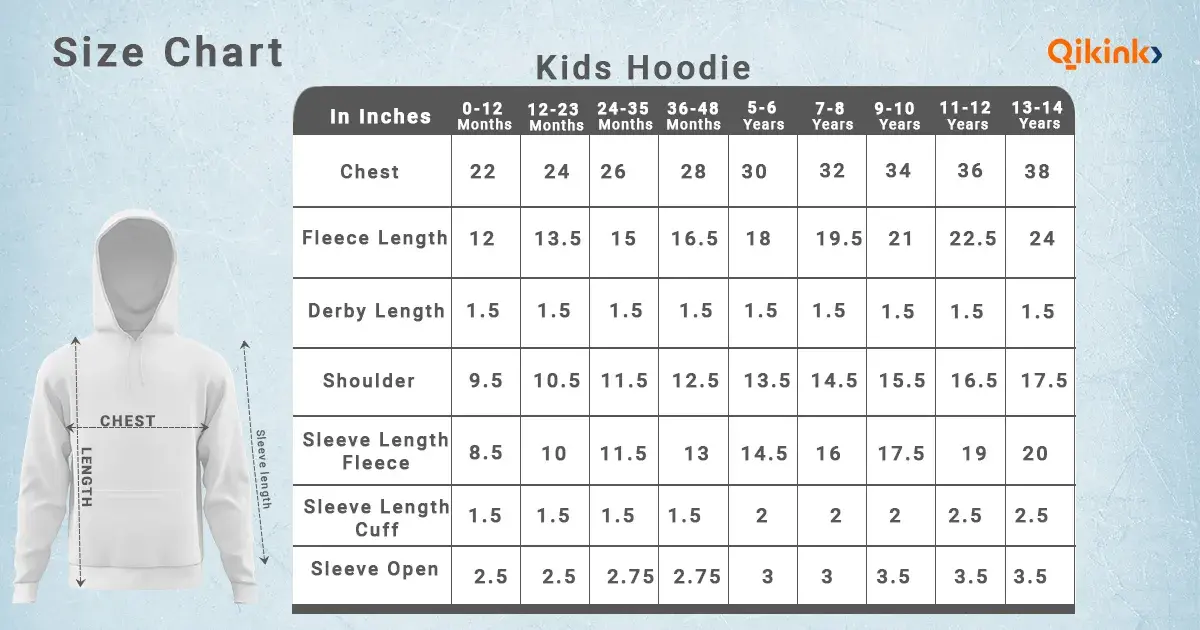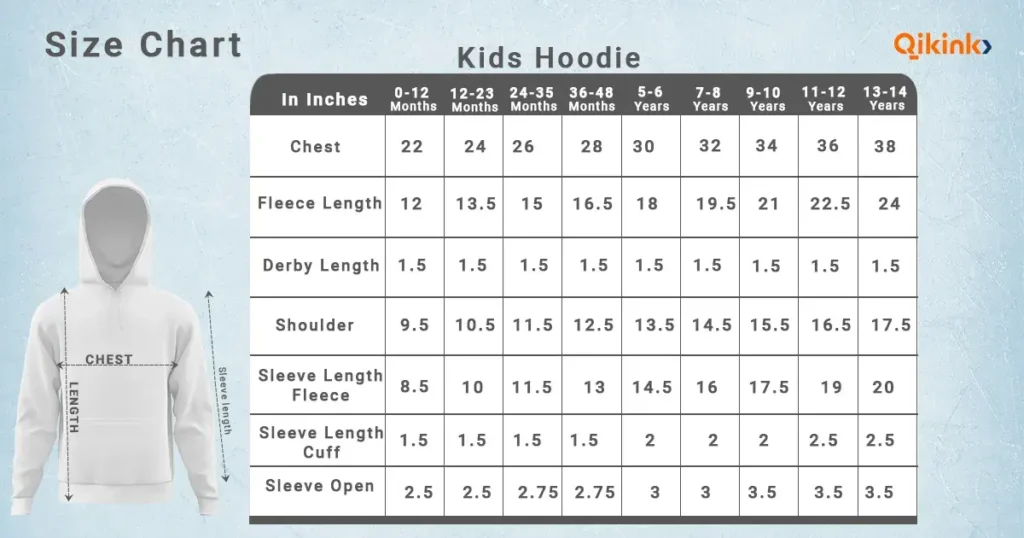 30. Kid's Romper Body Suit Size Chart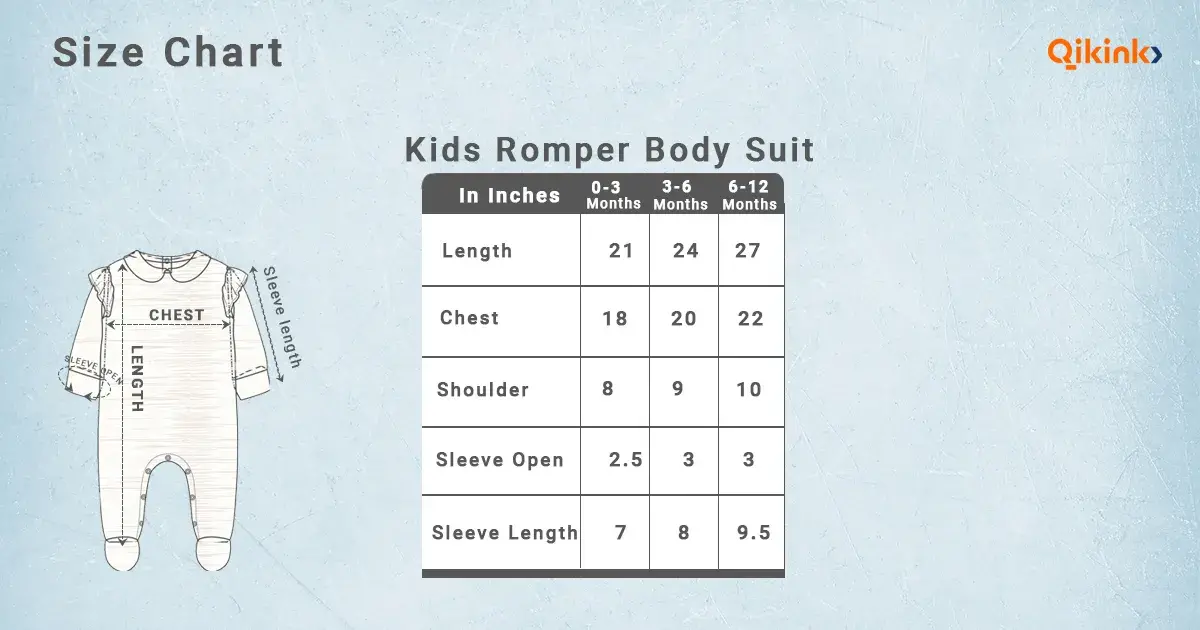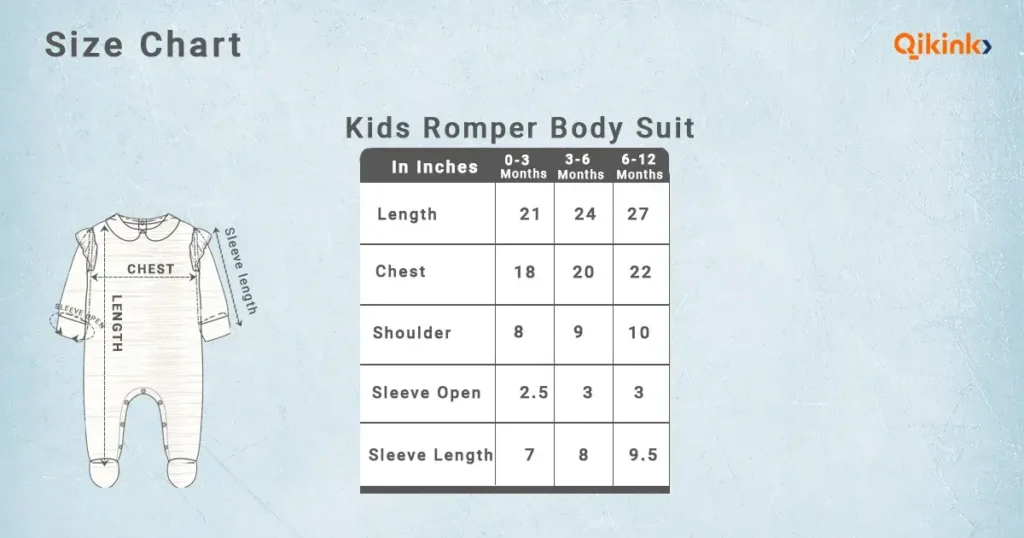 31. Kid's Romper Half Sleeve Size Chart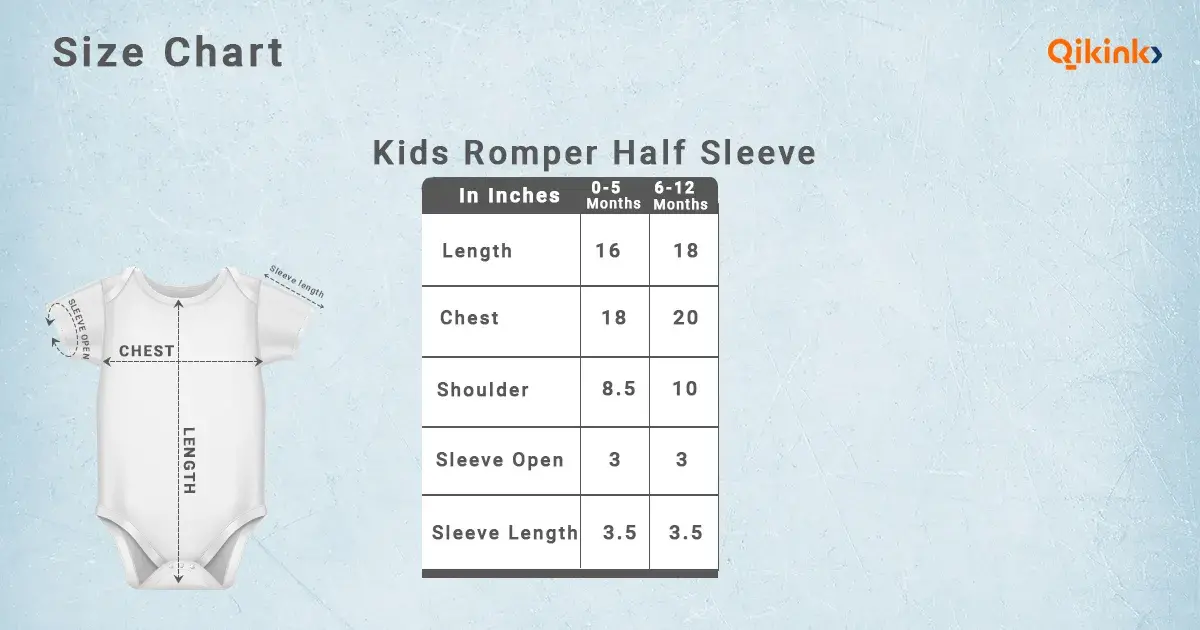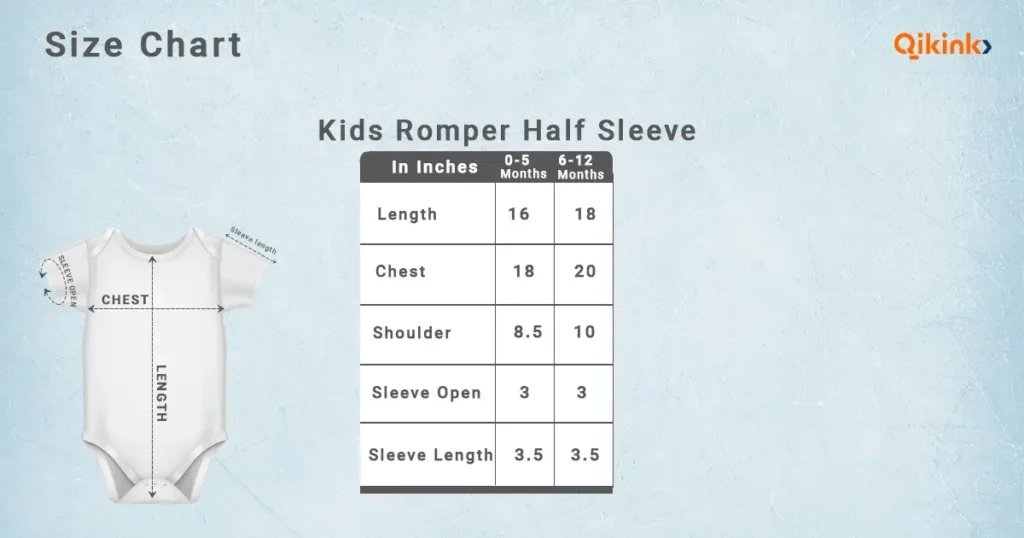 A basic T shirt is a wardrobe staple, so it's worth finding the ideal fit. This article is always available to help you calculate T shirt size and discover your new favourite tee. Have fun shopping!
Frequently Asked Questions
With over 6+ years of experience in the industry, Ayushi excels in building strong customer relationships and guiding clients toward growth as a Brand Partnership Manager. She enjoys sharing her experience in her content.