Did you know the global dropshipping market will reach $196.78 billion in 2022? 
With a whopping increase of 23.7% from 2021, dropshipping businesses have the potential to grow and strive in the coming years. But how do you start your own dropshipping business without much knowledge? 
Shopify is one of the most-used platforms specifically customised for building and growing dropshipping stores. Although its beginner-friendly interface will assist you at every stage, this step-by-step guide will help you dive further into details to get on the right foot.
What is Shopify dropshipping?
Dropshipping is a versatile business model supported by most of the main e-commerce platforms, including the largest of them all, Shopify. Dropshipping is a business concept in which e-commerce entrepreneurs sell things without keeping any inventory on hand. When a store owner gets a customer's order, he or she contacts the supplier, who then ships the merchandise to the customer's door.
Why Choose Shopify For Dropshipping?
Here are two major reasons you should choose Shopify for building your dropshipping business:
Customized For Dropshipping
Shopify has everything beginners need to get started with their dropshipping business. It has all the necessary apps to install to contact the best suppliers. Some apps specifically work with the platform only. For example, Oberlo and Spocket are two apps that work with Shopify. Furthermore,  its beginner-friendly interface will help you successfully run a dropshipping store without much hassle.
Extensive Features To Grow
Shopify doesn't only create an excellent and functional website or online store. It works on growing the store by providing exceptional marketing, sales, and payment features to entrepreneurs. A well-built eCommerce store is crucial, but the right features to promote and grow are essential initially. 
Let's proceed with the steps required to start your Shopify Dropshipping store.
How to dropship on Shopify?
Follow the below steps to learn how to dropship on Shopify.
Step-1: Selecting A Profitable Niche
Selecting the right dropshipping niche will decide the success of your business. It's crucial to prioritize customer needs or demands over the products you are passionate about. Going through the current trends and using an innovative mindset will help you make the right decision. Let's say you decide to offer products based on the current trends. Remember that trends are quick to fade. Keeping up with the speed will help you make the most of the current situation.
Here are some basic questions for selecting a Shopify dropshipping niche: 
Can you offer your target market products that are hard to obtain locally? 

Are your products catering to the specific interests of your target market? 

Are you putting in efforts to identify an opportunity gap? How is your offering standing out amongst the competition? 

What specific and fruitful product features are you targeting?
Conduct A Thorough Market Research
Start by conducting thorough market research to understand current trends. Let's say you already have certain products in mind—research the restrictions associated with shipping those products. 
For instance, there are varied restrictions on the shipping of alcoholic drinks in different parts of the world. Being clear about everything related to shipping will help you avoid future problems or delays. 
Market research will also help you get a better hold of the problems dealt with by your target market. Selecting products that provide the best solutions to those problems will help you succeed.
Use Online Tools To Understand Your Target Market
Use varied online tools to identify the demand for your selected products. Facebook audience insights are one of the shopify dropshipping businesses' most crucial product research tools. This free tool will assist you in identifying topics that interest a particular group (page likes), frequent ad clicks, information related to demographics, etc. 
For example, let's say you plan on targeting the beauty and wellness niche. Typing relevant keywords will help you understand the topics people are interested in, their geographic location, age, gender, etc. 
Did you know that over 2.4 million searches happen through Google every minute? Your target audience is searching through their topics of interest every second. Use Google Keyword Planner to understand the demand for specific items and keywords used during their search. Furthermore, use Google Trends to get detailed insight into your targeted niches. 
Some of the most profitable dropshipping niches include health and personal care, apparel, and footwear: home interiors, kitchen, dining, parenting, and baby products.
Step 2: Be On The Lookout For Suppliers
It's time to choose the right suppliers now that you know the products you want to sell. Platforms like Shopify assists beginners by providing various apps you can install for choosing products or selecting suppliers providing a high-quality service. DSErs is one such example of one of the best marketplaces for finding quality products to sell online. 
You will find as many products as you need, irrespective of your niche worldwide. These products have high profit and growth potential, helping entrepreneurs get a good start. The platform adds these valuable products to your store at one click, takes customer orders, and handles everything with minimal effort from your side. Here is how the DSErs app works: 
Once you click on a supplier's link, it takes you to an

AliExpress page

to help you find the products of your choice. You will get every information from product quality to shipping time. 

Skim through the reviews and browse the top-selling products to make an informed decision. 

Select the products you want to add to your store. 
Note: use the ePacket shipping option to avoid any delays in shipping for China-based products. Your customers will only wait a few weeks instead of months to receive their products.
Step-3: Set Up Your eCommerce Store And Import Products
Start by setting up an account with Shopify to start your Shopify dropshipping business. Here are some simple directions to get started:  
Go to the website and enter your email address for the 14-day free trial.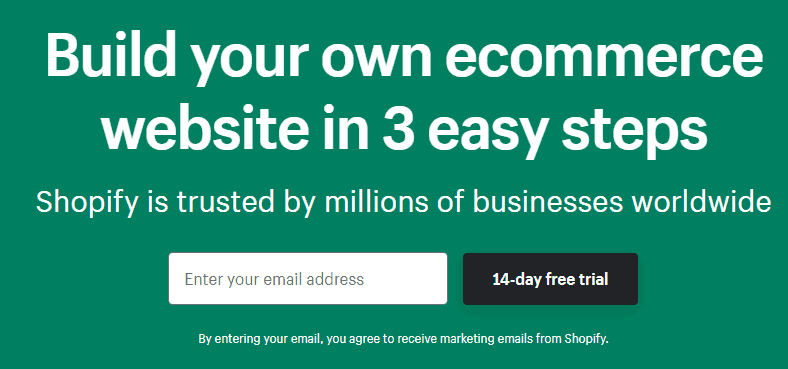 Next, enter the store name you had in mind and set up a password. Click on

Create Your Store.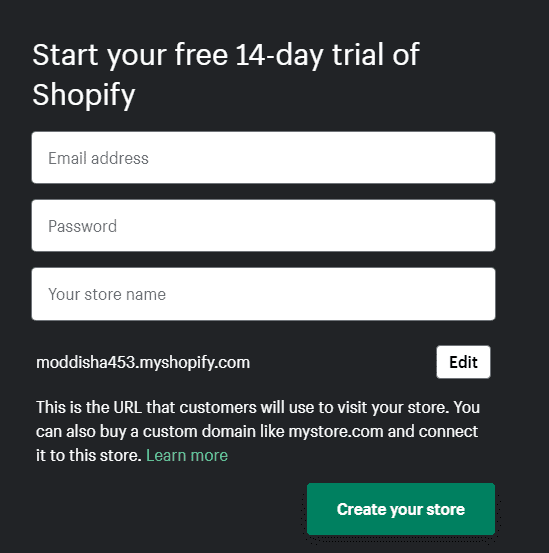 Shopify will understand you and your business better by presenting many questions. Answer the ones you wish, or skip through the next question. 

Click on

Products

appearing in the top left corner.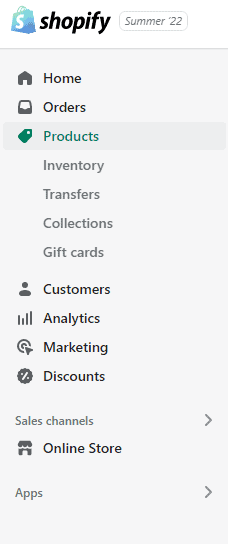 Import your existing products or search for new ones to sell.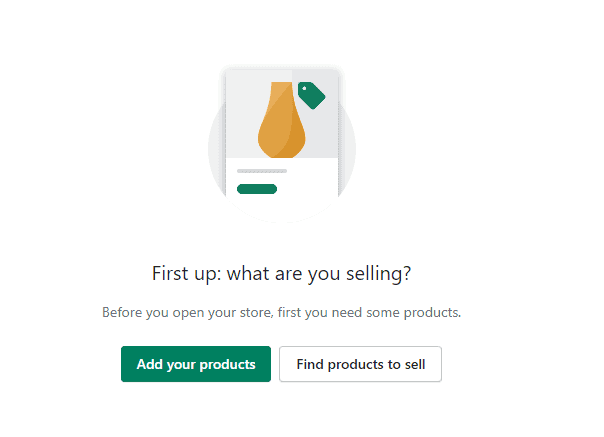 Add Your Products

will lead you to a page requiring relevant information about your product, like title, description, pricing, tax inclusions, images or videos, quantity, weight, shipping details, etc.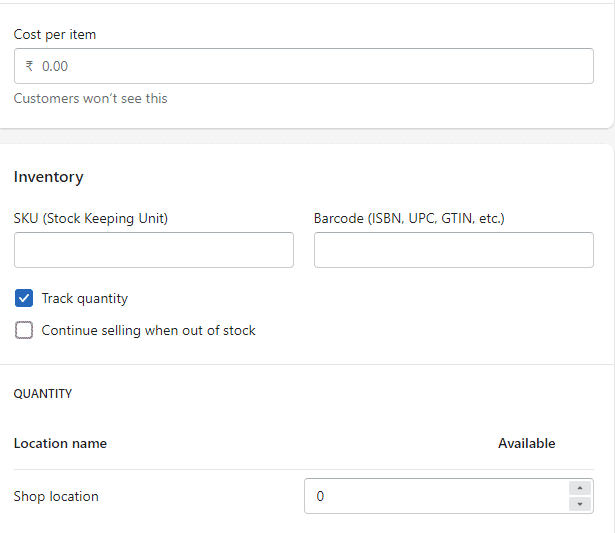 Find Products to Sell

will take you to a page with apps that will assist you in selecting best-selling products.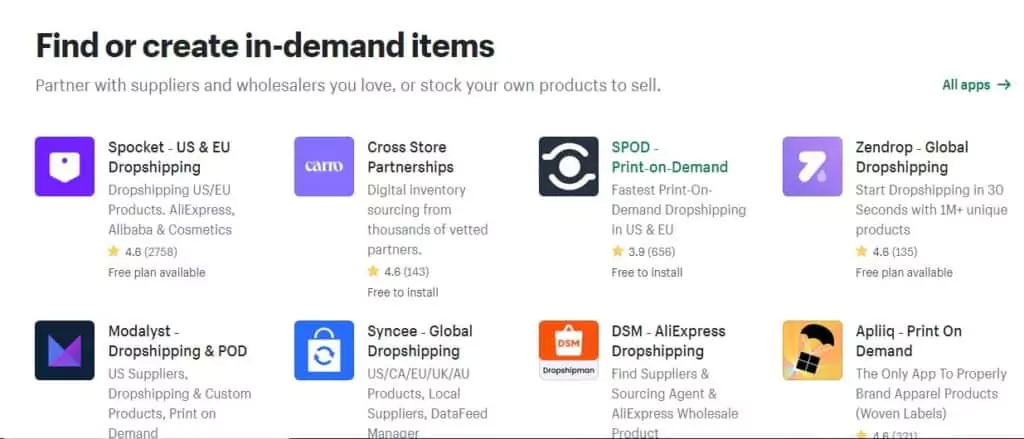 Browse through the available options and click on

Add App

for the one you prefer.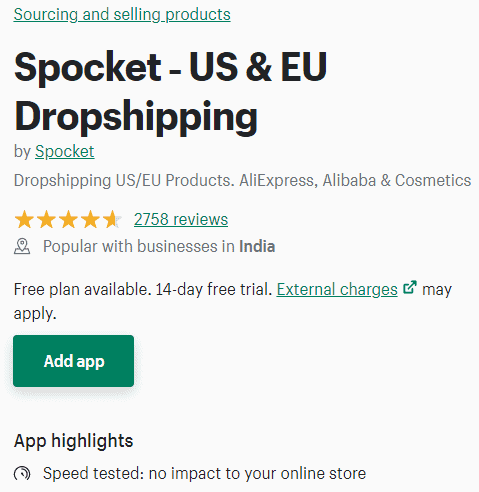 Click on

Install App

to initiate the installation process.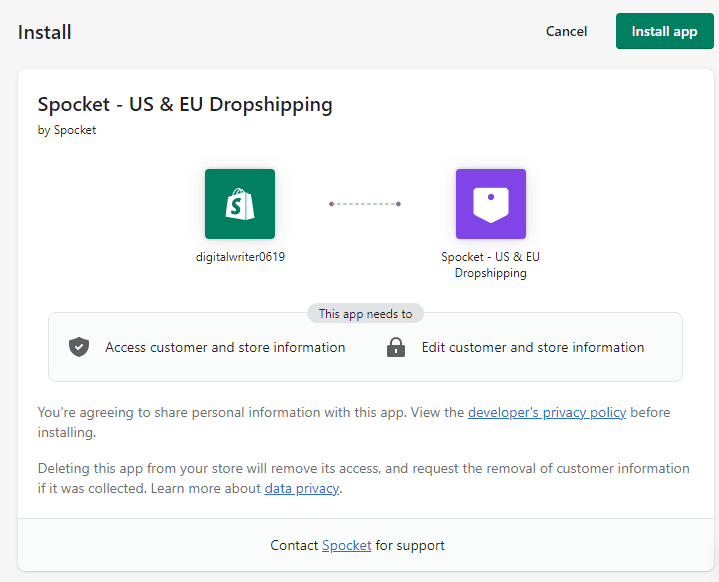 Step-4: Customize Your Shopify Theme
Succeeding in a dropshipping business requires standing out amongst the competition. Shopify will get you started with a basic theme. It's crucial to select and customize a theme based on your niche. The platform suits beginners, as you don't have to start from scratch. But even the most relevant Shopify themes require a personal touch. Here are the following points you need to emphasize:
People are more drawn to visuals than words in online shopping. Using crisp images with the right resolution will help you catch instant attention. Try uploading your product images in Shopify's maximum image resolution (2048px by 2048px). Remember that being an online business, your product images will contribute to a great extent to decision-making.
Pro tip: focus on providing an excellent customer experience by using a consistent image ratio on all pages.
The Right Blend Of Colors
It's crucial to have a color palette for your brand to get recognition. The blend of colors must align to put forward a great first impression. Brands with existing logos must pick colors based on the chosen logo. You can also pick colors based on the products you sell. Let's say you went ahead with baby products. Using colors that give a soft touch, like shades of pink, will work. Bright colors like red might not be a great choice in this case. Go through various color palette tools to make an informed decision.
Note: never make this decision quickly, as your brand colors will represent you in the long haul. You cannot keep changing them if you strive to gain brand recognition.
The Right Number Of Fonts
Browse through the available fonts and choose a maximum of three fonts to align with your designs. Font consistency is crucial for developing the right flow of processing information. Choose appropriate fonts that blend perfectly when used together. The font size is important in ensuring readers can rightly skim through the content. Furthermore, choosing fonts belonging to the same font family, like Times New Roman, will add the right difference with little variations. 
Pro Tip: Use bold and italics to make font styles stand out and highlight crucial information. 
Lastly, stay consistent with your image and content presentation to create a lasting impact. You might get the urge to experiment with different colors or fonts every once in a while. But remember that consistency helps develop brand recognition.
Step-5: Marketing Your Shopify Dropshipping India Store
Marketing is the next area of focus once you successfully design and launch your Shopify dropshipping India store. It will help you stand out amongst other dropshipping stores in your selected niche. Investment in the right marketing and advertising areas is crucial initially. Let's look at the right blend of marketing tactics you must use to get the word out there: 
Beginners must focus on investing in paid Facebook ads to promote their products. The costs associated with FB ads are comparatively less. But identify the social networks your target audience generally uses before initiating ads. 
People are less likely to trust newbies but have faith in the influencers they follow. Entrepreneurs with limited budgets can invest in influencer marketing. Look for

niche-specific

influencers with a small but dedicated audience. 
Use the power of content by starting a blog dedicated to your dropshipping niche. Post fruitful and actionable content consistently to develop your audience. 

Join the already existing communities in your niche. Networking with relevant individuals is one of the best ways to get the word out.
Note: Keep analyzing your best-performing marketing channels to invest your money rightly.
Frequently Asked Questions
With over 6+ years of experience in the industry, Ayushi excels in building strong customer relationships and guiding clients toward growth as a Brand Partnership Manager. She enjoys sharing her experience in her content.