In 2021, online buyers spent $8.9 billion on Black Friday sales. That is precisely why, as an e-commerce business person, you should care about strategizing and implementing Black Friday sales in India e-commerce marketing strategies to leverage the holiday season to generate the most profit in the year.
Black Friday officials ring the bell for the start of the holiday season. Hence, people come in droves to make their holiday purchases. This black Friday season is an incredible chance for e-commerce business owners to attract new buyers, boost conversion rates, and generate more sales.
This blog covers what is black friday and aims to map out the most common yet effective black Friday marketing ideas that every e-commerce store should follow to gain the most out of the black Friday event.
What is Black Friday Sale in India?
Black Friday Sale in India, also known as Thanksgiving sale, is a retail event inspired by the American tradition. It typically occurs on the fourth Friday of November, following Thanksgiving Day. Retailers offer significant discounts and promotions on various products, including electronics, clothing, appliances, and more, during this sale. 
It has gained popularity in recent years, both in physical stores and online platforms. While not an official holiday in India, many consumers eagerly anticipate Black Friday to score deals and kickstart their holiday shopping. 
It's an opportunity for shoppers to save money and for businesses to boost sales as the festive season approaches.
Why Black Friday is celebrated in India an important event?
Black Friday sale or Thanksgiving sale has been a famous event in the United States since the 1980s. The Bike and motor retailers used to give out hefty discounts and offers to attract more customers to their stores during Black Friday to earn more profit ultimately.
However, the purchasing mode has evolved; 27% of the world population ( 7.9 billion people) shop online. Hence, the popularity of Black Friday gave rise to Cyber Monday, created to allow e-commerce merchants to increase their sales by providing irresistible deals to their customers.
Black Friday emerged after the very next day of Thanksgiving. Cyber Monday falls on the following Monday, which occurs after Black Friday. This consistent occurrence of events allowed online merchants and offline retailers to garner more sales for five consecutive days out of different offers and deals.
As an e-commerce business owner, you can take advantage of this opportunity. A solid marketing strategy can increase your brand awareness, upsell your store's products, and gain more repeat customers. 
To help you decide the perfect marketing strategy for your brand, we have developed the top 10 black Friday marketing strategies to ensure every e-commerce business makes the most out of this holiday season.
Top 10 Black Friday Sale marketing strategies
Every online merchant competes to give the best deals to online buyers to make the most of this official start of the holiday season.
This situation questions whether maximum discounts can help you outperform your competitors. Unfortunately, no! Besides heft discounts, your new and regular customers demand more factors to purchase from you.
Here are the top 10 common yet effective black Friday e-commerce marketing strategies to satisfy your customer's requirements and make the most sales of the year.
In 2021, when Amazon launched its Black Friday sales a month early, it reported that its sales increased by 62%. This record is solid proof that you should prepare for this sale in India before and start the pre-sales in your eCommerce store instead of waiting till the day before the event.
For instance, in 2022, Amazon started to pump up its audience for Black Friday sales. They have announced attractive deals on fashion, gifts, home and kitchen wear, and soon.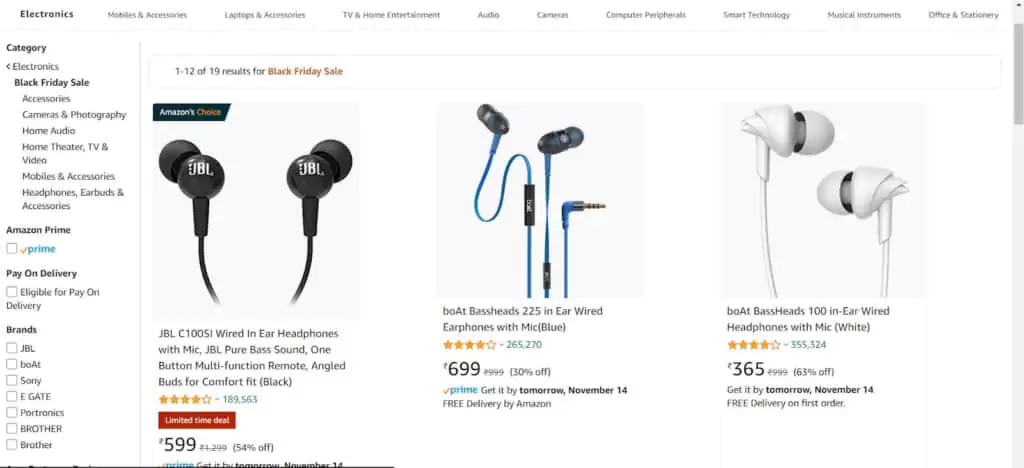 Even H&M, a well-known clothing brand, has a dedicated page to inform customers about H&M.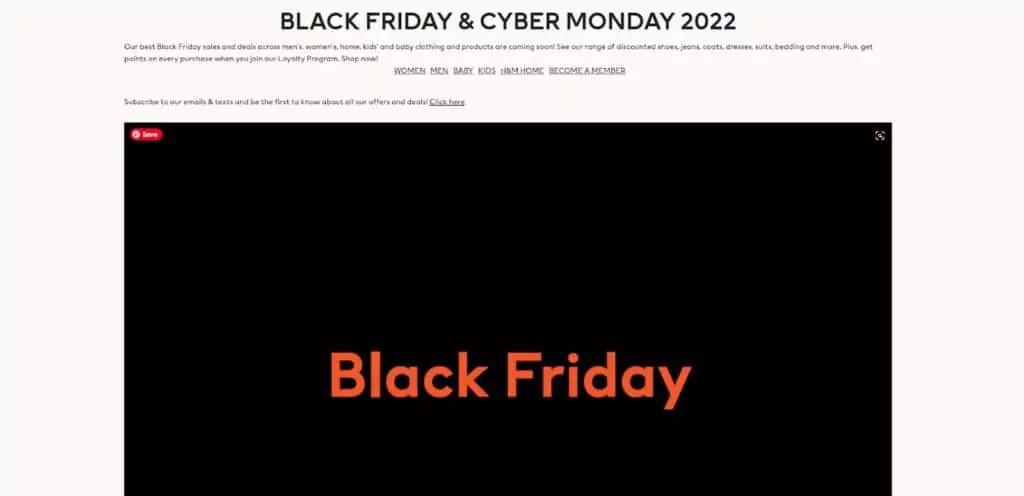 You can kickstart the pre-sale and promote your deals through email sequences to keep your audience engaged with your brand. It brings us to the following question: is email marketing even necessary? Let's find out.
One of the unignorable Black


Friday's marketing strategy is email sequences. With a 1.3% unique click rate, 11% click-to-open rate, and 8.8% conversion rate, email marketing has proven to be the most effective way to boost e-commerce sales stats during the holiday season.
In the below image, we can see that EyeBuyDirect has launched deals on their online stores for Cyber Monday. They have also leveraged the urgency factors by mentioning, "Offer ends November 30th at midnight."
60% of online consumers say they purchase because of marketing emails sent to them. Once you launch the Black Friday or Cyber Monday sale, you can create a sense of urgency through emails by providing enticing offers to lure your customers.
Another way to utilize black Friday to increase your sales is via., time-bound offers, which create a FOMO or urgency, compelling visitors to become buyers.
The more personalized and relatable your email sequences are, the higher the chances of converting customers during the Black Friday event. If you have a massive email list, chunk your subscribers into new users, repeat users, and guests. This categorization can help you create more engaging emails to attract more customers.
Leveraging socials on Black Friday Sale
According to a survey, 76% of online buyers have purchased a product after finding them on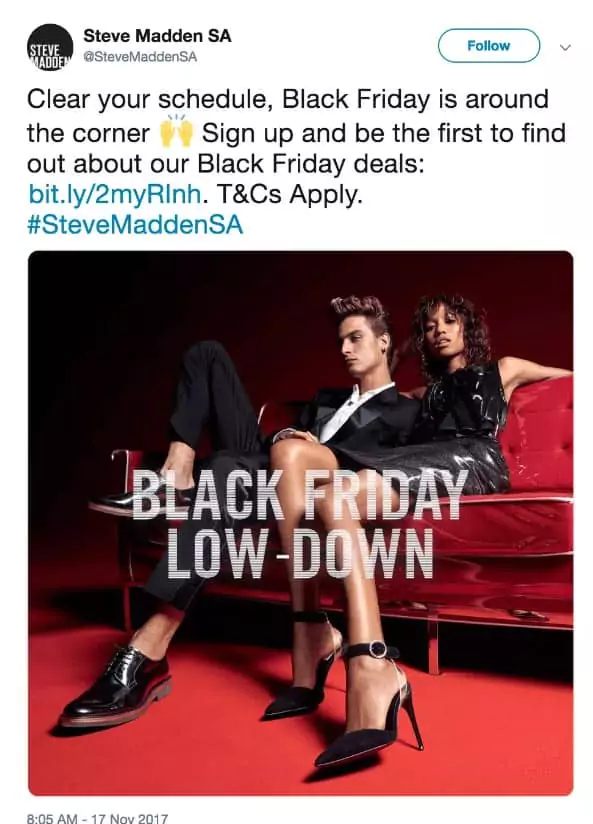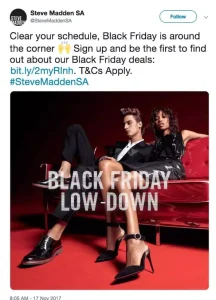 social media.
Out of that 76%, 11% of online buyers purchase immediately, and 44% buy the advertised products later. Social media marketing is a non-ignorable medium for eCommerce sites to increase site traffic and gain more customers. A pool of online buyers and potential consumers are scattered across social media who are left untapped.
Paid social media marketing can be an effective tool during the holiday season. With a well-planned social media marketing strategy and attention-grabbing ad copy, you can kill it on socials like Instagram and Facebook.
You can also utilize other mediums like Google shopping features to rank high for relevant keywords when your potential buyer searches for your product.
Influencer marketing is the most effective means of marketing for product-based businesses. Influencers need not necessarily have millions of followers to bring sales to your brand. You can leverage nano and micro-influencers who charge less than $150 to promote your product.  50.7% of the brands working with influencers are running eCommerce stores.
During this holiday season in India, most people search for products that come with high discounts. However, that isn't the only reason behind their purchase. To attract more traffic, you must be in the exact place where your customers are active.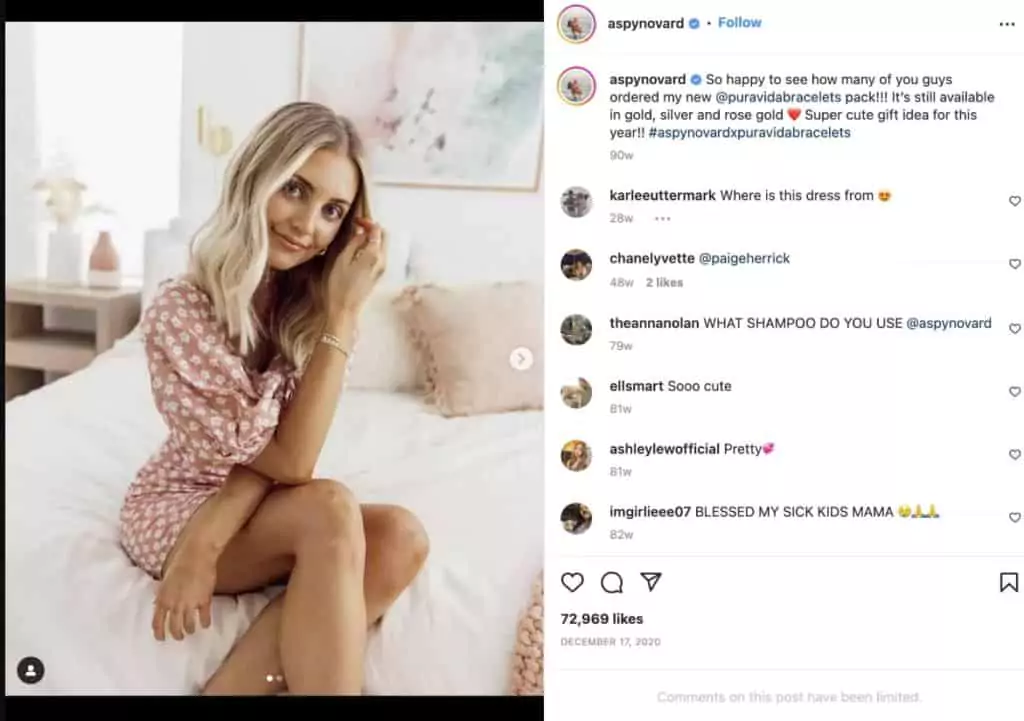 20% of online buyers purchase after watching the influencer promote the product. Moreover, Influencers help you create user-centric content and market your product through promotional posts with an emotional and personal touch during the holidays.
Expand Your Apparel Collection
Begin your Polo T-Shirt selling journey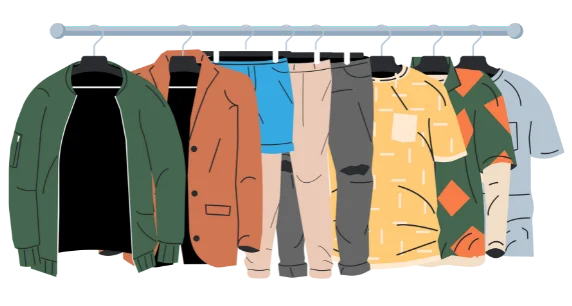 Provide attractive offers
"In India, you can't go into Black Friday sale and put 15% off, 20% off and expect to do well. Everything comes down to your offer—the one time out of the year you can lower your prices without feeling like you're losing brand integrity. Make sure your offer is compelling, no matter what." Chase Fisher, founder and CEO of Blenders Eyewear.
You can provide category-specific offers and market them on different platforms to attract potential buyers. You can even give early access to your members and nurture them through emails and social media to convert them more quickly.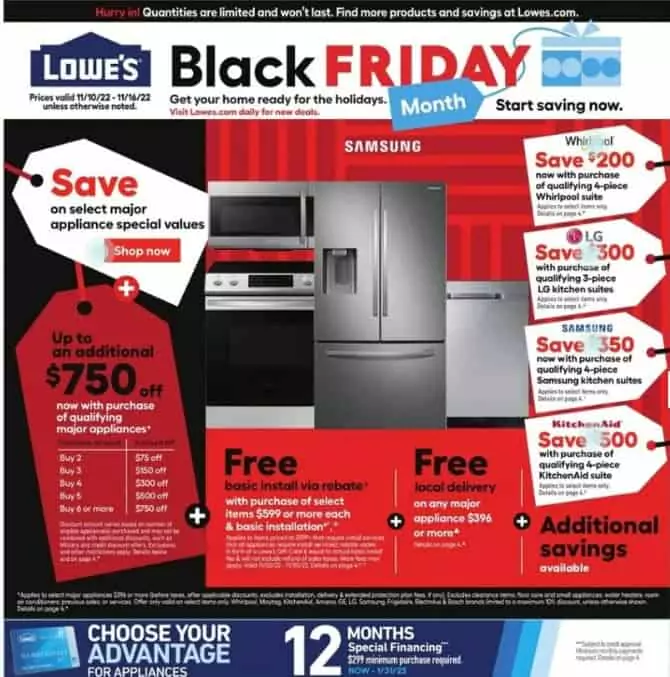 A minimum order value with free shipping becomes an irresistible offer to your audience. Give a sneak peek of the offers you plan on releasing to keep your customers curious.
The loyalty program can gamify your sales process and save abandoned carts. You can convert your one-time buyers into regulars with a strategic loyalty program like the example below. Additionally, you can also increase the customer's lifetime value.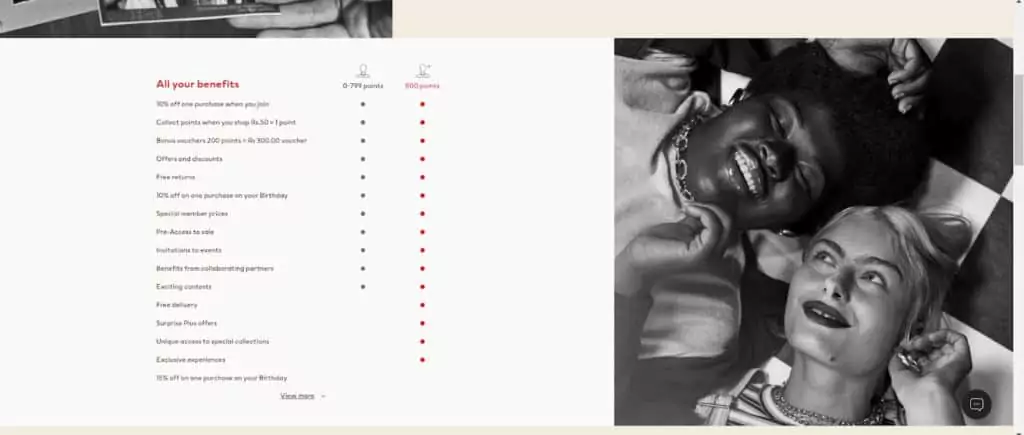 During the Black Friday season, when you find your customers abandoning the cart, you can send them emails that create FOMO of losing the loyalty points and other irresistible deals. A loyalty program can help you boost sales, gain good word of mouth, and improve customer retention.
Chatbots use in Black Friday
Many customers might have different questions while purchasing during the holiday season. As an e-commerce business owner, you must ensure your customers get the support they need.
As it is difficult to have high human resources to respond to your customer queries, you can install chatbots in your eCommerce stores.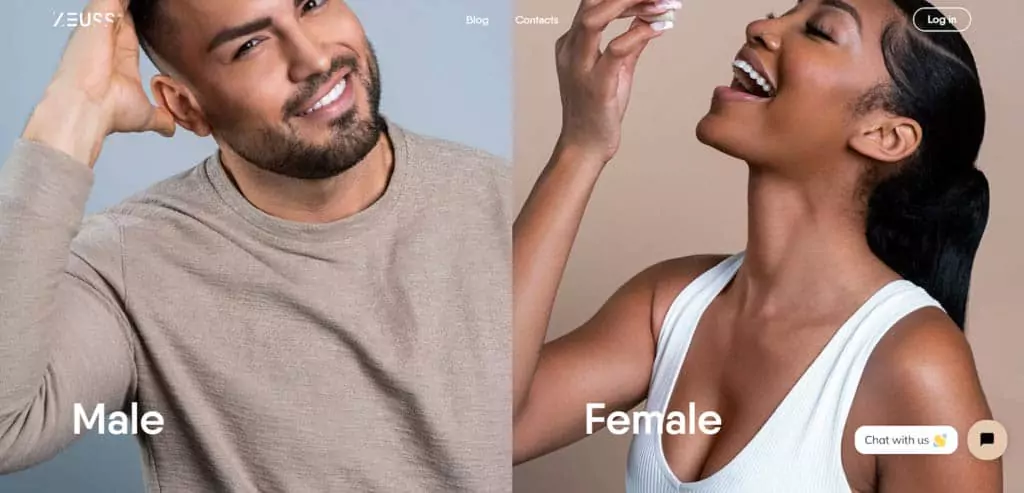 Add the most asked questions in the FAQ section to save the timing of answering common queries. Effective customer support systems can increase the customer retention rate as well. Your chatbots will redirect unpopular and rare questions to your real-person customer care.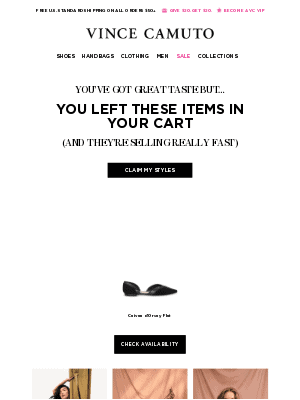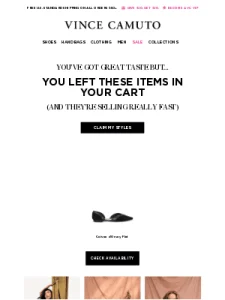 Cart abandonment is the usual case during the holiday season. You have to eliminate
 all the factors that cause the cart abandonment situation. Any interruption during the e-billing or purchase process can harm your store's sales. 
Moreover, you can send follow-up emails to save abandoned carts. The above image is an example of an email sent to remind the brands' potential buyers about the items in the cart. Not only the cart section, but you can also go one step ahead and remind your buyer about their wishlist.
Upsell and cross sell your products on Black Friday 2023
Upselling is when you sell one of your high-end products to your buyer who wasn't planning to buy it in the first place. At the same time, cross-selling is when you recommend products often brought together with the primary product.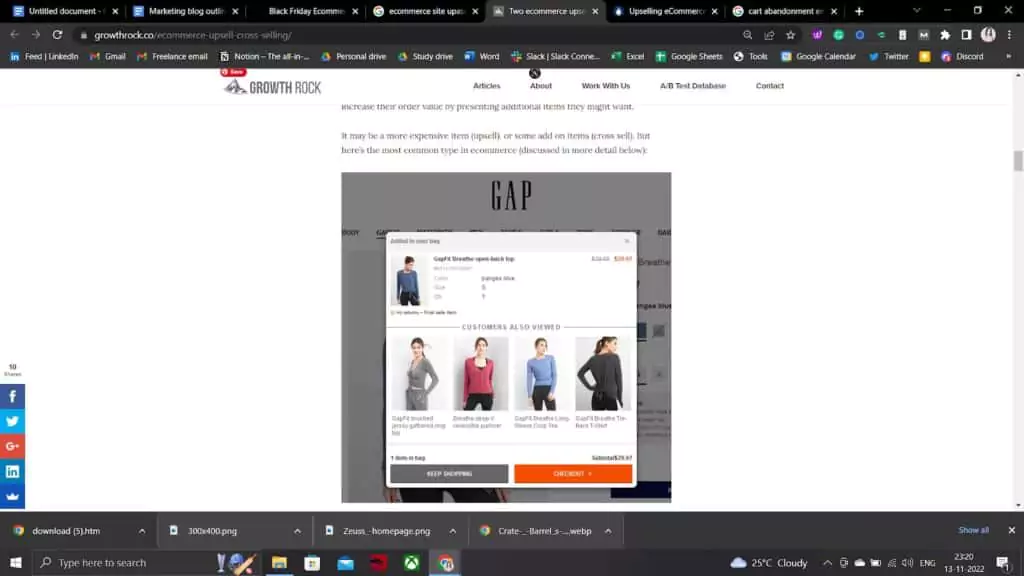 Providing offers and massive discounts aims to make more sales and attract long-term customers to your business. To avoid a manual selection process, you can use Beeketing, and one-click upsells as your product recommendation.
With that, we have come to the end of the blog. As an e-commerce store owner, holiday seasons are your chance to double or triple your sales. The success of your deals and offers entirely relies on the e-commerce marketing strategies you follow.
If you're running a print-on-demand business, Qikink helps you fulfill your customers' orders within the promised time. Know more here.
Frequently Asked Questions
With over 6+ years of experience in the industry, Ayushi excels in building strong customer relationships and guiding clients toward growth as a Brand Partnership Manager. She enjoys sharing her experience in her content.