Wish to create custom embroidery? You are at the right place already. 
Embroidery is an excellent form of personalisation. From T-shirts to caps, the appearance and durability of embroidery have made it a popular decorative option for decades. 
The embroidery business may be a rewarding business for those who are creative and entrepreneurial. Integrating technology with creativity is a proven method to profit from this hobby.
With technology, you can now get custom embroidery products at your doorstep. 
Continue reading to learn more about the process!
What Is Custom Embroidery?
Sewing several thread colours onto the cloth to form a pattern or picture is known as custom embroidery. It can be done manually or with the assistance of a machine. 
Custom embroidery is often employed to personalise garments or other goods like caps, bags, or towels. Custom embroidered shirts and corporate uniforms or advertising materials look more professional; people may also use them.
The procedure begins with creating a computer design, then transferred to a specific embroidery machine, which sews the pattern into the cloth. You can utilise custom embroidery to give a personal touch to any item and open up a world of creative possibilities.
What Are The Advantages Of Custom Embroidery?
Custom embroidery provides you with a great degree of customisation. Both individuals and businesses will be able to develop unique graphics that suit their brand or personal style.
Embroidery is a long-lasting method that can tolerate wear and tear. Stitching is more durable than printing or heat transfer.
You can do embroidery on various textiles, including cotton, polyester, and denim. You can do it on multiple things, such as apparel, purses, caps, and towels.
People often perceive embroidered items as more valuable than non-embroidered items.
Embroidery provides garments and fabric products with a professional appearance. Businesses frequently utilise it to design uniforms or promotional goods.
With custom embroidery, the possibilities for unique designs are limitless. Individuals and companies may use this to design things that stand out from the crowd.
Embroidery is a durable decoration method that does not fade or peel off over time. It makes it crucial for products like garments that you wash and use regularly.
Embroider Your Custom Design
Explore Hooded Sweatshirts to offer embroidery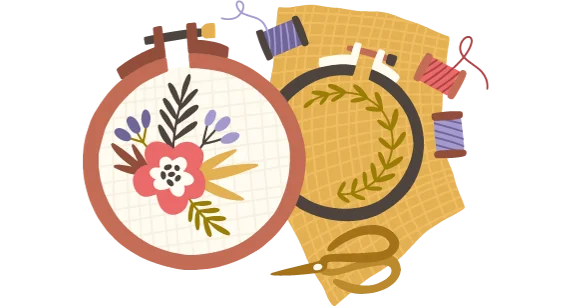 What Are The Disadvantages Of Custom Embroidery?
Custom embroidery might be more expensive than other customisation techniques, such as screen printing or heat transfer. It is due to a more labour-intensive procedure that necessitates using specialised equipment.
Time-consuming: While embroidery machines have sped up the process, it is still time-consuming. The digitising and hooping methods might take an extended period, especially for intricate designs.
Embroidery machines usually have a limited number of thread colours available. It might limit design colour selections and necessitate a compromise on the final design.
Embroidery is not appropriate for all fabrics. Silk and leather may be too fragile or difficult to embroider.
The size and intricacy of the design restrict embroidery. Designs that are too tiny or detailed may be challenging to stitch precisely.
How To Create Designs For Custom Embroidered Shirts?
Design plays a significant role in customisation. Several online tools are available to source designs if you are not a graphic designer. Creating stunning designs for custom embroidered shirts is easy nowadays with ready-to-use software like Canva, Photoshop, Placeit etc.
Canva's free online t-shirt maker allows you to create designs without obligation or cost. Canva is an excellent option for creating designs for your products. It is easy and user-friendly to use. 
In the free version, you can create and save any number of methods. You won't have to employ a designer or deal with the difficulty of building designs. You can do it on your own. 
However, with a free subscription, you can only download the file in a few formats that may not be suitable for embroidery printing support.
Consider subscribing to Canva Pro for access to exclusive designs and premium templates.
If you have hands-on experience using Photoshop, it is a great platform to design. Photoshop is a tremendously powerful program that allows you to design almost anything. Photoshop may assist you in creating stunning designs that will wow everyone if you wish to design your outfits.
Design Guidelines For Custom Embroidery On Demand
Use solid shapes and colours. Thin lines are challenging to work with in needlework.

The embroidered design components must be clear and bold.

Small writing and borderline hues are difficult to handle with needlework. 

Complex graphic designs may not match the final embroidered product perfectly.

An item or text should be at least 1×1 (width x height) inch in size.

Design formats for uploading designs are as follows: JPG or PNG?

Polo T-Shirt embroidery area maximum: 3.5 Inches x 3.5 Inch

Make use of a high-quality file. If you're using a JPEG/PNG file, keep it around 300 DPI. 

A translucent backdrop is OK in your design, but avoid putting empty spots in the centre where the fabric may peek through. Because the lines surrounding the gaps may not be as neat as you want, fill them in with a solid colour instead.
Keep your design simple with neat typography and minimum colours to get the best output.
Embroidery digitising transforms artwork into a digital file using software that allows embroidery machines to recognise the needle's path. Because this procedure is not automated, outstanding digitising is an art form when done well.
Most embroidery machines have software to operate their activities while reading instructions from a digitised file.
Because embroidery machines cannot read the same file formats as your computer, you must digitise your logo in a form the devices can comprehend before doing their job.
The digitiser's job is to convert a customer's corporate logo or artwork, usually in JPG or PNG format, into an embroidered file specific to the embroidery machine.
5 Best Custom Embroidery Services On Demand Companies
The best embroidery-on-demand companies are
Printful is a popular print-on-demand service for embroidery. It provides 196 different embroidered goods, ensuring that you may find practically any sort of garment or accessory you need.
Embroidered items such as t-shirts, hoodies, caps, beanies, patches, socks, backpacks, blankets, and more are available. You can also choose from over 15 colours to create unique designs perfect for your business or message.
Printful also specialises in high-quality embroidered garments. The firm exclusively employs high-quality equipment and materials to ensure that your items are long-lasting and attractive.
It's effortless to get started with its platform. It has an easy-to-use Design Maker that allows you to create your designs using the 3,000+ free templates or upload your own if you have them.
You may also use the realistic preview option to see how it will look on an actual garment. It makes it quite simple to make adjustments before sending it out for printing.
Pricing
Embroidered products start from $12.25/t-shirt, $15.5/for a tank top, $25.75/for a sweatshirt, $29.25/for a hoodie, $13.25/per beanie and so on.
Printify is a digital firm founded in 2015 and financed by Silicon Valley angel investors. Instead of constructing its manufacturing facilities, it links you with the most incredible network of printing suppliers in over 100 locations, allowing you to compare pricing and shipping times and pick the best solutions for your company's needs.
Printify allows you to customise 500+ other digital/dye-sublimation print-on-demand items, including all-over-print fashion, plus-size garments, swimwear, sleepwear, scarves, shoes, mugs, tumblers, phone cases, mousepads, keychains, necklaces, wallets, notepads, ornaments, calendars, puzzles, pillowcases, yoga mats, rugs, canvas prints, candles, pet apparel and more.
Pricing
The prices for embroidered products are $27.40 for a t-shirt, $29.72 for a hoodie, $42.09 for a jacket, $13.78 for a cap, and so on.
Shipping is $4 to the United States and $8 to the rest of the world.
Qikink is the largest print-on-demand dropshipping supplier from India. It is the first platform to start custom embroidery on demand, custom embroidered shirts with high-end technology to achieve the best output. 
Qikink is a reliable company for all your printing needs under one roof. 
Qikink offers the widest selection of products in India. They range from t-shirts, hoodies, sweatshirts, phone accessories, cushions, mugs, posters and many more. 
Qikink offers over 13 printing technologies with industry-level print quality, including embroidery services and WhatsApp support. Qikink also offers discounts on bulk orders. 
Qikink supports integration with top e-commerce platforms like Shopify and Woocommerce. You may also request custom open APIs to automate the processes. 
Pricing
Embroidered products: Product price + Rs. 50 minimum cost for embroidery charges.
Qikink provides free digitising of embroidery designs. 
Shipping is Rs. 60 pan India.
CustomCat has over 20 years of industry expertise and state-of-the-art print-on-demand facilities in Detroit, Michigan, with the ability to execute three different types of decorating. 
Embroidery, direct-to-garment printing (DTG), and dye sublimation are among them.
CustomCat now has a catalogue of 350 products (apparel, home décor, stationery, and accessories) and can ship up to 40K+ items daily.
Pricing
Their embroidered products are priced at $10.96 for a t-shirt, and $17.84 for a sweatshirt, with other items priced accordingly.
Shipping costs $3.99 to the United States and $6.25 to other countries.
Gooten now exclusively provides hat embroidery by invitation. You can make embroidered beanies, baseball hats, and snapbacks in 19 colours once you can utilise their embroidery tools.
Gooten is beginning to roll out its embroidered items. To receive early access, you may contact them and request permission. You may be reading this when Gooten's embroidery technique is fully operational and available to all their clients. Visit their website to learn more.
Read their instructions when you're ready to start making embroidered items with Gooten.
Inkthreadable stands out as a long-term print-on-demand partner for embroidered goods. It is headquartered in the United Kingdom and has successfully incorporated environmentally friendly production practices and eliminated plastic from all transportation packaging.
Inkthreadable sources textiles from major eco-friendly clothing suppliers such as Bella+Canvas, Stanley/Stella, Gildan, Continental Clothing, and Vanilla.
Pricing
The prices for embroidered products are as follows: £8.40 for a t-shirt, £10.80 for a tank top, £14.88 for a sweatshirt, £18.35 for a hoodie, and so on.
Shipping costs start at £1.14 for the United Kingdom, £4.25 for the European Union, £6.32 for the United States, and £5.56 for the rest of the globe.
Is Selling Custom Embroidery On Demand Products Profitable?
DataIntelo reports that the global embroidery market will grow from $1.6 billion in 2018 to $2.2 billion by 2028 at a CAGR of 3.3%.
According to GrandViewResearch, the embroidery segment will account for 41.4% of the worldwide decorated apparel business in 2020. Despite the increasing popularity of screen printing and digital printing technologies, embroidery will maintain its lead with a market share of 38.7% by 2028.
As a result, embroidered products are excellent print-on-demand commodities for entrepreneurs to begin selling and profiting from.
5 Best Products For Custom Embroidery
1. Custom embroidered shirts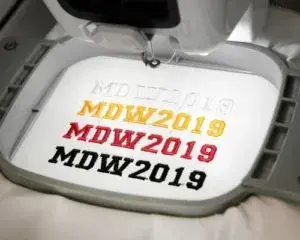 Custom embroidered shirts with your logo embroidered or a small pattern make a great product. Shirts are a premium product, and embroidery will help you enhance the product's overall look. You can always go right with a custom embroidery shirt for any occasion.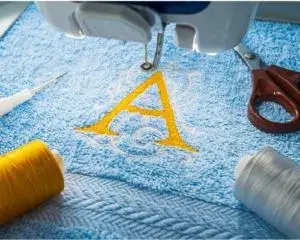 Towels are an everyday need. Hotels, bed & breakfasts, and resorts would like their complementary towels embroidered. Many individuals want personalising towels for their use or as presents.
Towels are helpful, and embroidered towels are trendy. If you're considering embroidering towels, prepare samples in various colours and fabric types. Customers prefer it when they can choose the colour.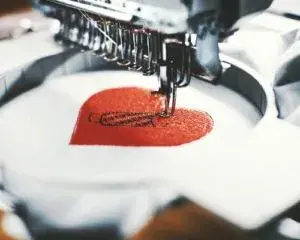 For formal or informal wear, polos are always the finest choice for both men and women. While simplicity is lovely, embroidery may make polos look better, more modern, and even more sophisticated.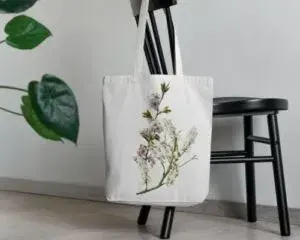 Totes are women's go-to items daily. Tote bags hold many things and go with practically every kind of clothes. Take note: ladies adore bags. They're completely obsessed with it.
Many ladies choose tote bags not just because they are fashionable but also because they are environmentally beneficial. 
Totes are a terrific fashion item, but they become much more fashionable when embellished with motifs and embroidery.
Tote bags are an excellent example of an embroidered product. Embroidered totes are always a good choice.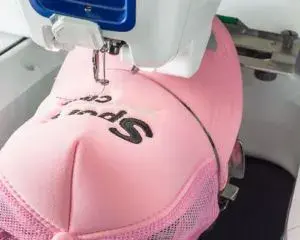 Caps are worn not only by athletes such as golfers, baseball players, and outdoor enthusiasts but also by thousands of other people who enjoy wearing hats as a fashion statement or a means of identification.
Caps are not only fashionable, but they also protect your face from dangerous UV rays.
Many people prefer personalised hats, including sports teams, who often request monogramming of their team name on their hats.
However, because caps are difficult to produce, many commercial embroiderers avoid them. Some hats, such as baseball caps, must be embroidered before assembly. However, with the right cap frames and stabilisers, you may feel at peace working with any cap.
How Is Custom Embroidery Different from Printing?
Both embroidery and printing are excellent methods for imprinting bespoke graphics on garments, but what advantages do they have?
If you need huge photographs, printing is the best alternative. However, embroidery is the most excellent alternative for corporate logos or other promotional possibilities. Because of its more challenging nature, embroidery is perfect for workwear and uniforms.
The order amount will decide which of the two varieties is the most affordable. Printing is appropriate for vast orders of mass-produced pictures, whereas stitching is better for smaller, more intricate orders.
It is primarily due to the setup price for screen printing jobs. The setup expenses are substantially lower whether the order requires hand embroidered or machine embroidery.
The overall product quality
While screen printing allows for greater detail and design variety, the printing process might need more detail overall. Printed graphics on garments do not endure as long, fading or flaking after repeated wears. 
High-quality fabrics are essential in creating durable and long-lasting embroidery products, especially for smaller patterns requiring intricate details.
Because of the fabric aspect of the product, embroidered items are far more adaptable and will not rip, fade, or peel. Because of this, needlework is excellent for a hectic atmosphere.
Embroidery has several applications. Embroidered motifs may be stitched into any form, making them excellent for clothes and accessories, including headgear, caps, purses, and pants. 
Printing's application is limited as it requires a flat surface, making it suitable only for the front or back of shirts, sweaters, bags, or posters.
Custom embroidery might be more expensive than other customisation techniques, such as screen printing or heat transfer. It is due to a more labour-intensive procedure that necessitates using specialised equipment.
Custom embroidery on demand can utilise traditional equipment and techniques, but a POD service is often more cost-effective.
You don't have to worry about the high expenses of owning or renting equipment with POD services, and you can also receive your final product instantly.
Frequently Asked Questions
With over 6+ years of experience in the industry, Ayushi excels in building strong customer relationships and guiding clients toward growth as a Brand Partnership Manager. She enjoys sharing her experience in her content.